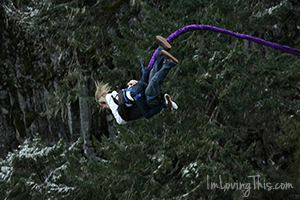 You've probably heard about bungee jumping before.  You jump from a high point and fall. You're protected by a bungee cord that is attached to your body and prevents you from hitting the ground.  What you may not know is that there are many different ways to bungee jump.  If you've ever considered pursuing this adventurous and exciting activity, learn the different types of bungee jumping so you can choose the best option for you.
The Jumping Point
The first consideration for bungee jumping is where you will jump.  There are many different opportunities.  For example, you can jump from a crane. You can also jump from a building, a helicopter, a hot air balloon or a cable car. In fact, the highest jump recorded was from a hot air balloon and the person jumped at 12,610 ft. They then cut away and parachuted to the ground. 
One of the most popular places to bungee jump from is a bridge. Not only do you have the thrill of jumping, you also generally have a beautiful view below. Many bungee jumping bridges span canyons and rivers.  When I went bungee jumping I jumped from a bridge that was over a river in Whistler, B.C.
The Harness
There are different types of harnesses to wear when you're jumping.  They include an arm harness, a leg harness, and a body harness.  The body harness is by far the safest type of harness.  It is made up of a leg harness and a shoulder harness.  The leg harness bears your weight when you jump.  However, the shoulder harness makes it more comfortable as you're towed back up to the top of the jumping platform.
The leg harness is secured to your body at your ankles.  As you jump you'll inevitably have your head pointed down. The harness will absorb the stretch as you reach the end of the bungee.  You'll bounce back up and be both comfortable and safe.  The arm harness is the leg harness attached to your arms and it isn't the way to go as you could dislocate your arms.
The Jump
Did you know there are different ways you can jump too? For example, you can jump like a swan and dive head first toward the ground. You can also hang upside down from the platform like a bat and drop when you're ready.  Or maybe you are really scared so you have to have someone push you off.
You can even tandem jump, which means jumping while strapped to another person.  I tandem jumped with my boyfriend and it was really fun.  I was too scared to go alone so I would only go if I could be strapped to him.  I think it made the jump a lot more fun because I had someone to hold on to.

Make sure when you do go bungee jumping that you find a facility that has a superior safety record.  Bungee jumping is quite popular and there are many companies that have set up shop.  Review their record and make sure you're comfortable jumping with them.  Bungee jumping is available to most people over the age of 16 and within safe weight limits.
Now go JUMP!
P.S.  The pictures shown in this post was from when I tandem jumped in Whistler, B.C.  Oh and if you jump there, you get a awesome t-shirt! 🙂
(Visited 154 times, 1 visits today)