I spent most of my summer in Idaho this year at my boyfriends house.  We made a quick trip to Glacier National Park in Montana during the week as it would be less crowded.  We left at 6:00 AM to head on our 3.5 hour drive.  We left early in order to find a good camping site.  When we arrived to Glacier it was pretty much already packed and we got stuck beside a bathroom.  But it was okay because we only planned on sleeping at our campsite.  We set our tent up and ventured out to explore.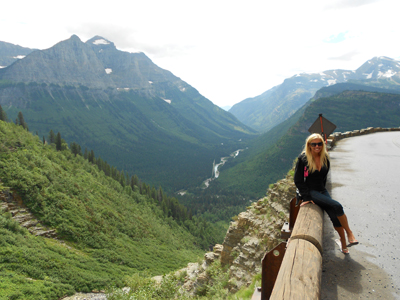 I noticed on our drive all the fire ravaged forests.  Apparently there were some really bad fires in 2003 that impacted 10% of the entire park.  There were a ton of burned trees throughout the park.  It was interesting to see as I have never seen sure forest fire damage before.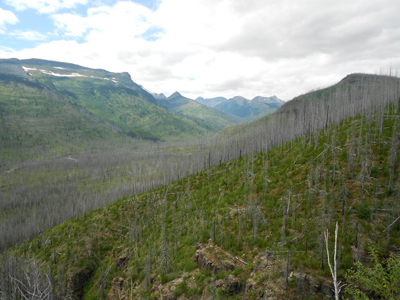 The first thing we did was go for a hike to find Hidden Lake on Hidden Lake Trail.  The hike is 1.5 miles to the lookout and 3 miles to the actual lake.  It was in the afternoon so we decided to hike to the lookout and if we wanted me could continue down to the lake.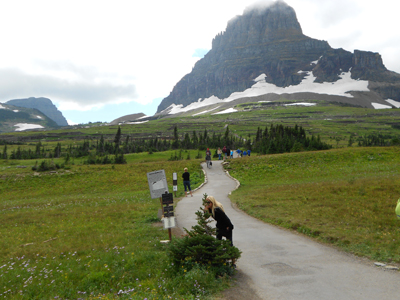 The hike was fairly easy, it was a boardwalk for about half of the way and then dirt trail for the rest.  The scenery was so beautiful.  There was even some snow and it was August.  We took a ton of pictures just like every one else.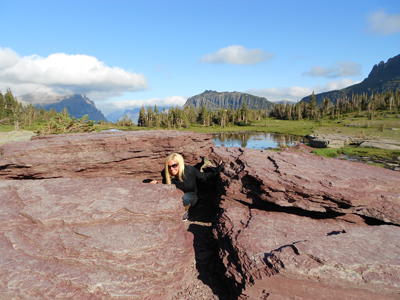 On the trail we ran into a few mountain goats.  They came right up to us and walked beside us.  I thought it was pretty cool!  Didn't see any bears though, but maybe next time.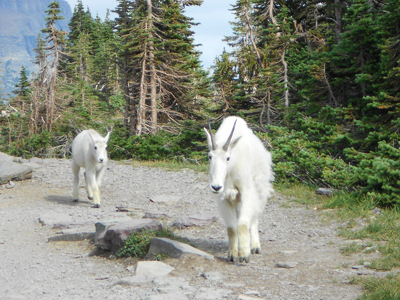 We got to the top of the lookout to Hidden Lake and it was breathtaking.  The water was so clear, everything was untouched.  We took a few pictures and walked a little further towards the lake then turned around.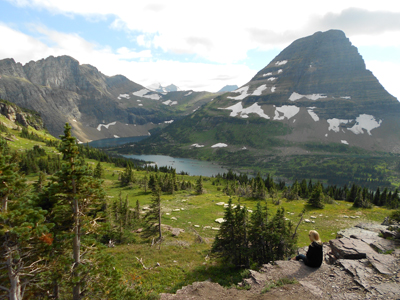 I definitely recommend hiking the Hidden Lake Trail if you go the Glacier National Park.  It is so beautiful, I've never seen anything like it.
After the hike we were pretty tired and hungry so we went back to our campsite which was along McDonald Lake.  We made some dinner on the campfire, sat around and then went to bed.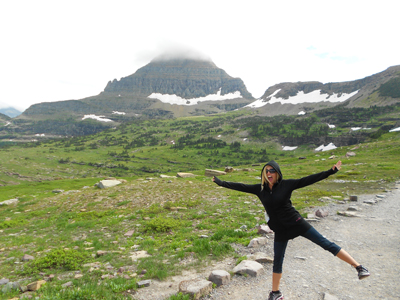 The next morning we woke up to sunshine, it was a much nicer day.  We cooked some breakfast over the fire and then took our kayaks down to McDonald Lake.  We kayaked around for about two hours, it sure wore me out.  McDonald lake was so beautiful and crystal clear.  You could see down to the bottom when you were out fairly deep.  The water was cold as it is in the mountains so I didn't swim.  My boyfriend did go swimming though.  We had a great time kayaking on the smooth, clean lake.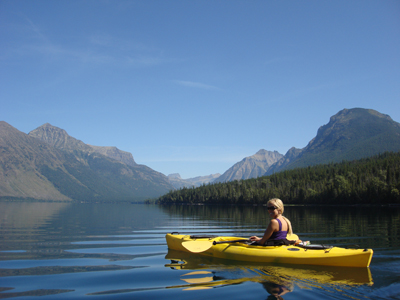 After kayaking we had some lunch and then decided we should head home as we could only stay for one night due to other plans. 
I loved my short trip to Glacier National Park and am going to plan another trip back to see more.  The park is huge so we barely saw any of it.  It was probably the cleanest, most beautiful national park that I have ever been to. 
Have you ever been to Glacier National Park? If so what was your favorite thing to do there?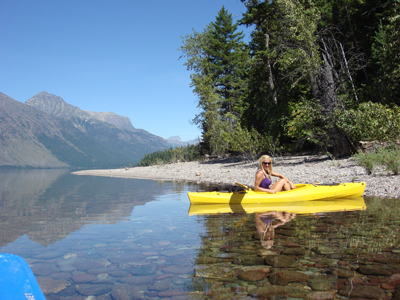 (Visited 489 times, 1 visits today)