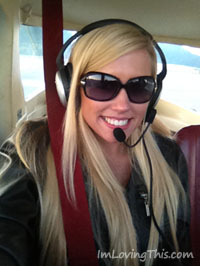 I have a slight fear of flying and my boyfriend is a pilot and loves to fly so it has become part of my life now.  I am not exactly sure why I am scared, but I have come to the conclusion that it is because I am not in control of the situation.  I have been afraid of small planes for as long as I can remember.  I have flown several times on big commercial planes and although I feel a bit better on them I am not in my comfort zone.
Seeing as my boyfriend has his private pilots license so I have to overcome my fear of flying on small planes.  Especially if I ever want to go on any trips with him.  I have flown a few times with him but I am always on edge and freak out whenever we hit turbulence.
Here are a few tips I like to use and might also help you control your anxiety while flying…
Make yourself as comfortable as possible.  It can often be too cold or two hot on an airplane and being uncomfortable can add extra stress.  Dress in layers so you can add or remove clothes based on the temperature.  Wear comfy shoes and bring a travel pillow and blanket.
Brings things to keep your mind occupied.  I like to buy a ton of magazines before boarding and read those.  You could also bring your iPad and play games or watch a movie.  Some airlines offer wifi and have personal TV's at your seats to help keep your mind occupied.  Since I can't really bring a ton of magazines while in a small Cessna I like to distract myself by taking pictures of all the beautiful scenery.
Communicate with people around you.  You are not alone on the flight and talking to others can often put your mind at ease.
Research the aircraft you are flying on, or airplanes in general.  Knowing how an airplane works can help relieve some stress.  
I hope my tips help you control your anxiety while flying.  Do you have any tips that you use while flying? I'd love to know just leave them in the comments below.