I finally received my first ever Ipsy Glam Bag after months of being on the waiting list.  I waited at least six months, maybe even longer, which is way too long to wait.  I've been subscribed to Birchbox for six months and am not sure which subscription service I like better.
The Ipsy bag comes to you in a pretty pink padded envelope, which most girls probably enjoy.  Inside every month you get a little makeup bag filled with about five sample product both high-end and drugstore products.
One thing I didn't like about Ipsy right away was that I didn't get a little card explaining what everything is and what the prices are of the full-sized products.  I really like that Birchbox includes that information and am wondering if my card is missing?  I guess they just really want me to visit their website so they can try and market to me.   Their website doesn't list the prices of the products and  I have to go to the supplier's website in order to find that out.   Also, I think that Ipsy's website isn't very user friendly and takes some getting used to.
So anyways, rant over, lets get into what I received this month…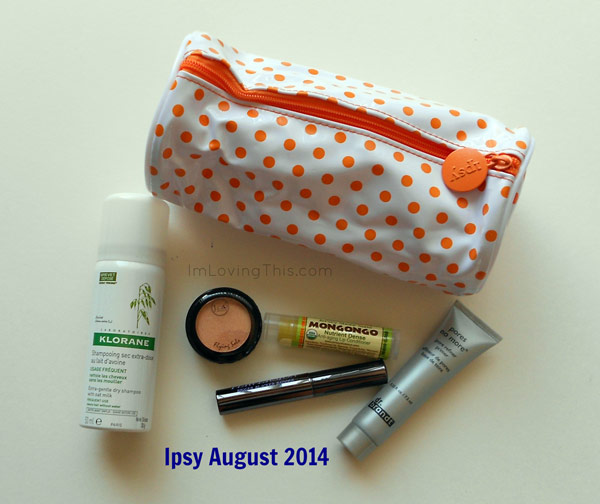 Glam Makeup Bag
People seem to be excited about this bag, but I don't understand why.  It is white with orange polka dots and looks like a pencil case.  It looks like something I would find at the dollar store and is made of cheap, smelly plastic.  It smells like one of those inflatable inner tubes for children for swimming.   But whatever, I singed up for the products, I don't care about the bags, I will put it in my donation box.
Klorane Dry Shampoo with Oat Milk – 50 ml
Always excited to try new dry shampoos and these mini versions are great for traveling.  I haven't tried it yet but sprayed some out and I'm not a fan of the smell.  I find that most dry shampoos have a strong fragrance, I'd love to find one that I enjoyed the smell of.  The bottle doesn't say much about it beside the fact that it contains oat milk and is extra gentle.  It says it cleans hair without water, which really isn't true.  All dry shampoo does is soak up the oil and make your hair look clean.
Dr. Brandt Pores No More Pore Refiner – 7.5 ml
I haven't tried any Dr. Brandt products and am excited about this primer.  I don't wear primers all the time but occasionally wear them so am curious to see how this one preforms.  This one says it is for oily/combination skin (which is me).  It says that it is an instant mattifying pore refiner primer.  It has a tint to it and initially I thought it looked too light for my skin right as I'm pretty tanned.  After I applied it to my hand I couldn't really notice the colour though so that means I could wear it anytime of the year.  It made my hand feel super smooth after application so I can't wait to try it on my face.  It feels a little greasy though so that is weird as it is suppose to be mattfying.  I will keep you posted on this, will try it out this week.
Urban Decay Perversion Mascara – 3 ml
I only own drugstore mascaras and don't feel the need to spend my money on higher end mascaras.  But I am very happy to get a sample of a more expensive mascara! 🙂  This mascara came with it's own pamphlet explaining how great it is.  It says it glides on and makes you sexy in one stroke.  It says that it's ultra-creamy, volumizing formula coats each lash with triple-black pigments and a deeply nourishing blend.  It says that it's big brush separates and defines as it lays down a generous amount of mascara for bigger, black, badder lashes.  I like the look of the tube but the mascara has a strong mascara scent which is ok I guess, once it dries I won't smell it.  The smell actually reminds me of the L'Oreal Voluminous Power Collagen Mascara which I eventually tossed cause I never reached for it.  I think I will try this mascara along with the primer today and update this post with what I think.  Like I've said a ton of times, I really like having these small products because I do travel a lot, so this will come in handy either way.
J. Cat Beauty – Flying Solo Eye Shadow – 2.5 g
I haven't heard of this brand before so am excited to see what I think of it.  I received the colour FSE 110 Half Naked and I believe this is a full-sized product.  The packaging is cute and includes a mini mirror and applicator brush, probably won't use either but it is there if someone wants it.  The eyeshadow feels silky and glides onto my skin smoothly.  The shade I received is a champagne type colour and has pretty good pigmentation, not sure on the lasting power yet.  I like the colour and will probably use it in my inner corner quite often.  It could also be used on the brow bone as a highlight colour.
Jersey Shore Sun – Mongongo Lip Conditioner – 4.25 g
I'm obsessed with lip balms, my lips are always dry so I'm always looking for new products that work well.  It says that Mongongo oil has hydrating, regenerating and restructuring properties and offers a unique protection from UV and environmental pollutants in skin applications. Mongongo oil is also rich in calcium, magnesium, zinc, cooper and anti-oxidants. Jersey Shore Sun claims that the product is 100% natural and USDA certified organic with fresh organic flavors.  They say it has no petrochemicals, nothing artificial and no petroleum.  The flavour I received is mandarin green orange ginger, which sounds right up my alley.  The lip balm smells similar to how the flavour is described and I've been using it since yesterday and so far enjoy it.
Overall I think that I got my $10 worth back in products, although for some reason I wasn't that excited when I opened it.  I do want to get down to just having one subscription service so either Ipsy or Birchbox will get cut.  Right now I am going to stay subscribed to Ipsy and will keep you updated on what I received.  Currently I am leaning more towards Birchbox as they include more skin care items and that is what I enjoy trying because they are expensive to buy.
Are you subscribed to any subscription services?  What is your favourite one?