Manoa falls is a waterfall in Manoa, Hawaii with a vertical drop of I believe 150 feet. The falls are about 35 minutes from where we were staying, Bellows Air Force Station. They are only 15 minutes from Waikiki, which makes it any easy spot to get to if you are staying in the city.
There is no fee to enter the falls. A lot of places in Hawaii charge a fee to enter. There's a small parking lot that you can park at for $5. There's restrooms and a little store in the building beside the parking lot as well if needed.
Here's me in our crappy rental. Do not recommend buying a Chevy Spark. It was great for getting around Oahu though as traffic can be bad. Can we just talk about this tree? Pretty awesome! Banyan trees are all over Hawaii, I had never seen one before my trip there.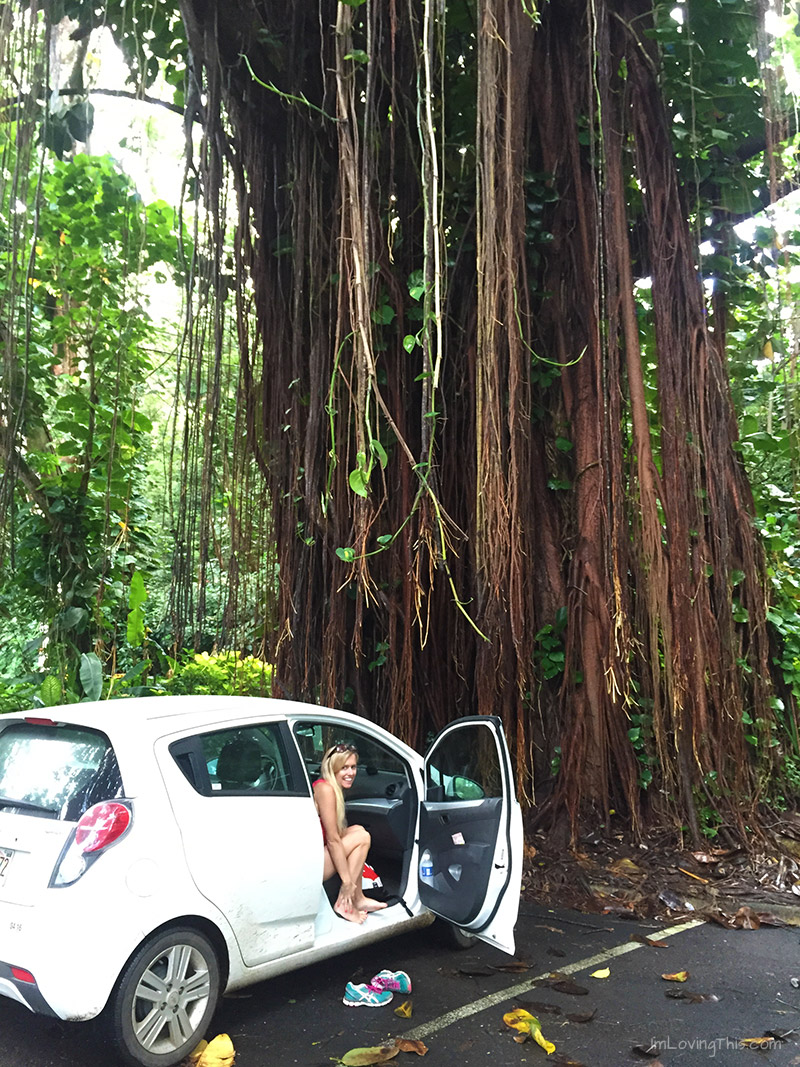 From the parking lot you have to walk up part of a road to the trail head. It's only takes a few minutes to walk up the road to the trail, there's no parking past the parking lot, so don't bother driving up the road looking for any.
The hike is less than a mile, probably a mile and half round trip. It may seem longer if you get caught in a rainstorm like we did.
The trail wasn't that difficult to hike, but it was very muddy when we went. It's prone to flash flooding which is what we encountered. It was down pouring pretty much our entire hike. We got drenched.
If it's raining I recommend wearing a pair of shoes you don't care that much about but are comfy and easy to walk in. It would be hard to do this hike in flipflops as you'd slide around a lot. I wore my good running shoes and they are now ruined from all the rain water… That's also why the pictures are kind of crappy, luckily my boyfriend had a LifeProof case on his phone so we could still take some pictures.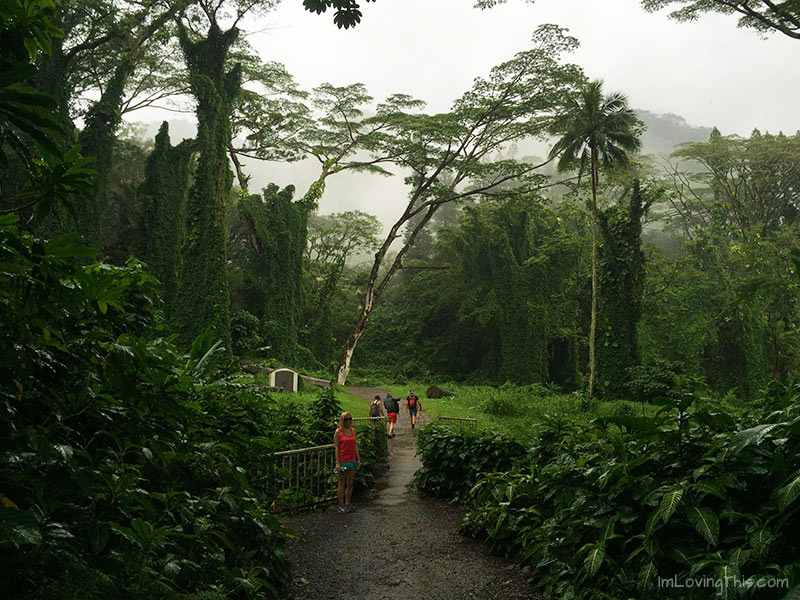 The hike to Manoa Falls was magnificent, like nothing I've seen before.
You walk through this lush rain forest. It was green everywhere, just stunning! I barely noticed all the rain because it was so beautiful. I've never seen vines like in Hawaii. They just take over everything as you will see in the pictures. The leaves on them are massive as well. Check out the height of this bamboo…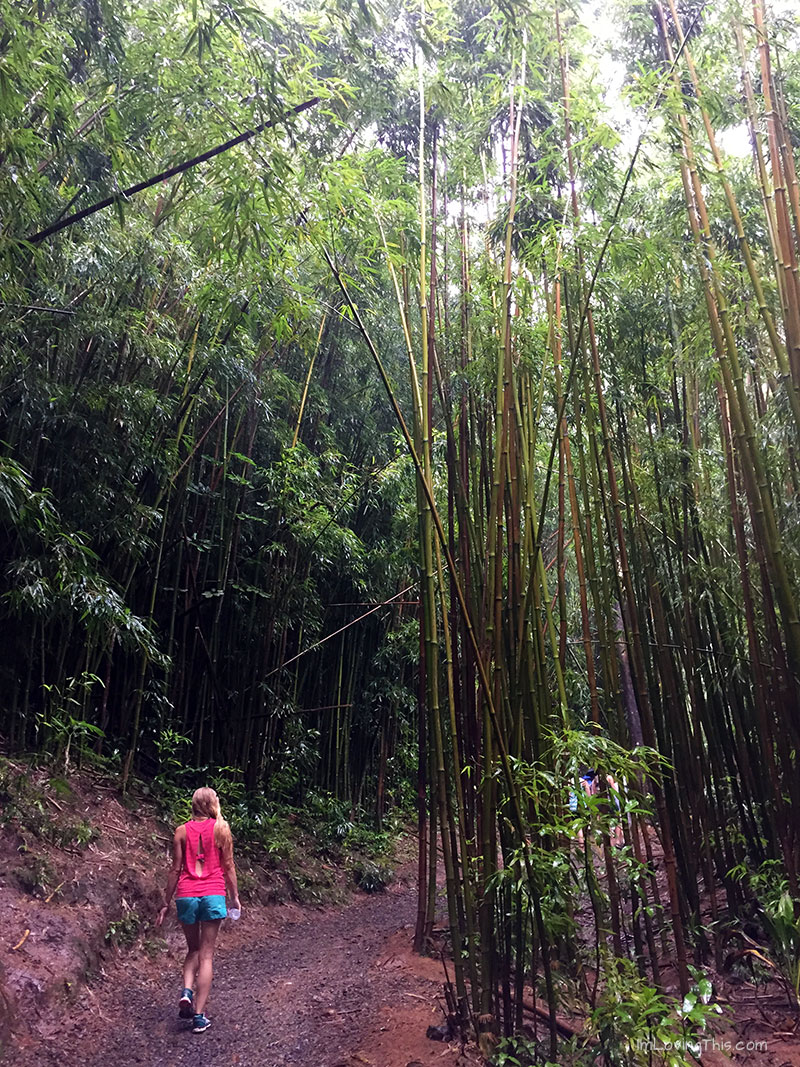 When we got up to the falls it was raining even more. It was hard to even look at them cause it was raining so much haha. The falls were flowing pretty good, probably cause of all the rain. We didn't get many decent pictures of the falls but here's one for you…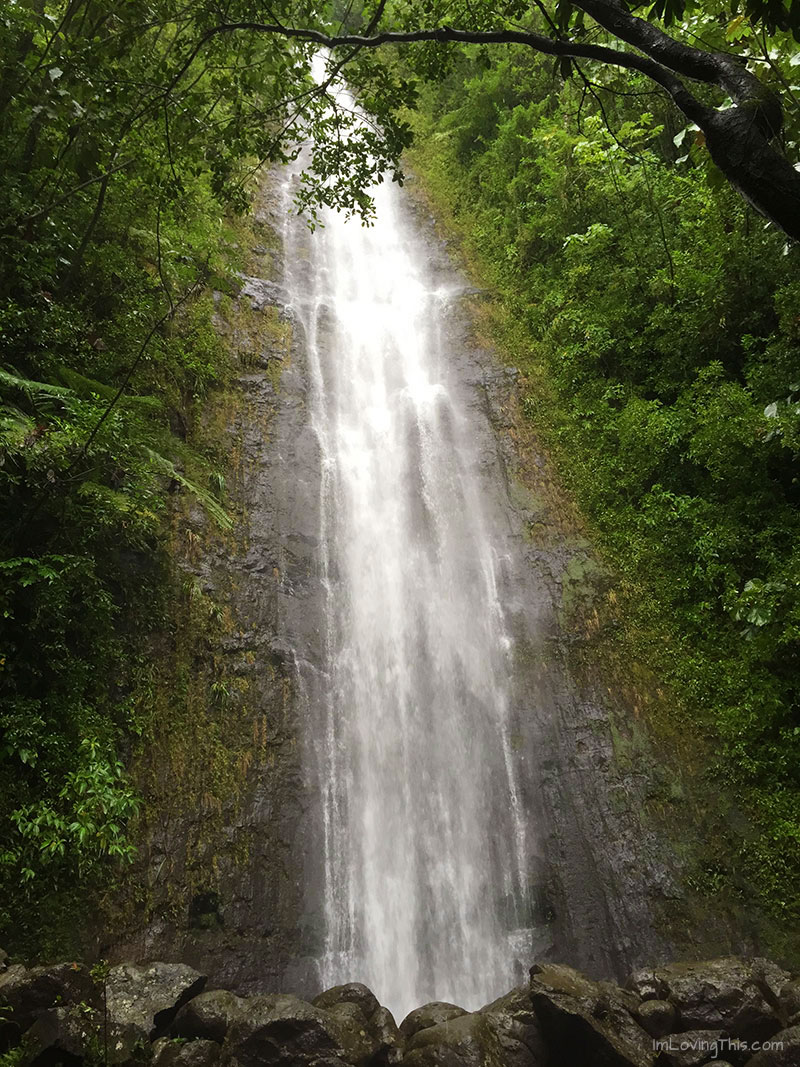 It was such a pretty hike and it wasn't too busy when we went, probably cause it was pissing rain…
I definitely recommend going to Manoa Falls if you are visiting Oahu.
What are your favourite hikes in Oahu?
Read my other Hawaii travel blogs here.
Make sure to follow me on Instagram as well to see more pictures.
(Visited 306 times, 1 visits today)