I used to blog about my travels regularly but haven't in awhile.  Typically by the time I sit down to blog about my travels three months have passed and I feel like by then there's no point in blogging about it.  In fact, the last time I wrote about traveling was a trip to Yosemite, that was in January of 2013.  I'm hoping to start blogging about my adventures and travels more regularly from now on.
I haven't done as much traveling and adventures as I usually do because my boyfriend is really busy with work.  He's training in Oklahoma so I've been visiting the southern part of the US quite a bit.  It's not as exciting as other places we've been but we make the best of it!
I decided to do a blog post summing up all my travels for the past year or so since I didn't make individual posts.  I'm going to skip by most of 2013 and start when he moved down to Oklahoma.
If you've never been to Oklahoma, let me start off by saying, its pretty boring.  We both live on the west coast and there's always something to do there.  The west coast offers a lot of outdoor recreational activities with all the mountains, lakes and the ocean.  Oklahoma is flat, there aren't many lakes and during the summer it's pretty much too hot to do anything outside besides water sports.  Don't get me wrong, I have been loving Oklahoma's weather, but if I didn't have AC I'd be one unhappy girl.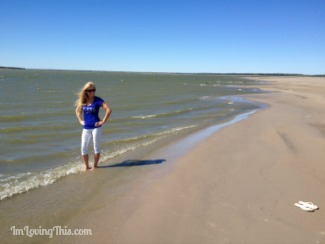 I think the first thing we did when we arrived in Oklahoma was look for water.  We first drove to Canton Lake (see picture to right),  it was really windy but was pretty.  There was a huge sandy beach but no one to be seen.  It was October, so my first thought was maybe people just don't go to the beach here outside of summer.  But after further research we found out more about Canton Lake.  It used to be a more popular place with events and boats and all but in 2013 there was a drought and Oklahoma diverted 30,000 acre-ft of water from Canton Lake down to Lake Hefner for Oklahoma City.  A few weeks later rain replenished the level of Lake Hefner and they actually had to drain out a bunch into the North Canadian River to prevent the lake from overflowing.  Canton Lake still has not recovered from this loss and is about 12 to 13 feet below it's normal level now.  We also noticed it smelled similar to the ocean while we were there and that is because of an blue-green algae that started to grow once the lake levels went down.  The place is pretty deserted today, and people say it might never recover.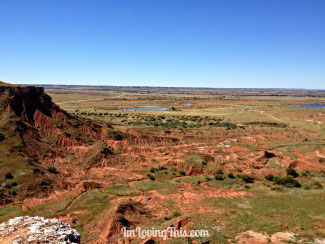 On the same day we also visited Gloss Mountain State Park or Glass Mountains, whatever you prefer.  I wouldn't consider them mountains, but people there do.  The 'mountains' have a high Selenite content that mimics a shiny glass exterior so that is where the mountains get their name from.  We didn't take many pictures cause it wasn't an exciting sight for us, but we hiked up to the top of them and walked around a bit.  The only neat thing about the park was how red the dirt was and that it sparkled when the sun hit it.  Other then that when you were at the top and looked out all you could really see were oil rigs and farms.  There's a ton of oil and natural gas in Oklahoma.  I believe that it is what is causing all the earthquakes, the fracking.  I think I felt 5 earthquakes while in Oklahoma, there have been way more than that though. I think there was 13 in only a few days once while I was visiting.  I expected to see some tornadoes in Oklahoma, not feel earthquakes.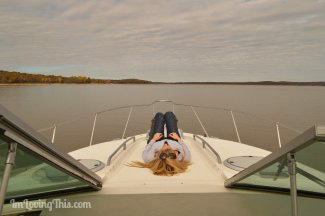 Well as I mentioned before, we like having lakes and mountains around us so my boyfriend couldn't even go a month without a boat.  We ended up driving all the way to Atlanta to look at a boat one weekend and he bought it.  So Oklahoma just got a little bit more exciting!  It was now the end of October so we were pretty excited that we were able to go boating in the winter, there wasn't much snow in Oklahoma. We did experience a few really cold weeks though.
We pretty much explored the entire area near where we were staying in a matter of weeks.  We went and visited Alabaster Caverns State Park and did a cave tour.  It was really cool, I was terrified of bats the entire time and wore my hood over my head the whole tour.  The Alabaster Cavern is the largest natural gypsum cave in the world that is open to the public.  The tour is 3/4 miles long and is worth doing if you are in the area, there are also hiking trails you can follow to find other caves on your own.
| | |
| --- | --- |
| | |
On American Thanksgiving my boyfriend had a long weekend so we decided to get out of Oklahoma and drive to some mountains.  We picked Taos, New Mexico as neither of us had been there before.  It was about an 8.5 hour drive there and it was well worth it.  We didn't go snowboarding or anything as we didn't have our gear in Oklahoma with us but we did some exploring.  We stayed in a mountain inn on the way up to the ski valley.  The whole area really reminded us of home because of the mountains.  I also got to see the Rio Grande, which was exciting, I thought! 🙂  It's really beautiful in Taos Ski Valley and if you are in the area you should check it out.  We actually went back again which I will get to later. 🙂
| | |
| --- | --- |
| | |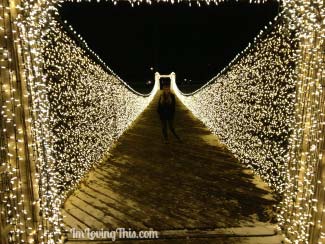 In a town near where we were staying they have a special lighting display for Christmas every year.  It's called Kingfisher in Lights and is in Kingfisher, Oklahoma.  We had to go see that because I'm obsessed with Christmas!  It was pretty cool, it was a display that you pretty much just drive through.  We got out and walked on the bridge that was all lit up, it was pretty awesome!
Nothing too exciting happened for the rest of winter.  We went to the west coast in the spring and visited family.  We did some hiking around my home which was fun.  We took my Dad's dog and hiked on a trail called Diez Vistas.  We hiked up to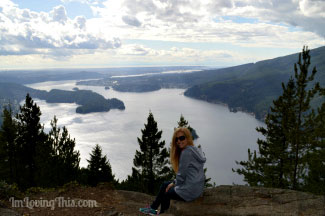 the highest point to get the best views then went back down again.  It took a few hours, the entire hike is 15 km long which we didn't do.  I would like to complete the entire hike one of these days, the views were spectacular.
For Memorial Day Long Weekend we went and checked out Arkansas.  It was a lot prettier than I  imagined it would be.  We took the truck and camper and camped at Lake Ouachita State Park.  The campground was nice, it was packed because of the long weekend.  We rented a boat and went out on the water for one of the days.  Lake Ouachita was gorgeous and I had wished it was closer to where my boyfriend was stationed.  But it's almost seven hours from where he's living.  We checked out more of the area around there and had a great time and decided we would go back again later.
We checked out a neat place south of Oklahoma City called Turner Falls.  I thought it was pretty neat, and hope to get back there before we leave but don't really see that happening.  It's a waterfall with a big pool area then a river/stream that goes on for quite a while.  The water was really nice and people were just hanging out in the river all day.  They have camping there too, which is why I want to go back.  It's just been too hot to camp around here.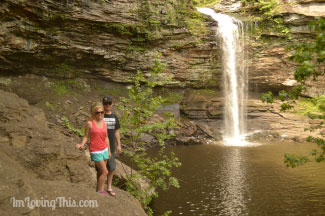 So back to Arkansas we went for another long weekend.  This time our friend brought his boat and we camped at a different campground but were on the same lake.  We pretty much spent the whole weekend on the boat wake boarding and relaxing.  It was a great time, we didn't get up to any hiking or exploring this time.  Just lots of boating and eating!  We were hoping to go back for the next long weekend but it didn't work out.
We visited the Oklahoma City Zoo one day, and saw quite a few animals.  They were all out and pretty active considering how hot it was.  It was probably one of the worst days for the zoo, it was like 45 degrees out, I was sweating.  But I loved seeing all the animals, so that was fun.  We also visited the Oklahoma City National Memorial and it was a really nice and peaceful memorial that honors the victims of the bombing in 1995.
So last but not least, it is now September.  For the Labour Day long weekend we decided to take another trip over to Taos.  Yes we drive around a lot!  We really wanted to see some mountains and greenery.  We drove over to Taos and spent two nights there.  We stayed in a little local motel/inn and explored the area some more.  We didn't really check out the town much last time we were there and this time we stayed right in the city.  The city of Taos is pretty cool, a lot of arts, restaurants and
entertainment.  We had breakfast at a nice little place in town called the Bearclaw Bakery and Cafe one of the mornings, if you are ever there I recommend eating there. We were planning on spending the full day we had there hiking so after breakfast we headed to the ski mountain.  Of course I didn't dress right so my boyfriend had to buy one of those expensive tourist sweaters for me… We took the ski lift part of the way up the mountain then hiked the rest of the way.  I'm so out of shape so it took me awhile, but I finally made it! 11, 819 feet up!  Then we walked back down, my boyfriend wanted to go on another hike after that.  So we did, this one was 4 miles round trip to Williams Lake.  I thought it was going to easy but it was pretty difficult after going that first hike.   The views were nice when we got there,  I wish I had did that hike first cause it would have been much easier.  It was a great trip and really nice to get away from flat, hot Oklahoma.  It's a really nice place and I would go back again in the future.
So that is the end of my life update or whatever you want to call it. I feel like I left quite a few things out, but it was never ending.  This is probably the longest blog post I've ever written, so thanks for reading if you made it to the end! Who knows where our adventures will take us next, but it should get more exciting once we leave this place! 🙂
Follow me on Facebook and Twitter to follow my adventures in real-time.
(Visited 411 times, 1 visits today)