I've never been to Hawaii before and my boyfriend surprised me with a trip to Hawaii for my birthday. My birthday is in September but we planned to go a month later in October. I was ecstatic to finally get to visit Hawaii and I ended up having a fabulous time!
We flew standby there so that was a whole other story. Lets just say… I don't recommend it when going to Hawaii…
I wanted to do a blog post about my trip with just a bunch of pictures, but as I was going through the 800 photos and I wasn't sure how I'd do that. So I've decided to do a few blogs, mostly pictures….
I actually shut down my business for my entire trip, it's the first time I've ever done this in five years of owning my business. People often ask me how I work and travel but I'm always working while I'm traveling. This time I didn't bring my Macbook. I completely shut down for over a week. It felt great!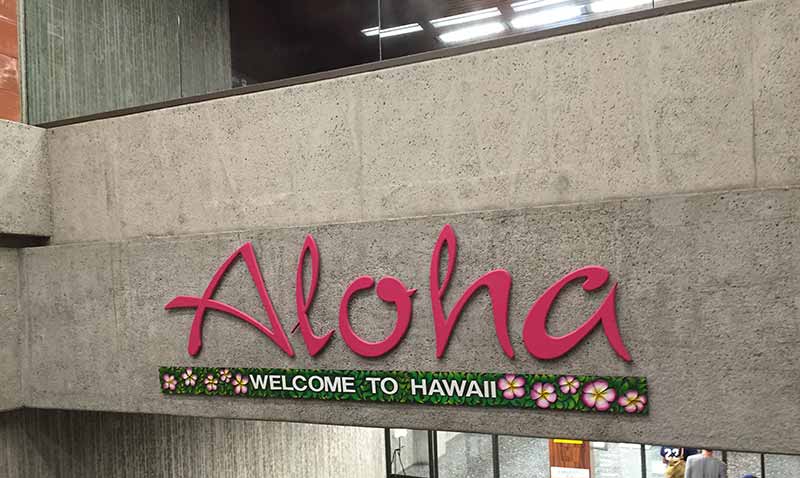 While in Hawaii we visited two islands, Oahu and Hawai'i (The Big Island).
We pretty much drove around all of Oahu except one portion, the top, west side. The day we were driving up the west side there happened to be an accident which caused major traffic. We decided to skip it and not waste our time in traffic. We wanted to see as much as we possibly could in our week.
We also visited the majority of the Big Island. We didn't have time to do the top half of the island though, but hope to some day. 
Anyways, there might be a few blog posts for my Hawaii trip, so stay tuned. I'm going to try and condense it but we saw so much stuff. We just kept going and going and visiting places. I barely even had time to suntan, I didn't get a Hawaii tan like I dreamed of… I will just have to bust out my self tanner and fake it.
My boyfriend is in the Air Force so we mostly stayed on bases to save some money. Plus we realized after that the military had some of the best locations on the islands. 🙂 If we ever go back we'd stay in the same places again.
When we were on Oahu we stayed at
Hale Koa Hotel in Waikiki for one night
Bellows Air Force Station in Waimanalo for four nights

We had our own beachfront cabin when we were staying at Bellows Air Force Station. The cabins are older but you are right on the beach. Plus we didn't hang out in any of our accommodations, we basically just used them to shower and sleep. The cabins were fully-loaded with everything you need.
I was on the hunt for the perfect, sandy, turquoise beaches and it turns out after driving most of the island, the best beach was at Bellows.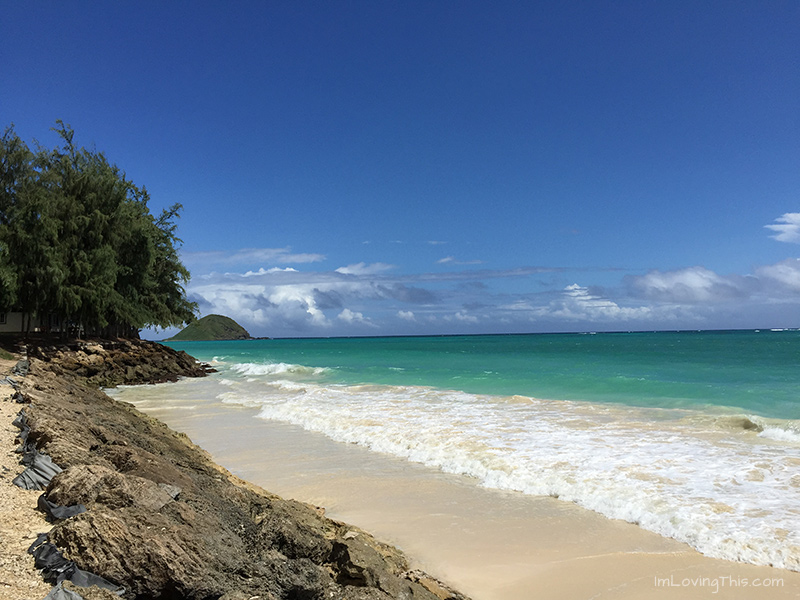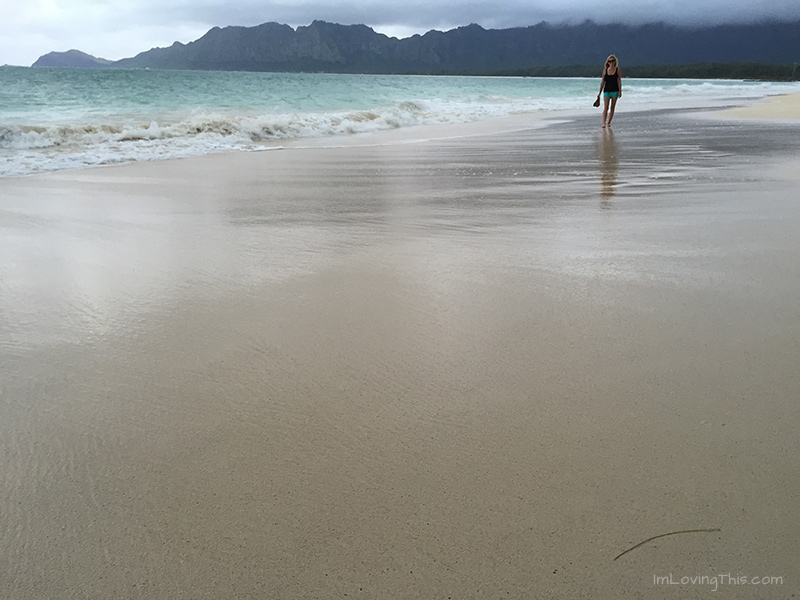 I woke up every morning at 6 am to watch the sunrise. I've never been a morning person, but didn't want to miss the sun rise over the ocean. It was stunning!

If you want to see more sunrise photos, I posted a bunch on my Instagram. I also have a video of the waves crashing one morning.
Our beach side cabin had a small bbq so one evening we grilled up some food and ate there. You could save money if you cooked every meal at the cabin, but we only did that one time.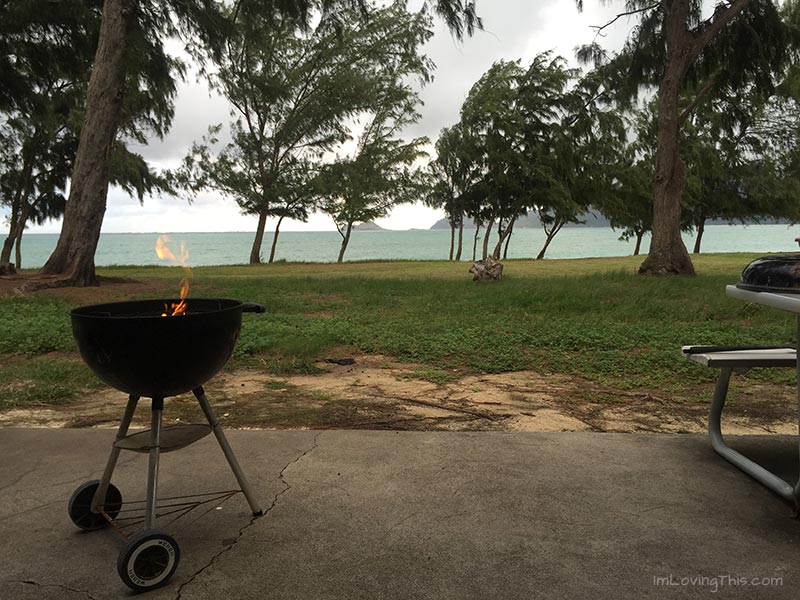 I really wanted to visit Lanikai Beach as I read that it was ranked one of the best beaches in the world. It looked so pretty in the pictures too. Our cabin was pretty close to it and you could see one of the two Na Mokulua islands from our cabin. We visited Lanikai Beach one afternoon, on a cloudy day. We actually had quite a few cloudy days while we were in Hawaii. I wasn't that impressed with the beach and I thought that the beach at Bellows was way better.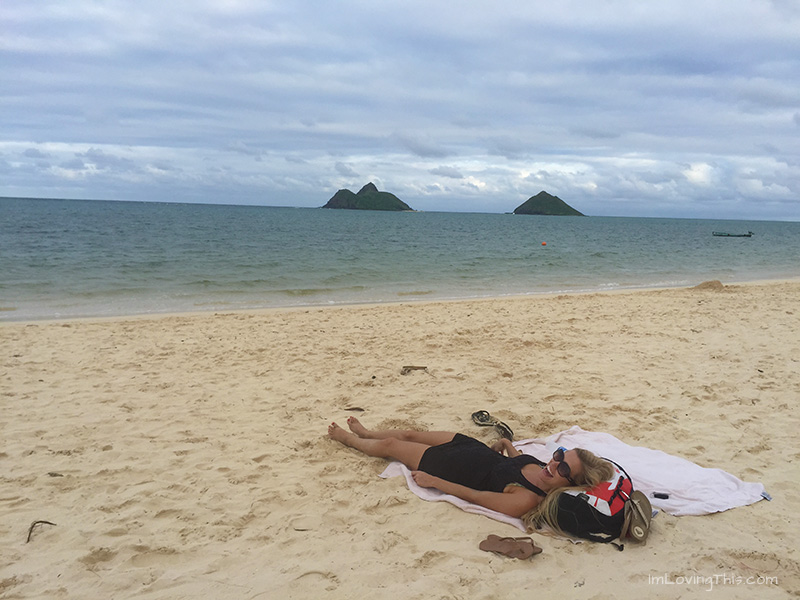 There are so many beautiful, sandy beaches in Hawaii, which makes sense since it's an island. 😀 Below is a picture of Makapuu Beach.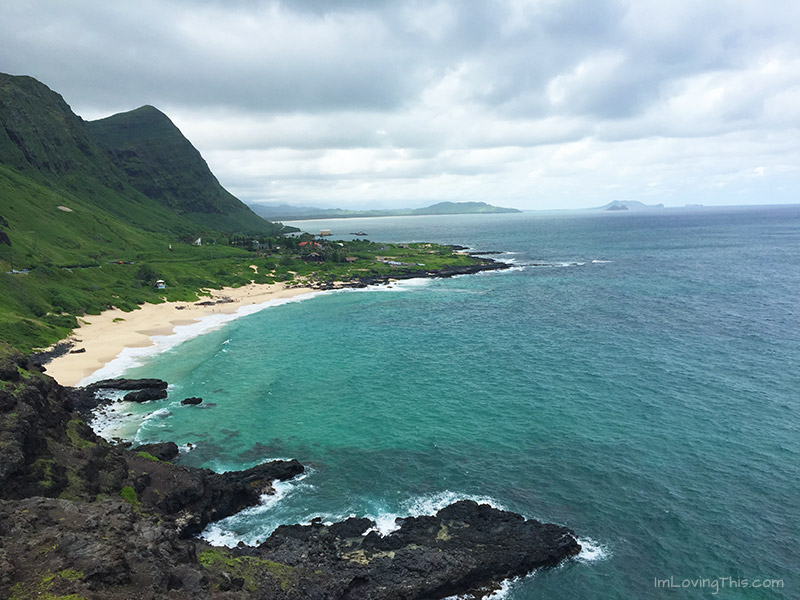 As I said, I have an obsession with beaches so stopped at several. Below are a few pictures of beaches on the Kanoehe Bay Marine Corps Base. They had some gorgeous spots on that base, I wouldn't mind living there at all.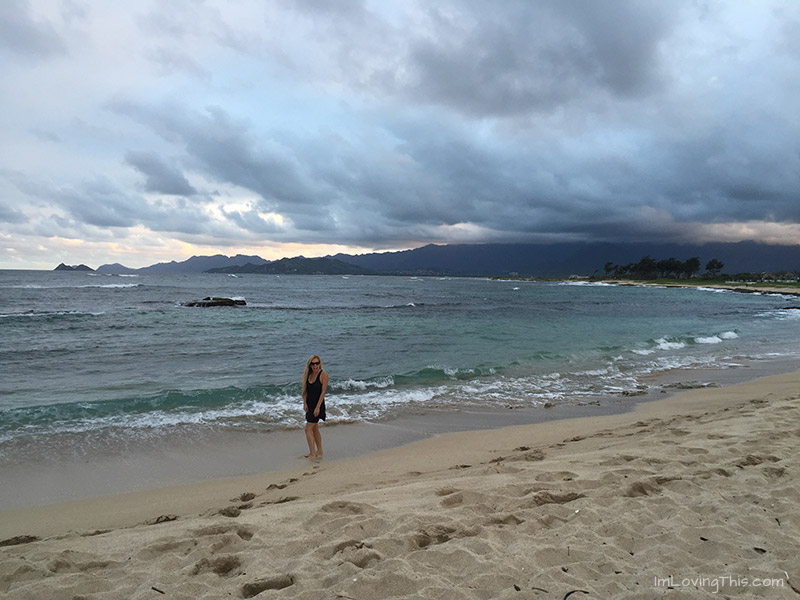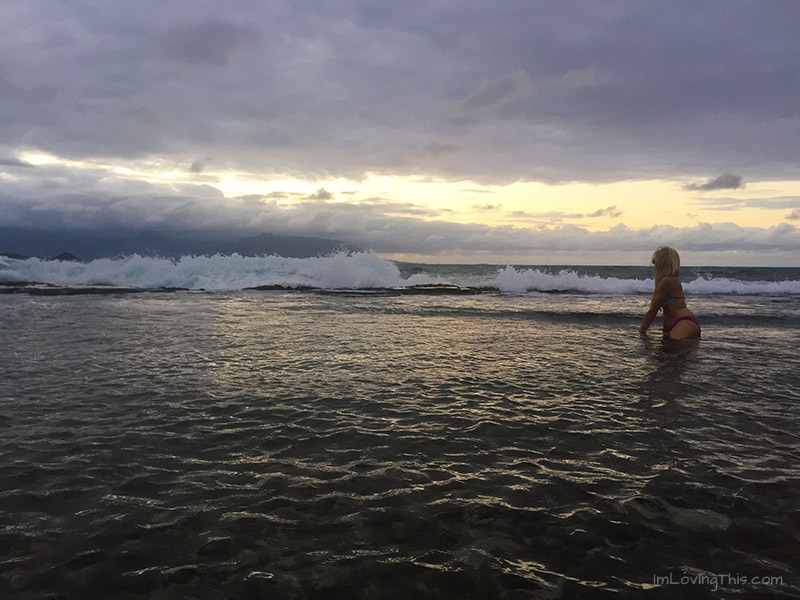 On the west side of the island there is this resort area that had lagoon beaches. The beach is called Ko Olina Beach Park. I think this would be a great spot for people that have small kids. There were 4 lagoons that were man made and are protected and great for swimming. We stayed there for an hour or two and relaxed one day. It was really sunny there and I managed to get a bit of a suntan. 🙂
Well, I think this post has enough pictures of beaches. 🙂 I think I will write another post about some waterfalls we visited and also a post about the Big Island where we visited an active volcano.
If you want to see more pictures of my trip, follow me on Instagram, Twitter or Facebook.
Read my other Hawaii travel blogs here. 
(Visited 401 times, 1 visits today)