My Boyfriend and I spend quite a bit of time in California because he works there.  We decided to take a short trip over to Yosemite National Park during some down time.
We were expecting it to be cold since it was January but the weather was very nice.  We walked around in t-shirts until the sun went down, then it started to get chilly.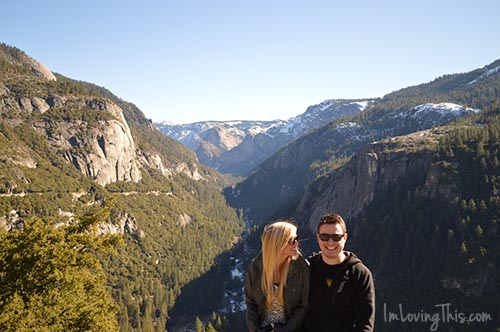 The ground was a little mucky in places from the snow melt but the trails we went on were pretty nice for that time of the year.  If we had of went hiking at home we would of been in feet of snow.
We only visited Yosemite National Park for a day because that was all the time we had, you will definitely want more time than that to check out all the beautiful scenery. 
We started off having lunch at the Ahwahnee Dining Room.  The building was one of kind and very beautiful! The food was obviously expensive, but it tasted delicious.
We took a short hike (0.5 miles) to the lower falls in the park and there were quite a few people there taking pictures.  I can't image how busy it would be during the summer months.  We would have rather went to the upper falls but lots of people were going there so we decided to go further into the park to find a trial less traveled.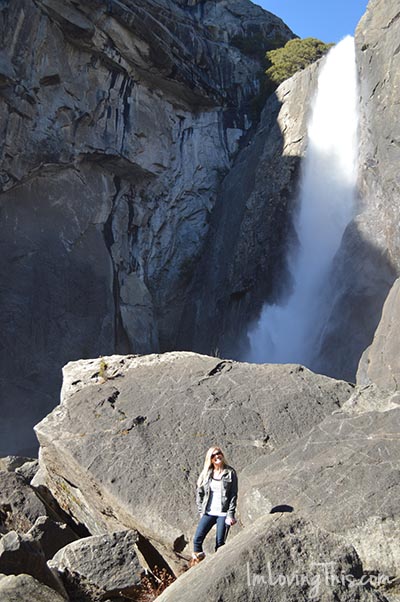 We also hiked 2.5 miles to mirror lake, which was a little disappointing.  I was expecting a beautiful mountain lake when we got there but all we came to was a pond.  I guess I'm used to lakes like they have at Glacier National Park.  But it was still a nice hike.
By the time we were done looking around the sun was starting to set and we decided to leave.  It was winter so the days are shorter so we didn't have much time to go sight seeing.  If we had more time I would of liked to do a longer hike.  I wasn't really prepared for hiking either, it was a typical spur of the moment trip.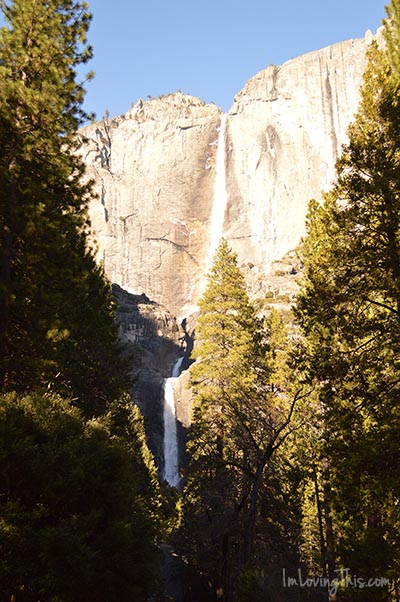 I would like to go back to Yosemite one day, preferably with some better shoes and a tent.  But I still think that Glacier National Park outshines Yosemite by far!
Have you ever been to Yosemite National Park? Which hikes did you go on? Any recommendations for next time I visit?
(Visited 358 times, 1 visits today)