We flew from Honolulu to the island of Hawaii (The Big Island) for the last few days of our trip. We flew into Hilo and had a cabin booked in the Hawai'i Volcanoes National Park for the duration of our stay.
On our first day we decided to check out a bit of the area outside of the park so we drove around and visited a few waterfalls.
I really wanted to go to Akaka Falls which was about 11 miles from Hilo, not too far at all. So we decided to head there first and took a scenic route. Recommend doing the scenic route, you will see a sign for it along the way from Hilo.
It isn't much of a hike to Akaka Falls, it's a paved walkway through a rainforest and I think it was less than half a mile. It was a loop so you don't have to hike in and out. If you follow the path to the right you will first come to the 100 foot Kahuna Falls. Then around the corner you come up to Akaka Falls which is 442 feet high! It's absolutely stunning, you have to see it if you are there.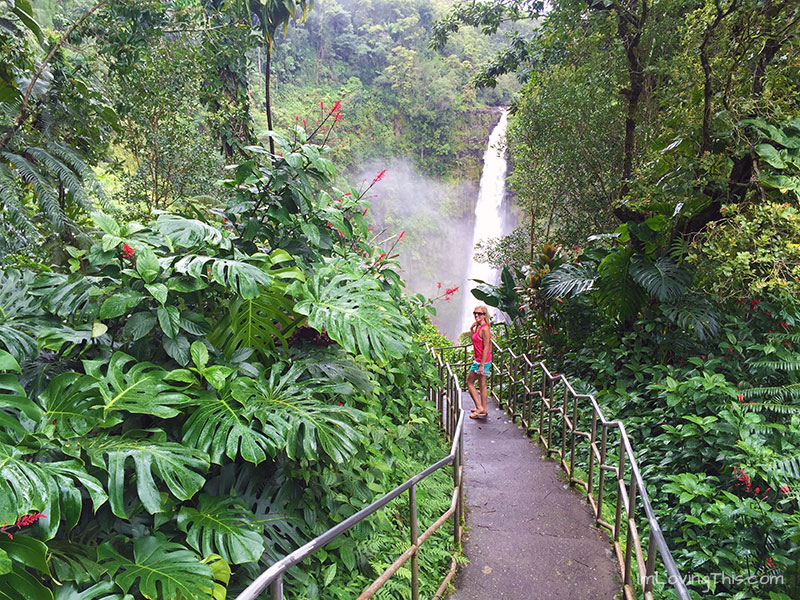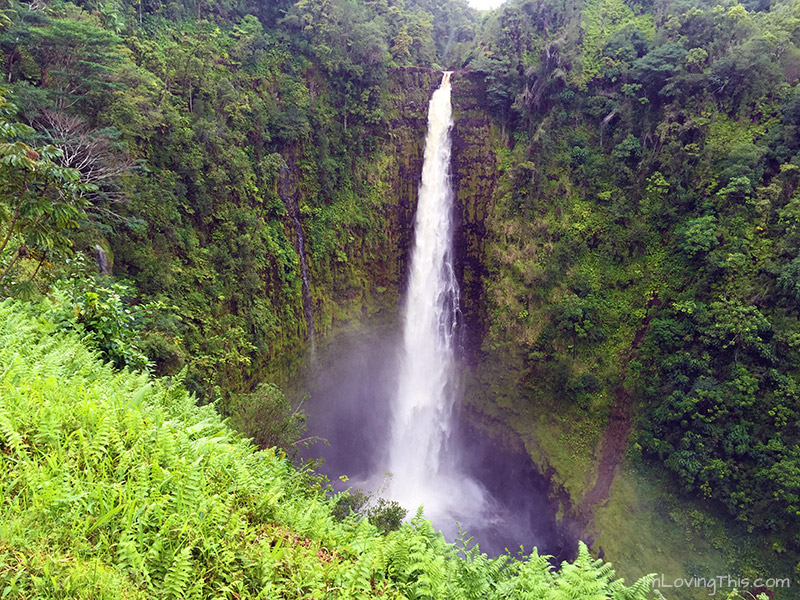 It was raining a little and only a few other people were visiting the falls. The Big Island is definitely more quiet than Oahu. 
After visiting that waterfall we looked at the map to see what else was nearby on our way up to Hawai'i Volcanoes National Park. We ended up stopping by Rainbow Falls. Just gorgeous, I recommend stopping there as well. Rainbow falls is about 80 feet high and 100 feet wide. The falls flow over a lava cave. You can typically catch a rainbow over the falls, hence the name. We were lucky enough to see a rainbow. This spot was a little busy, probably cause it was in Hilo and easy to get to.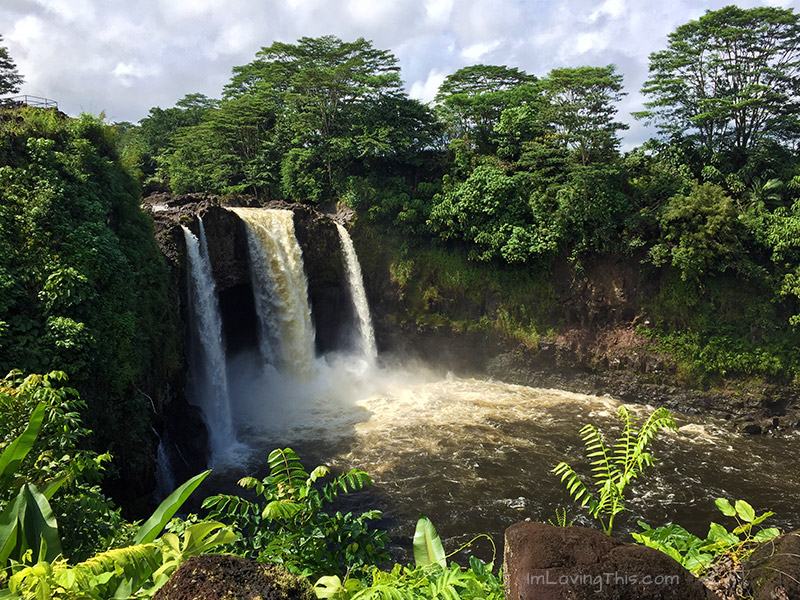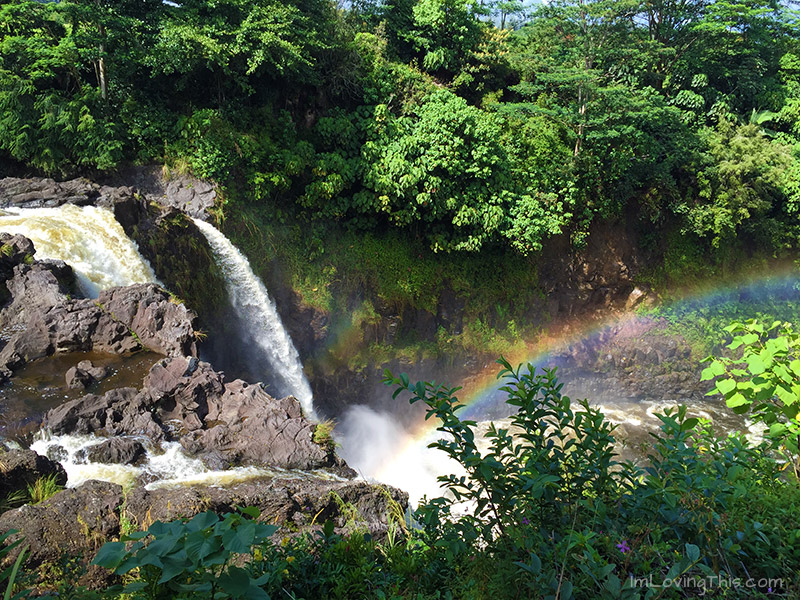 Check out this Banyan tree in the forest at Rainbow Falls, it's huge!!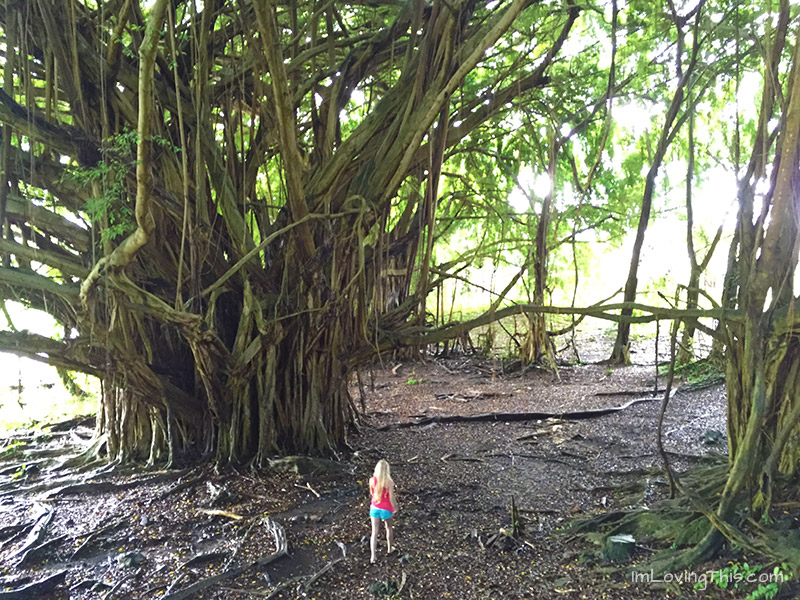 A little upstream there is another waterfall, Pe'epe'e Falls & the Boiling Pots. We decided to also go check that spot out since we were there. Apparently you can swim in the boiling pots (not recommended though) along the river. We didn't see anyone swimming, but the river was flowing pretty good from all the rain so it looked like it would be a dangerous time to do so. The picture I got here looks like it belongs on a postcard, at least I think so. 🙂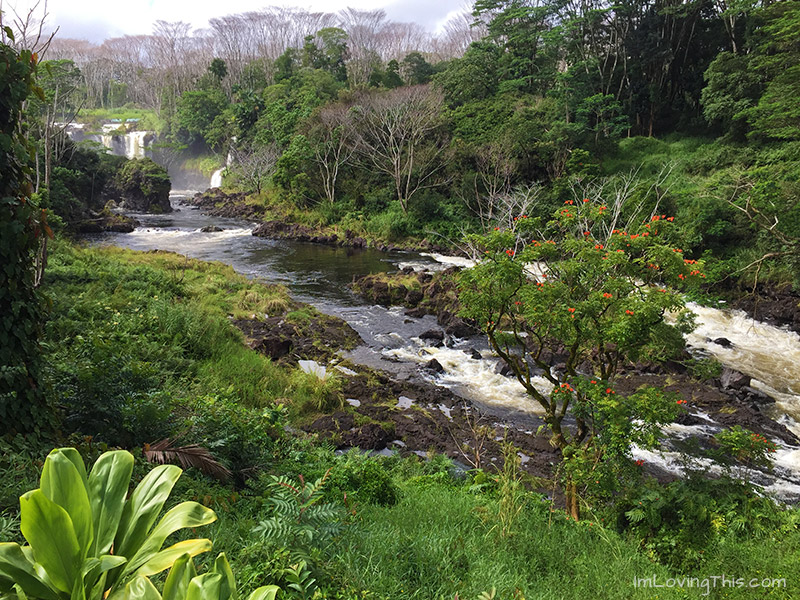 It was late afternoon so we decided to head to the Hawai'i Volcanoes National Park to check-in to our cabin and see that area. 
Stay tuned for my next post all about our stay in Hawai'i Volcanoes National Park. 🙂 
What areas do you recommend visiting on the Big Island?
We want to go back as we didn't get a chance to explore the entire island in our trip. 
Read my other Hawaii travel blogs here.
Make sure to follow me on Instagram as well to see more pictures.