This winter I went up to Whistler, B.C. and did something I thought I'd never, ever do.  I went bungee jumping.  I have never been so scared to do something in my life.  But I have to say it was one of the greatest feelings ever and I want to go again and again.  I got myself way too worked up and it wasn't really that bad.  It was scary but it was awesome.  At Whistler Bungee you jump from a 160 ft bridge spanning 300 ft over the glacial fed Cheakamus River.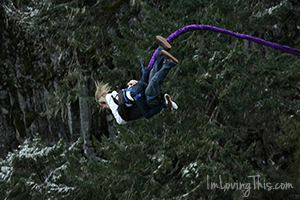 Before I went bungee jumping I went ziplining.  The zipline was so much fun and very beautiful.  The snow covered the ground and all the trees.  If I go in the winter again I will make sure to wear warmer clothes because I froze.  I thought I might be scared hanging from some little cable but I wasn't.  The only thing that scared me was when the tour guides told me that I have to scrunch into a ball because I am light and might get stuck halfway in the line.  I definitely didn't want to get stuck hanging from some cable high above the ground.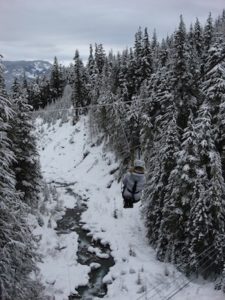 Have you ever been bungee jumping or ziplining?  Where have you gone?  Did you know you can bungee jump into a volcano in Pucón, Chilé?  That would be amazing, but it costs $10,000.