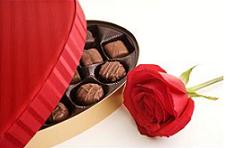 I saw this Valentine's Day tag going around on different blogs so I thought I'd do it as well.  Was going to make a video for it but I didn't have the time.
1.  What is your favorite Valentine's Day treat?

Cinnamon Hearts
2.  Sweethearts or chocolate covered strawberries?
Chocolate covered strawberries
3.  What was your favorite Valentine's day memory?
When my boyfriend (who wasn't when he did this) drove all the way up to Vancouver, B.C.  from California just to take me out for Valentine's Day.
4.  What movie would you rather watch on Valentine's Day: Pretty Woman or You've Got Mail?
Pretty Woman, classic chick flick
5.  Which restaurant would you prefer to go to for a Valentine's Day date?
I don't have a specific restaurant but somewhere that serves a delicious steak.  Maybe even a bacon wrapped filet mignon, yum!
6.  What would you do on your perfect Valentine's date?
Really all I want is to be with the one I love.  A delicious, romantic dinner is perfect for me, home cooked or at a restaurant.  I like going to a restaurant because it gives me a reason to get all dressed up in a nice dress.  This year I am going to the hot springs for a night and that also sounds perfect to me!
7.  Red or pink lips on Valentines Day?
I say red, but it also depends on the outfit.
8.  What is your ideal Valentine's Day date outfit?
A tight fitting red dress with high satin black heels with a black or silver clutch.  It is usually cold on Valentine's Day so a warm peacoat to stay warm.
9.  Homemade or store-bought gifts?
Either, I don't want any gifts for Valentine's Day
10.  Would you wear your hair up or hair down for a date night?
I'd wear it down with some loose curls.  If I could put it up nicely (which I can't) I'd also curl it and wear it up.
Take a look at my DIY Valentine's Day Gifts
Handmade Valentine's Day Gift Idea – Candy Jar