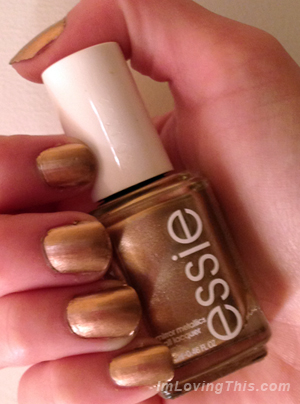 I purchased Essie Penny Talk because it caught my eye for the holiday season since it was a copper metallic.  I have now been reminded that I do not like metallic nail polishes.
This nail polish was a pain to paint on.  It went on streaky and I had to go very slowly.  I did two coats and it could of probably used three.
The paint shows all the flaws in my nails and I did not like that at all, an that is a reason why I do not like metallic nail polish.  They all seem to show the flaws.
I applied a base coat, two coats of Essie Penny Talk and then a top coat.  My nails were already chipping before the day was over.  I was not pleased.
Overall I did not like the colour of Essie Penny Talk, it did not flatter my skin tone.  But it might look better on some one else.  It is a beautiful copper colour but it just wasn't for me.
Typically I really like Essie nail polish, but I wasn't impressed with this one.  I didn't like the formula at all or the colour.  But I don't judge nail polishes on their colour as everyone has different tastes.