e.l.f. products tend to be hit and miss but the Acne Fighting Gel is a hit in my books.  I've actually owned this products for several years and never opened it.  My face had some breakouts so I decided to crack open the e.l.f. Zit Zapper (now called Acne Fighting Gel) and have been using it consistently since. 
The e.l.f. Acne Fighting Gel is made from a blend of Salicylic Acid, Tea Tree Oil, Witch Hazel and Camphor to help fight and prevent acne, reduce redness and swelling, minimize pore size and clear skin.
I typically use tea tree oil on my face but it is a little drying during the winter so that is why I decided to try the Acne Fighting Gel.  I actually think I like it better than just plain out tea tree oil.  
The e.l.f. Acne Fighting Gel retails for $2.00 on their website and in stores and you get 2 ounces of product, it's very inexpensive and something that can be purchased with just about any budget.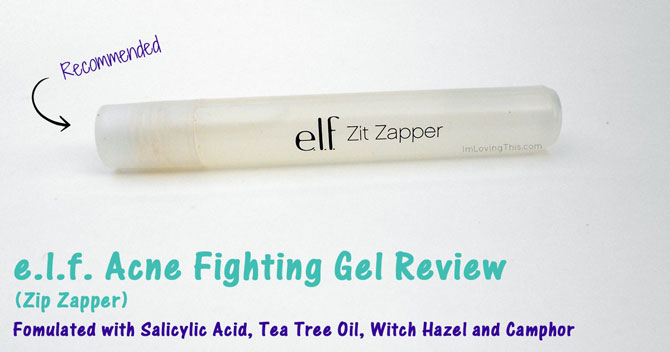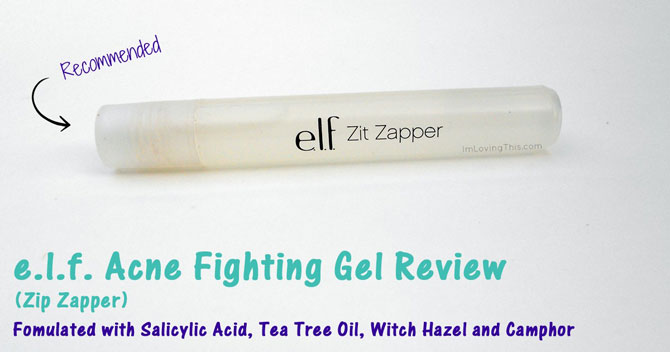 The solution comes in a clear plastic roller ball container.  The only thing I don't like about this product is the packaging.  I would prefer a jar or bottle or anything besides this roller ball. It's hard to dispense the product as the roller ball sucks (unless I have a bad one?).  It actually hurts to roll it over breakouts and takes forever for the product to dispense.  It would probably be better if it was a metal roller ball instead of a cheap plastic one.  I also find it to be unsanitary to be rolling this ball over all my breakouts.  I would prefer it to be in an open topped bottle that I could stick a q-tip into.  I would be willing to pay more for this product if they offered it in an improved bottle.  I might buy a few and open them up and put them in an alternative container. 
Crappy packaging aside, the e.l.f. Acne Fighting Gel is awesome!  
After cleansing your face you apply this product to any affected areas one to three times daily.  If I have a breakout I probably apply it 3-5 times a day haha.  By the next day any of the breakouts I have applied it to have reduced significantly, I've even seen a difference throughout the day.  
Depending on your skin, this product could cause dryness and irritation due to the ingredients.  If you start to notice any dryness or irritation then cut down on how often you use t.  It hasn't caused any irritation to my sensitive skin, but my skin is also used to the ingredients that are in this product. 
I said above that this product used to be called the Zit Zapper.  Not sure why they changed the name, but it is still the same product.  You can still find the Zit Zapper online on Amazon and other sites but not on e.l.f.'s website.  My pictures show "Zit Zapper" but I promise you, it's the exact same product.
If you have any issues with breakouts then I recommend you try this product.  I really wish I opened it sooner, it has been sitting in my drawer unopened for probably four years… I only opened the Acne Fighting Gel cause I was cleaning out all my makeup and products and getting rid of anything I don't use or want.  I will continue to purchase this product as long as they keep selling it.  
Have you tried e.l.f.'s Acne Fighting Gel?  What do you think of it?  
Also, what are your favourite products for fighting breakouts?  Let me know in the comments below. 🙂