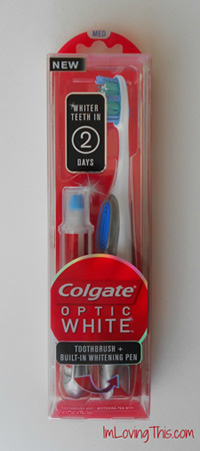 I received another awesome VoxBox from Influenster a few weeks ago.  Inside I received the Colgate Optic White Toothbrush + Whitening Pen, some toothpaste and quite a few coupons to repurchase the product.  I'm always excited to try whitening products because I have a big smile and want the whitest smile I can get.
The Colgate Optic White Toothbrush + Whitening Pen is an all-in-one solution that claims to go beyond surface stains to deeply whiten teeth.  It is advertised to give you whiter teeth in just two days.  It is marketed as an easy to use whitening product. 
What you get
You get a toothbrush and a whitening pen that contains a gel whitening solution.  The whitening pen stores inside the handle of the toothbrush which is convenient.  It doesn't require a cap or anything, you just pop it into the handle of the toothbrush.  I thought that it was a great idea.
Instructions
Brush your teeth with the tooth brush, they recommend using their Colgate Optic White Toothpaste.
After brushing apply the whitening gel with the whitening pen and then you are done.
My initial thoughts on use
I had no hopes whatsoever for the Colgate Optic White Toothbrush + Whitening Pen, it really seemed too good to be true.  I do own professional whitening trays that I have used them once about a year ago.  I wasn't expecting this product to live up to my dentist prescribed whitening trays.
I received a medium coarse toothbrush which I found to be harsh on my mouth.  I did continue to use it so I could see the full effects of the product.  The toothbrush has rubber scrubbers in the center that are suppose to help remove surface stains.  My teeth did feel a lot cleaner and fresh after using the toothbrush.  I would have preferred a soft bristle brush and will buy one with soft bristles when I repurchase.  The toothbrush felt kind of cheap overall, so I decided I'd only continue to use it while using the whitening pen and then switch back to my normal tooth brush after.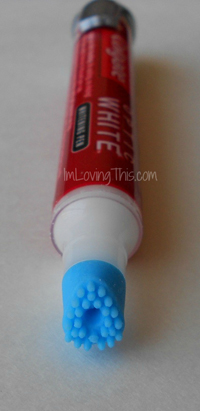 After brushing I applied the whitening gel using the pen.  I thought that the pen made applying the gel easy and quick.  I used two clicks for the top and two clicks for the bottom.  I did one click at a time so I could spread it evenly and not over apply the product.  I've used whitening products before and it is always messy when you apply to much.
After applying the whitening gel the directions say you can just go. After reading reviews online people seem to be confused about what that means.  No where on the directions does it tell you how long to wait till you can drink or eat or if you should close your mouth right away or what.  I applied the gel to my bottom teeth, waited a minute or less and then applied it to my top teeth.  That way I made sure the gel stuck to my teeth without washing away.  After applying the gel I didn't eat or drink until it had disappeared.
One thing I do find strange about the whitening gel is that it just 'soaks into your teeth' and disappears.  It concerns me that I am swallowing the gel and what it could do to my health if I used the product over a long period of time.
Colgate says to continue using the pen twice a day until it is finished and then replacing the toothbrush with a new one every three months. 
Did it cause sensitivity?
I have developed sensitive teeth over the past year or two.  I'm not sure why exactly, maybe from my whitening toothpaste, or maybe it has happened with age.  I'm not affected by hot or cold, just by whitening products.  I have always been a Crest toothpaste user and for the past few years have been using their 3D White Toothpaste.  I had to start alternating with that in the morning and Sensodyne in the evening because it was too much for my mouth.  Crest released a sensitive version of their 3D white toothpaste and I have been using that ever since.  I haven't had any sensitivity issues since using the sensitive version and have been able to use it both morning and night. 
When I whitened my teeth professionally with my whitening trays I experienced quite a bit of sensitivity on my gums and teeth.  I couldn't do it every day like I was told because it would cause me pain.  A pain I'd never experienced before, it was like shooting pains through my teeth and gums. 
The Colgate Optic White Toothbrush + Whitening Pen hasn't cause any sensitivity to my teeth or gums.  Which is amazing!  It isn't near as strong as professional whitening so maybe that is why it doesn't cause any sensitivity.  It is pretty easy to just apply to your teeth to and avoid your gums so that also helps prevent sensitivity.  If you have sensitive teeth this may be a whitening option for you.
Results
After the first time using the Colgate Optic White Toothbrush + Whitening Pen my teeth appeared whiter.  Or so I believed, I always think my teeth look stained even though my dentist says their a whiter than average.  I continued to use the toothbrush and whitening pen every morning and every night before bed and I did see a difference.  My teeth appeared to get brighter every day.  I was very impressed with the results and excited that it was such an easy process.  I didn't think that I would see any results from a whitening pen from the drugstore.  I was wrong!
I am still using this product and it has been about 10 days.  I still have whitening gel left in my pen and am not sure how long it will last but will update you when I'm done. 
I am hoping that the results last and that my teeth stay white for quite some time.  But we will see what happens.  The results from my professional whitening has lasted quite awhile and I probably didn't even really need to whiten my teeth.
Cost
I noticed the Colgate Optic White Toothbrush + Whitening Pen at Walmart yesterday for $12.99 which I think is a very reasonable price.  A toothbrush alone typically costs around $3 – $5 and with this product you get both a toothbrush and a whitening pen.  I'm sure it costs more at other stores but I shop quite often at Walmart because I think they have the best prices.
Summary
I do recommend that you try the Colgate Optic White Toothbrush + Whitening Pen if you are looking to whiten your teeth.  It is a much cheaper alternative to white strips and professional whitening.  Not to mention it is easy to use and you don't have to sit there with a stupid tray or strip over your teeth for an hour. 
I would really like it if Colgate just sold the gel pen as is without the toothbrush.  I am pretty particular to what toothbrushes I use so it would be nice to just have the whitening pen so I could use it with whatever toothbrush I wanted.
Like I said previously, if you have sensitive teeth this could be an option for you to whiten your teeth.  You may  want to consult your dentist before using any whitening products as I am not a dentist myself and this is just my experience with the product.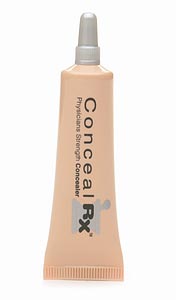 I had been looking for the Physicians Formula Conceal RX for quite some time and could never find it.  I was placing an order with Drugstore.com and searched for it on their site, found it and added it to my cart.  It has some pretty good reviews online and I really wanted to try it.
I have stubborn, dark under eye circles and also get the occasional blemish that I want to cover up.  I've tried out several drugstore concealers and most end up being a fail.
I purchased the Physicians Formula Conceal RX in the shade 'Natural Light'.  My main reason for purchasing the concealer was to cover up my under eye circles so I tried to chose a shade a few shades lighter than my skin tone.
The concealer comes in a tube, which I both like and dis-like.  I like tubes because they are easy to use and pretty sanitary as opposed to a pot or something with an applicator on the end.  The only thing I don't like about tube packaging for concealers is that some products separate and you really have to shake the tube, which is kind of hard to do.  I haven't noticed any separation of the Conceal RX as of yet and I've owned it for well over a month now.
I enjoy the formula of the Physicians Formula Conceal RX.  It is fairly thick and a little bit goes a long way, so be careful when applying it.  It smooths out nicely and really does help conceal my dark under eye circles.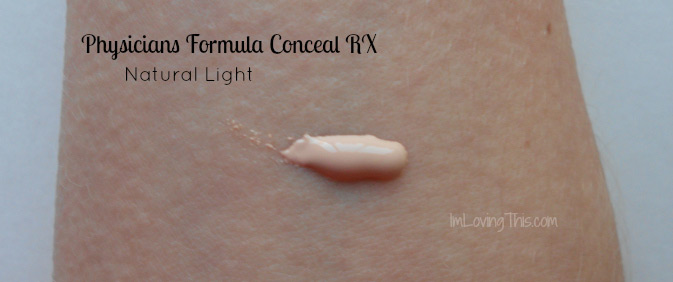 At first, after application, I really liked the concealer and was really excited, it has great coverage.  I thought that it was going to be a new holy grail product.
I case you don't know, I'm in my late 20′s and have developed some fine lines under my eyes.  After an hour or two the Physicians Formula Conceal RX sunk into my fine lines and really made them show.  I was quite disappointed when I looked in the mirror and noticed as I really liked the coverage the concealer gave.
I tried applying less of the concealer around my eye area and it still sunk into my fine lines and made them more noticeable.  I still try and use the Conceal RX, but I make sure not to apply it over my fine lines which are right under my eye.  I can still conceal my dark circles as they are slightly below my fine lines.  It takes some extra work, but I want to use up the product.
If you do not have any fine lines or wrinkles than this concealer should work great for you.  It would be a great under eye concealer for anyone with young skin.  I don't think that it would be the best concealer for dry skin types as it does sink into my fine lines, so I image it will stick to dry areas on the face as well. 
I will probably pick up this concealer in a shade darker if they offer it and use it conceal my blemishes as the shade I originally purchased is too light for that purpose.  If you have young skin then I suggest trying Physicians Formula Conceal RX for your under eye area as it does have really good coverage.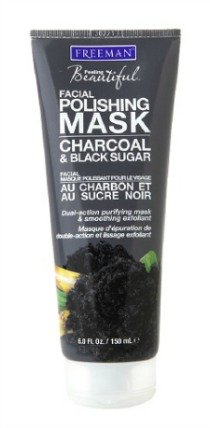 I received a few small sample packets from Freeman a few months ago and I'm happy I did cause I found one of my new favorite face products.
Announcing…. my new holy grail product is the
Freeman Facial Polishing Mask – Charcoal & Black Sugar.
At first I thought the idea of it having charcoal in it was strange.  The mask is even black.  But after some research I found out that charcoal is good for your skin.  Charcoal helps remove toxins from your body.  It can help fight acne by removing the toxins and help promote clear skin. 
The Freeman's Facial Polish mask claims to absorb oil and impurities without over-drying.  It also says that is helps exfoliate away dulling skin cells for softness and clarity.  It is perfect for all skin types.
To use this facial polishing mask all you do is apply it to your face and neck, obviously avoiding the eye area.  Leave it on for 5 to 7 minutes.  Then gently massage for 1 to 2 minutes and then rinse it off with warm water.
The face mask is pretty looking when you squish it out of the bottle/tube.  It is grey and has a nice subtle scent.  I'm not a fan of things that have a strong scent so I was glad that the scent was minimal.  I will mention that it is kind of messy to apply.  It is a scrub and a mask in one so it can been kind of hard to spread it around nicely without making a mess.  But it is well worth it.  I find it easier to use a makeup brush to spread it around my face.
I noticed a warming sensation when applying this mask, not sure if that is just me.  The warming sensation felt very nice, made it feel more spa-like.  Because this is a sugar scrub it is possible that it could be a little rough for some skin types.  My skin is fairly sensitive and it works great for me so you will just have to try it and see if it works for you.
The Freeman's Charcoal and Black Sugar Facial Polish Mask leaves my skin so silky smooth after rinsing it away.  It doesn't leave that feeling of tightness or make you feel like you need to apply a bunch of moisturizer.  My face always feels like a baby's bottom after using it.  I absolutely love this stuff!  I can't say if it helps minimize oil on my face because my skin has been drier lately.  But if it helps absorb oil then I will love using this in the summertime too.
I also like to use the mask in the shower and apply it to my face before shaving and washing my body because I'm lazy like that.  I will probably eventually try it as a body scrub as well because it feels so great on my face, I've used it on my hands and it leaves them feeling so smooth.
Freeman's Charcoal & Black Sugar Facial Polishing Mask is very affordable, I believe I paid $3.99 for a bottle.  I found it very difficult to find in stores so I did end up placing an order for a few tubes with Drugstore.com just to get this mask because I loved it so much. 
I highly recommend you try out the Freeman Feeling Beautiful Facial Polish Mask in Charcoal & Brown Sugar.  If you try it out let me know what you think of it. 
Also, I would love to hear what your favorite masks are in the comments below.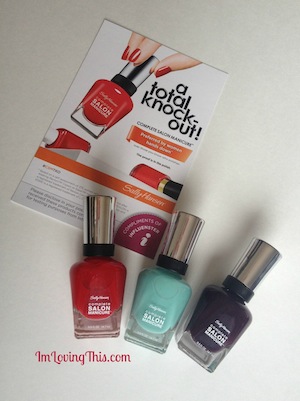 I was lucky enough to receive 3 bottles of Sally Hansen's Complete Salon Manicure from an Influenster VoxBox.  I've received a few VoxBoxes but was probably the most excited about this one as you all know I have a serious addiction to nail polish.
Let me tell you a bit about the Sally Hansen Complete Salon Manicure Line.  Sally Hansen claims that this polish will give you a perfect salon-style manicure and that it has 7 benefits all in one bottle.  The benefits are:
Base Coat
Strengthener
Growth Treatment
Color
Top Coat
Chip Resistant
Gel Shine Finish
There are 50 shades currently available so there should be one to suit everyone out there.  They say that the polish will last 10 days and promise streak-free application.
I received the following colours in my VoxBox: Read the rest of this entry »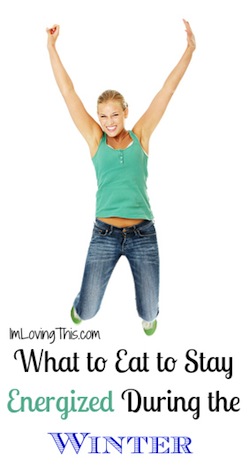 There is something about winter that can be very draining on people.  Maybe it is all the time one spends indoors or maybe it is the lack of sun.  I find that during the winter I lack energy as do others.  Not to mention all the illnesses that like to breed during the winter months.  Everyone is always looking for a pick-me-up during the winter months, and coffee isn't the answer as it is only a short-term fix.
Here are some foods that will help keep you energized all winter long.
Water
You must stay hydrated in the winter months, and all year actually.  It seems to be easier to remember to drink your eight 8-ounce glasses of water a day in the summer when you are hot an thirsty.  In the winter you might have to force yourself to drink more water.  Keeping yourself hydrated will help keep your energy levels up.
Yogurt
The amount of protein you consume from Greek or Low-fat yogurt will multiply.  Greek yogurt seems to be really popular, although I don't like it and won't eat it.  I will however eat regular yogurt, especially blueberry.  The probiotics in yogurt will help keep you healthy and keep your immune system strong. 
Nuts
Nuts are packed with protein and magnesium and a great choice for a midday pick-me-up.  Some good nuts to eat which will help improve your mood are almonds, walnuts or Brazil nuts.  Pumpkins seeds are also a great source of energy-rich minerals, so stock up on them during fall.
Leafy greens
In order to create energy your body requires iron to help transport and store oxygen.  Spinach, lettuce and broccoli are great choices to eat.  Blend yourself up a veggie smoothie if you are looking for an afternoon pick-me-up.  Don't forget about celery, ants on a log are a fun and easy snack which will help keep your energy up throughout the day.
Fresh fruit
A apple a day does more than keep that doctor away.  Apples, banana and blueberries are good fruit choices to keep your energy level up.  Blueberries can be hard to find in the winter, so stock up when they are in season and freeze them.  Apples are a great fall and winter fruit and are easy to find.  Fruit snacks are easy and delicious, you can add it your cereal, make a smoothie or even a fruit salad.   
Whole grains
Start your morning off with a nice steaming bowl of oatmeal.  The fiber and B vitamins make it the perfect breakfast choice.  Also, add brown rice, whole wheat pasta and whole wheat bread to your diet to help keep your energy up throughout the day.
Lean meat and fish
Chicken, turkey, pork and lean ground meat are all good sources of iron.  Just like the leafy greens, you need that iron to help store and transport oxygen in the body to keep you energized.  Although I don't like seafood, salmon contains riboflavin, protein, niacin and Vitamin B6, which all have energy-converting properties.  
Legumes
Lentils, beans and peas contain protein, iron and magnesium which makes them a great food for energy.  Chickpeas and black beans are full of finer which helps slow down digestion.  They will help keep you full and energized longer.
Eggs
If you enjoy eggs, why not start your day out with one?  Eggs have a high amount of protein in them and are a perfect, energy fueled breakfast.  No matter how you prepare them, it is the perfect choice to start your day.
Dark chocolate
If you like it, you can satisfy your sweet tooth with this treat.  But make sure you are eating dark chocolate, which I don't like :(.  The caffeine in dark chocolate will give you that initial pick-me-up, and then it just keeps on giving.  It helps increase the blood flow to your brain and also contains antioxidants, magnesium and iron.  It is a natural choice to fill both your cravings and give you energy.
If you work these foods into your diet in the winter months, or all year you will feel more energized and be able to make it through the day no problem.