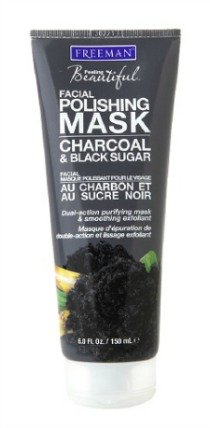 I received a few small sample packets from Freeman a few months ago and I'm happy I did cause I found one of my new favorite face products.
Announcing…. my new holy grail product is the
Freeman Facial Polishing Mask – Charcoal & Black Sugar.
At first I thought the idea of it having charcoal in it was strange.  The mask is even black.  But after some research I found out that charcoal is good for your skin.  Charcoal helps remove toxins from your body.  It can help fight acne by removing the toxins and help promote clear skin. 
The Freeman's Facial Polish mask claims to absorb oil and impurities without over-drying.  It also says that is helps exfoliate away dulling skin cells for softness and clarity.  It is perfect for all skin types.
To use this facial polishing mask all you do is apply it to your face and neck, obviously avoiding the eye area.  Leave it on for 5 to 7 minutes.  Then gently massage for 1 to 2 minutes and then rinse it off with warm water.
The face mask is pretty looking when you squish it out of the bottle/tube.  It is grey and has a nice subtle scent.  I'm not a fan of things that have a strong scent so I was glad that the scent was minimal.  I will mention that it is kind of messy to apply.  It is a scrub and a mask in one so it can been kind of hard to spread it around nicely without making a mess.  But it is well worth it.  I find it easier to use a makeup brush to spread it around my face.
I noticed a warming sensation when applying this mask, not sure if that is just me.  The warming sensation felt very nice, made it feel more spa-like.  Because this is a sugar scrub it is possible that it could be a little rough for some skin types.  My skin is fairly sensitive and it works great for me so you will just have to try it and see if it works for you.
The Freeman's Charcoal and Black Sugar Facial Polish Mask leaves my skin so silky smooth after rinsing it away.  It doesn't leave that feeling of tightness or make you feel like you need to apply a bunch of moisturizer.  My face always feels like a baby's bottom after using it.  I absolutely love this stuff!  I can't say if it helps minimize oil on my face because my skin has been drier lately.  But if it helps absorb oil then I will love using this in the summertime too.
I also like to use the mask in the shower and apply it to my face before shaving and washing my body because I'm lazy like that.  I will probably eventually try it as a body scrub as well because it feels so great on my face, I've used it on my hands and it leaves them feeling so smooth.
Freeman's Charcoal & Black Sugar Facial Polishing Mask is very affordable, I believe I paid $3.99 for a bottle.  I found it very difficult to find in stores so I did end up placing an order for a few tubes with Drugstore.com just to get this mask because I loved it so much. 
I highly recommend you try out the Freeman Feeling Beautiful Facial Polish Mask in Charcoal & Brown Sugar.  If you try it out let me know what you think of it. 
Also, I would love to hear what your favorite masks are in the comments below.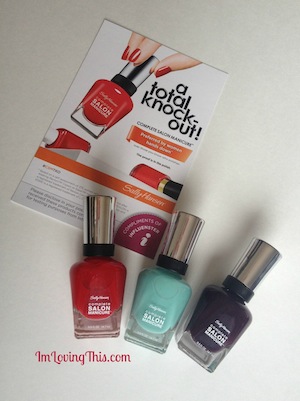 I was lucky enough to receive 3 bottles of Sally Hansen's Complete Salon Manicure from an Influenster VoxBox.  I've received a few VoxBoxes but was probably the most excited about this one as you all know I have a serious addiction to nail polish.
Let me tell you a bit about the Sally Hansen Complete Salon Manicure Line.  Sally Hansen claims that this polish will give you a perfect salon-style manicure and that it has 7 benefits all in one bottle.  The benefits are:
Base Coat
Strengthener
Growth Treatment
Color
Top Coat
Chip Resistant
Gel Shine Finish
There are 50 shades currently available so there should be one to suit everyone out there.  They say that the polish will last 10 days and promise streak-free application.
I received the following colours in my VoxBox: Read the rest of this entry »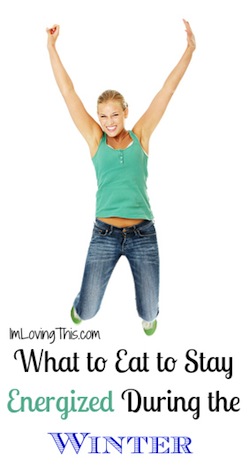 There is something about winter that can be very draining on people.  Maybe it is all the time one spends indoors or maybe it is the lack of sun.  I find that during the winter I lack energy as do others.  Not to mention all the illnesses that like to breed during the winter months.  Everyone is always looking for a pick-me-up during the winter months, and coffee isn't the answer as it is only a short-term fix.
Here are some foods that will help keep you energized all winter long.
Water
You must stay hydrated in the winter months, and all year actually.  It seems to be easier to remember to drink your eight 8-ounce glasses of water a day in the summer when you are hot an thirsty.  In the winter you might have to force yourself to drink more water.  Keeping yourself hydrated will help keep your energy levels up.
Yogurt
The amount of protein you consume from Greek or Low-fat yogurt will multiply.  Greek yogurt seems to be really popular, although I don't like it and won't eat it.  I will however eat regular yogurt, especially blueberry.  The probiotics in yogurt will help keep you healthy and keep your immune system strong. 
Nuts
Nuts are packed with protein and magnesium and a great choice for a midday pick-me-up.  Some good nuts to eat which will help improve your mood are almonds, walnuts or Brazil nuts.  Pumpkins seeds are also a great source of energy-rich minerals, so stock up on them during fall.
Leafy greens
In order to create energy your body requires iron to help transport and store oxygen.  Spinach, lettuce and broccoli are great choices to eat.  Blend yourself up a veggie smoothie if you are looking for an afternoon pick-me-up.  Don't forget about celery, ants on a log are a fun and easy snack which will help keep your energy up throughout the day.
Fresh fruit
A apple a day does more than keep that doctor away.  Apples, banana and blueberries are good fruit choices to keep your energy level up.  Blueberries can be hard to find in the winter, so stock up when they are in season and freeze them.  Apples are a great fall and winter fruit and are easy to find.  Fruit snacks are easy and delicious, you can add it your cereal, make a smoothie or even a fruit salad.   
Whole grains
Start your morning off with a nice steaming bowl of oatmeal.  The fiber and B vitamins make it the perfect breakfast choice.  Also, add brown rice, whole wheat pasta and whole wheat bread to your diet to help keep your energy up throughout the day.
Lean meat and fish
Chicken, turkey, pork and lean ground meat are all good sources of iron.  Just like the leafy greens, you need that iron to help store and transport oxygen in the body to keep you energized.  Although I don't like seafood, salmon contains riboflavin, protein, niacin and Vitamin B6, which all have energy-converting properties.  
Legumes
Lentils, beans and peas contain protein, iron and magnesium which makes them a great food for energy.  Chickpeas and black beans are full of finer which helps slow down digestion.  They will help keep you full and energized longer.
Eggs
If you enjoy eggs, why not start your day out with one?  Eggs have a high amount of protein in them and are a perfect, energy fueled breakfast.  No matter how you prepare them, it is the perfect choice to start your day.
Dark chocolate
If you like it, you can satisfy your sweet tooth with this treat.  But make sure you are eating dark chocolate, which I don't like :(.  The caffeine in dark chocolate will give you that initial pick-me-up, and then it just keeps on giving.  It helps increase the blood flow to your brain and also contains antioxidants, magnesium and iron.  It is a natural choice to fill both your cravings and give you energy.
If you work these foods into your diet in the winter months, or all year you will feel more energized and be able to make it through the day no problem.
Are you hosting Christmas dinner this year with a bunch of people that you only see once a year?  Are you trying to figure out how you are going to feed everyone and buy them gifts too?  The holidays are a very expensive time of the year, but it doesn't have to be if you budget yourself.  You can make a fantastic Christmas dinner for you and your family without breaking the bank if you follow these simple steps.
1.  Watch the flyers. 
Typically stores will offer you free turkey or ham if you spend a certain amount of money during the holidays.  Typically you don't even have to spend a huge amount, usually your weekly groceries will get you the free turkey or ham.
2.  Make it from scratch.
If you prepare everything yourself you will save a ton of money.  I know it can be hard to find the time to make it all from scratch but it really doesn't take more time.  Certain things such as mashed potatoes can be made ahead of time, frozen and reheated.  Just make sure you take all the prepared frozen food out of the freezer ahead of time.
3.  Use in-season vegetables. 
Fresh vegetables are cheaper than canned, even frozen is cheaper than canned.  As long as the vegetables are in season you can usually get them at a good price and save yourself some money.
4.  Make your own desserts. 
Pre-made crusts are not that expensive and are usually on sale during the holidays.  Just grab a few pie crusts, some apples and seasoning and you can make an apple pie for about $5 as opposed to $15 for a frozen or store made pie.  
5.  Save money on the drinks. 
You don't have to be all about the good wine.  You can start out serving the good wine and then switch to cheaper stuff once your guests have loosened up a bit.  They probably won't even notice.  For non-alcoholic drinks or mixer stick with store brand soda instead of name brand to save some extra bucks.
6.  Find out how many guests will be attending your dinner. 
Having an exact head count will help you to not over buy and waste food.
7.  Cook the right amount of food.
Since you now have a head count you can cook the right amount of food for your guests. Don't plan to have leftovers.  To figure out how big of a turkey you should buy a good rule of thumb is to figure two pounds per person.  So if you are having 10 guests, than a 20-pound turkey should feed everyone.  
8.  Keep everything simple. 
There is no need to have a ton of dishes.  I know you might want to please everyone but sticking to the basics is the best thing to do for your budget.  Have one meat, one starch, one vegetable and one dessert.  You will appreciate the ease in only having to cook one of each of these dishes on your dinner day.
9.  Make your list and stick to it. 
No impulse buying, just get exactly what you need, nothing more.
10.  Encourage your guests to bring a dish. 
If one of your guests is good at making desserts, ask them to bring one.  A lot of the time your guests will even ask if they should bring anything, so take advantage of that.  I know when I go for a dinner I always bring a bottle of wine.  Create a list of possible things you'd like someone to bring for you.   Anything helps and it will make things easier for you.
There is absolutely no need to break the bank to have a great Christmas dinner with your family and friends.  Just be smart and you can save a ton of headaches and money. 
I hope you have a fabulous Christmas this year!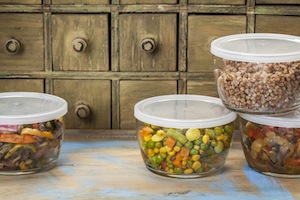 When you are working with a budget, saving on food costs is paramount.  One way to lower the cost of your grocery bill is to utilize leftovers from your meals.  Keep reading this blog post to find some useful tips for storing leftovers properly.
Have you ever heard someone say that a meal, such as spaghetti, tastes even better the next day?  Leftovers are one way to save on the rising cost of feeding your family.  Cooking a favourite meal?  You can use the leftovers for lunch the next day at work or at school.
You won't be able to enjoy your leftovers if they are not stored properly.  Proper storage of leftovers prevents food borne illnesses from spoilage.
6 Tips for Storing Leftovers
Divide and conquer - If your meal had several components resist the urge to throw them all together into one container.  Make sure to take the time to package them separately in the appropriate containers. Read the rest of this entry »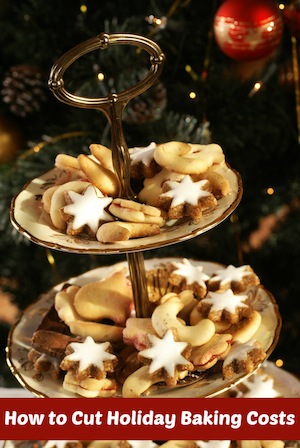 The holidays are a time where most people have a hard time staying within their budget.  You are buying gifts, attending parties, hosting dinners and baking all those delicious holiday treats. 
Often times we end up having to cut down on our baking in order to manage our holiday budget.  Here are a few great tips for making budget friendly holiday desserts.
Always bake from scratch.  Avoid using the pre-made pie crusts and cookie doughs and you will end up saving yourself a ton of money.  It might take the convenience out of cooking but if you are trying to cut costs baking from scratch will help tremendously.  Plus, everything tastes better fresh and from scratch.
Avoid using specialty ingredients when baking.  Don't reach for the Swiss chocolate and avoid any of the expensive nuts such as pecans.  It is simple to substitute with less expensive kinds of chocolates and/or nuts.  You could even avoid receipes that call for expensive ingredients and just stick to recipes that use the staples.
Try and purchase ingredients in bulk.  It will save you money in the long run and things like sugar and flour last a long time.  If you see butter on sale, stock up on it and store it in the freezer as that tends to be a more expensive item when baking. 
Purchase the ingredients when they are in season.  For example, buy pumpkin when it is in season and puree it yourself and save it for future use. 
Plan, plan, plan.  Make a list ahead of time of all the desserts and treats that you want to bake for the holidays and all the ingredients you will need.  Watch for sales and purchase the ingredients when you see the prices drop. 
If your holiday baking requires any special pans or cookie cutters check your local dollar store and see if they have any of the items you need there.  You can also always find bake ware on sale at places like Wal-mart around the holidays so make sure you look for those sales.
If you really want to get thrifty, try and use up all the items in your freezer and pantry before going grocery shopping again.  This will save you money on your weekly grocery shopping trips and also help clean out your freezer and pantry for the new year.  This way you will have some extra money to spend on all your baking ingredients.
Another great way to save money is to have a baking party and invite all your friends over.  Ask them to all bring ingredients to make their favorite holiday cookies and you can all bake in bulk and share the end results.  This is a great way to have several different baked goods without having to go buy all the ingredients. 
When baking your desserts make sure to use your oven heat efficiently.  Start by cooking the item that has the lowest cooking temperature and work your pay up to the highest temperature.  That way your oven doesn't have to work hard buy adjusting the temperature up and down the entire time you are baking.  If you have room in your oven you can also bake one than one thing at once if they have the same cooking temperature.  This will help save you money on your electric and/or gas bill. 
If you are trying to save money around the holidays it can be done with a little bit of planning.  You can really stretch your dollar when doing all your holiday baking and still make some delicious goodies.  It might take a little more time but your wallet will thank you.
Make sure to read my other holiday blog posts here.
Month of December, 2013
Every month I will update you with the latest coupon codes and sales all over the web. If I find more discounts throughout the month I will add them here as well, so make sure to check back before you purchase something online. Never miss out on the coupon codes and sales by subscribing to the right. If you hear about any other sales or coupon codes feel free to post them in the comments below.

Bath & Body Works Coupon Codes
4 for $20 or 6 for $24 Mix and Match Wallflowers and Scentportables. While supplies last.
25% off for Cyber Monday. Use coupon code HAPPYMONDAY. Expires 12/02.
Anti-Bacterial Hand Soap Now: 5 for $15 or 7 for $20.
Buy 3 Get 3 Free Signature Body Care Collection. Expires 12/04.
20% off Body Care, Candles, Wallflowers, Soaps, Gifts and much more. Use coupon code BBWNOV13. Expires 12/10.
Make sure you visit Bath & Body Works through Ebates to earn 4% cash back.
---
Beauty.com Coupon Codes
I love buying Christmas gifts for the people in my life. It can sometimes be difficult to come up with ideas when you are on a budget. 
A great tip for saving money is to look for coupon codes or use cash back websites such as Ebates or Mr. Rebates.  I have a  whole blog post on ways you can save money when shopping online.  Another great tip is to look for coupon codes before ordering gifts online.  Also, if you purchase gift packs you can break them down and give them away individually to friends or family.  
Below you will find a few gift ideas that I have come up with that won't break the bank.

Too Faced – Beauty Editor Darlings Kit
Price: $19.00

 

Editors rave about these 5 must-haves and they are now available in deluxe sizes that fit easily into a makeup bag for beauties on the go.

Collection includes:

Deluxe Lashgasm Mascara
Deluxe Shadow Insurance Eye Shadow Primer
Deluxe Lip Insurance Lip Primer
Deluxe Glamour Gloss in Sex Pot
Deluxe Primed & Poreless

This is also a great introductory set for beauties who would like to try Too Faced Cosmetics.