My boyfriend and I's 4 year anniversary is coming up the following weekend and we thought it would be a fun idea to take a weekend trip somewhere to celebrate. He probably won't be around for our 5 year cause he will be deployed so I wanted to take advantage of being together this year.
Personally I think it's a great idea to take some time for a weekend getaway, anniversary or not. I always feel so rejuvenated after taking a mini trip. It's a great chance to get away from the fast paced life and spend some quality time together.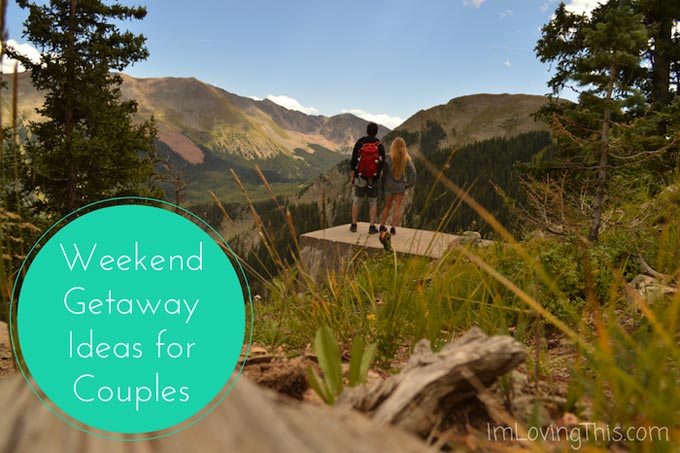 Unfortunately with today's economy the way it is, many couples are faced with the fact that they cannot afford a vacation. 
There are some great alternatives to romantic getaways known as weekend getaways. These getaways are great because they can be customized to your taste as well as your budget needs.
The great thing about weekend getaways is that you can get away during any season, snow or shine, and you will find plenty to do while you are away. Or you aren't the adventurous type and just prefer to relax then you can nothing at all.
Here are some ideas I've come up with. I'll start with warm weather ideas since I'm in California right now and it's pretty much summer.
Warm Weather Mini-Vacation Ideas
Watch TravelZoo or Groupon Getaways for a weekend getaway 1-3 hours away.
Rent out a small beach hut for the weekend
Go to a winery and do a wine tasting
Camp right on the beach
Pack overnight bags, hop in your car and just start driving. See where you end up
Fall Mini-Vacation Ideas
There's no better way to end the summer than with a weekend getaway; especially if you did not get the opportunity to go away with your significant other over the summer. You can enjoy the fall season in all its abundance in so many ways.
Take a trip through the countryside and watch the leaves fall and be in awe of their changing colors
Plan a fall hike to enjoy nature and relax
Go apple and pumpkin picking
Have a picnic under the stars
Winter Mini Getaway Ideas
If you love the look of snow, but don't like being out in it, then a winter wonderland vacation is for you. You can choose from a variety of lodging options such as:
A bed and breakfast
A country inn
A log cabin
A lodge
There are many activities that you can do during the winter season as well.
Take a sleigh ride through a winter wonderland
Take in the view in front of a crackling fireplace in a cozy lodge
Take a mini spa vacation and get a hot stone massage
Enjoy a romantic candlelight dinner for two overlooking some great mountain somewhere
You can go horseback riding in the snow
Take a ski/snowboard vacation (this is what we always do)
As you can see, there are an endless stream of ideas for each and every season. It's just a matter of choosing a season, and, of course something you both enjoy doing.
Do you take mini weekend vacations? Where are some places you've gone and some things you've done? Let me know in the comments below.
I think we are going to go to Monterey or Shelter Cove in California for our anniversary, but are undecided.
Jealous Body Scrub is a new and upcoming company located in Vancouver, B.C. Canada. Yay, my hometown!

They reached out to me and asked if I wanted to try their new product and since they were a local company I decided to give it a go.
The Jealous Body Scrub is made of all natural ingredients. Each scrub contains a mixture of fresh, ground coffee, coconut oil, sea salt, raw brown sugar, vitamin E and minerals. It comes in a zip lock paper package with a foil lining. You get a total of 7 ounces of product, which is a decent amount. The scrub retails for $17.95 and is only available on their website. They ship worldwide so anyone can get their hands on this fabulous product. They currently only have a Coffee + Coconut scrub but told me that they will be expanding in the future.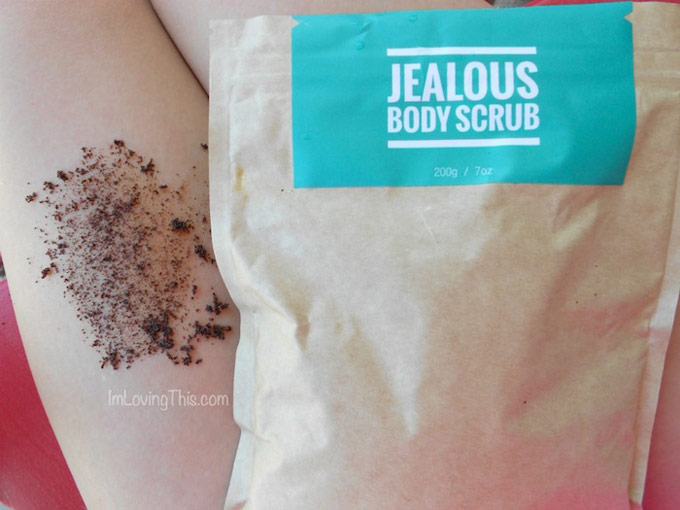 The Jealous Body Scrub reminded me of the popular Frank Coffee Scrub although I've never tried that scrub before so can't compare the two. But you might know of that scrub and they both have the same packaging.
The Jealous Body Scrub says that the coffee grounds help stimulate blood flow which helps reduce the appearance of cellulite, eczema, stretch marks, age spots, varicose veins, psoriasis and acne. The brown sugar and sea salt are there to exfoliate and rejuvenate your skin. The organic coconut oil hydrates and moisturizes skin and the vitamin E and minerals repair skin.
When I opened the package I was instantly awakened by the great smell of coffee.
I'm not a coffee drinker and actually hate coffee, but I love the smell of coffee. I know, I'm strange. I was worried the scrub would smell like coconut but all I could smell was the wonderful smell of coffee.
The directions say to take 2-3 scoops and rub it all over your damp/wet body in a circular motion and let it sit for 5-10 minutes. The longer you let it wait the more results you will see from using it.
When I use the scrub I take a small dish and scoop about two spoonfuls into the dish and take it into the shower. You don't want to get the scrub inside of the bag wet so I think that it's the best way to prevent that from happening. It's a little inconvenient and my boyfriend asked me why there was a spoon in the shower… But it is worth the little bit of effort.
The scrub is pretty messy, it's coffee grounds, so expect your shower to get dirty in the process. It rinses right away though so don't worry, there's no difficult clean up after.
I don't typically leave the scrub on for 10 minutes cause to be honest I just don't have the patience to stand in the shower and wait for that long. I probably leave it on for about 5 minutes. I even apply the scrub to my face, and rub it around in a very gentle motion without any issues.
The first time I rinsed the scrub off I was amazed, it seriously made my skin unbelievably smooth. I dried off and I didn't even feel the need to put lotion on after my shower, but did anyways. My skin has honestly never felt so soft before. I was and am still amazed and was instantly hooked on the Jealous Body Scrub. Every time I use the scrub I can't stop feeling my skin all day long cause it just felt so soft. It is the best body scrub I've ever used, and I've used a lot of scrubs.
The Jealous Body Scrub is a great body scrub to prep my skin before applying my self-tanner. I will let you know if my tan lasts longer or looks any better using it with this scrub.
I haven't seen any results from coffee grounds yet but have only used it a few times so it's hard to say. Plus I'd probably have to use it for the 10 minutes each time, which I never do.
I LOVE the Jealous Body Scrub and told my boyfriend he needs to try it because it works so good. We will see if he ever does, will let you know what he thinks.
The scrub runs for quite more than I like to spend but it really is worth the price and I will be ordering another package in the future.
I highly recommend trying out Jealous Body Scrub, it's phenomenal!
Slough off all the dry winter skin and start with fresh, soft skin for the upcoming Summer. It feels like summer here in California already and I plan on using this scrub all summer to keep my skin looking smooth.
If you try it out let me know what you think in the comments below.
The products in the Organix Anti-Breakage Keratin Oil line are some of the best smelling products that I've tried.  I can't even describe what they smell like, I'm horrible at describing scents.  But next time you are at the drugstore, smell them.  I would repurchase this duo over and over again just for the smell.
This shampoo and conditioner contains keratin proteins that help increase elasticity to resit breakage. It also contains argan oil to help smooth and condition hair.  Organix does not test on animals and their bottles are eco-friendly and pink.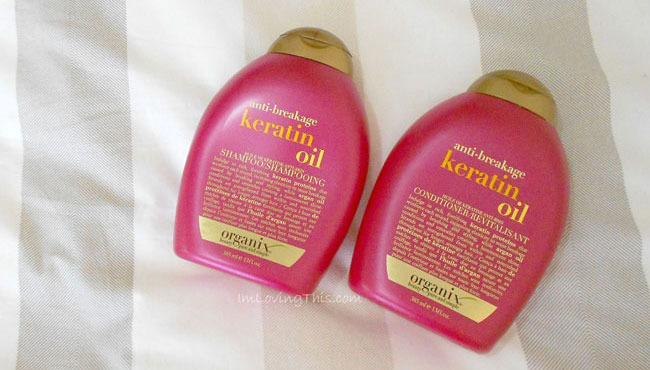 The Organix Anti-Breakage Keratin Oil Shampoo and Conditioner leaves my hair smelling fabulous all day long, even into the next day.  It also makes my hair smooth and adds shine to my blonde hair.  The duo lasts quite some time as you don't need much.  
I recommend picking up this shampoo and conditioner next time you run out.  Or you can just add it to the 10 that are already in your shower like myself.  I also have the Organix Instant Repair Weightless Healing Oil and love it.  If you really want nice smelling hair then make sure to pick that one up too.  I noticed while writing this review that they also have a recovery treatment in this line.  I will have to pick that up next time I'm at the store.  I'll let you know what I think.
This is a really short review, but I don't have much to say about the products.  It's hard to write a long review on shampoo/conditioner.  I just really wanted to let you know about this duo because I love them!
Amie's Skin Care sent me two of their products to test out and possibly review on my blog.  I decided to put both of the reviews into one post because I rather write one long post than two short ones.  I've reviewed Amie's Eye Makeup Remover on my blog as well if you are interested.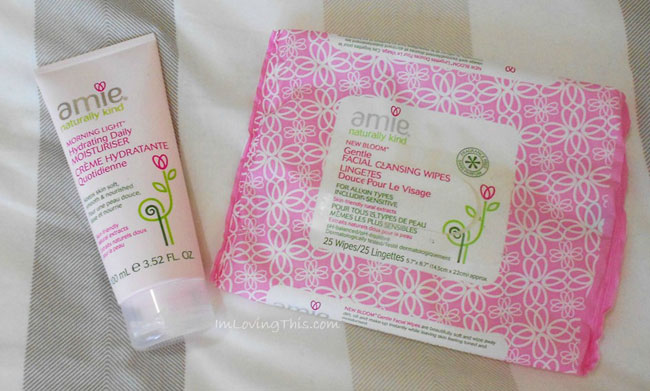 Let's get this review started. First up…
Amie's New Bloom Gentle Facial Cleansing Wipes
I always have a package of makeup wipes open.  I use them to remove my makeup before cleansing as I find I get a deeper clean that way.  I like using them to remove my makeup throughout the day if it starts to bother me and I always take them traveling with me.  They are great to have on hand and I have probably tried 15 different brands. 
Amie Facial Cleansing Wipes are free from parabens, mineral oils, petrochemicals and animal extracts.  They say that they are suitable for all skin types including sensitive skin.  
You get 25 wipes in total, they run for about $6-$7 in store in Canada and are £3.49 on their website.  The wipes come in cute pink packing with the typical sticky seal to re-close it.  I'm not the biggest fan of this and prefer ones with a snap closure lid.  I still buy ones with the sticky closure because all of my favourite brands seemed to be packages this way so it's not really a big deal.  I'm currently down to the last two wipes and my package isn't sealing closed anymore.  I always store makeup wipes upside down to prevent them from drying out, these ones are still moist after being open for over a month. 
The makeup wipe is the standard wipe size, but is fairly thin.  It is also kind of scratchy to my face and doesn't feel as good the ones I typically buy.  I just used one again to be reminded of how they work and I kind of feel like it's irritating my skin.  But it's nothing alarming.  I'm not sure if it is the formula or the actual wipe.  There is no residue left behind after using these wipes and they do a decent job removing my makeup.  You might need to use two to remove all your makeup as they are kind of thin so I find they don't retain a lot of moisture while using them. 
The cleansing wipes are formulated with natural extracts of pomegranate, cranberry and green tea.  They are fragrance-free, which is a plus for me as I'm not a big fan of scented products.  
Amie Facial Cleansing Wipes are ok, but I probably wouldn't purchase them on my own.  I did use up the whole package because they worked but they aren't my favourite.  If you are looking for a paraben free, vegan makeup wipe then these might be something for you. But as for me, I will stick to my regular brands.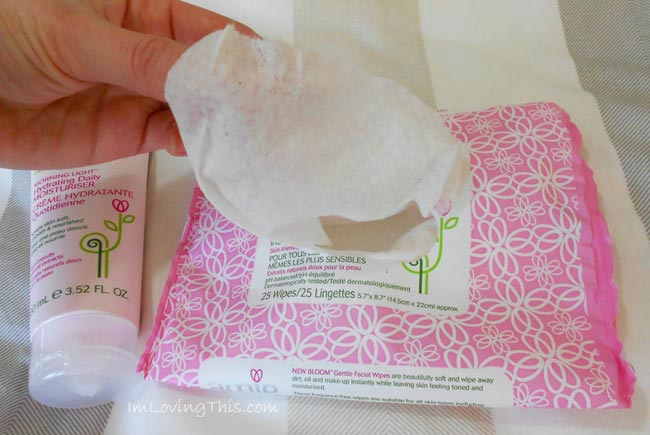 Next up…
Amie's Morning Light Hydrating Daily Moisturizer.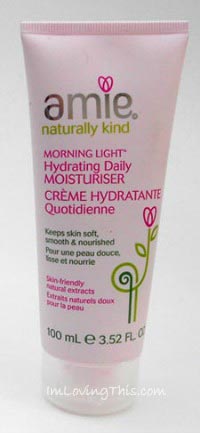 Just like the facial wipes their moisturizer is free from parabens, mineral oils, petrochemicals and animal extracts.  It also comes in cute pink packaging and you get 100 ml of product.  I think this runs for about $10-12 at London Drugs in Canada and is £4.95 on their website.  
Morning Light Hydrating Daily Moisturizer is a light moisturizer that claims to helps keep skin soft, smooth and nourished.  
The moisturizer is white, possibly even a faint pink colour and is very light as it claims.  It has a faint rose, floral scent which typically I don't enjoy but once it's dry I don't notice the smell it so I don't mind.  It contains rose hip oil so that must be why it smells like roses.  A little goes a long way and I haven't even made a dent in this bottle and have been using it for a few weeks now.
I've been applying this moisturizer in the morning before my makeup and I find that it keeps my skin hydrated throughout the day.  Right now since it is winter, my skin is drier than normal and Amie's moisturizer helps hydrate it again.  I am not going to use this entire bottle up now as I want to see how it does in the summer when my skin is more on the oily side.  My makeup applies smoothly over this moisturizer and it doesn't create any oiliness throughout the day.  I've tried plenty of moisturizers that caused me to be a grease face within a few hours. 
Overall I would recommend Amie's Morning Light Hydrating Daily Moisturizer over their New Bloom Facial Cleansing Wipes.
Have you tried any of Amie Naturally Kind's Line?  
Let me know what you think of them in the comments below.
I'm also interested in hearing about any all natural products that you enjoy.  I'm starting to finally finish up some of my skin care items and want to start making the switch to products that are better for my skin. 
I've tried several dry shampoos and wanted to let you know what I think of each one as I try them. I think that it would be hard to write an full individual blog post on each dry shampoo because they are all pretty similar and I don't have much to say about them. I either like them or don't.  
I have blonde hair, for reference, so I can't specifically say how any of these shampoos will work on brunettes and other hair colours. I'll list the reviews in alphabetical order so you can find them easily. I will continue to update this post as I try dry shampoos, I will let you know on Facebook and Twitter when a new review is up. You might also be interested in checking out my review directory which lists every review I've ever written.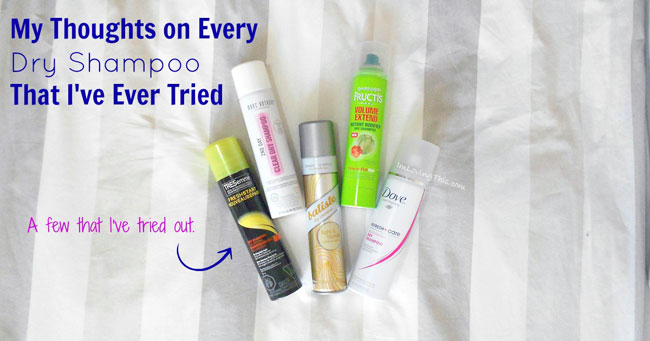 Is it bad that I had that many dry shampoos on the go? I just took that picture and the only one that still has product in it is the Batiste one. 
Here we go…
AG Hair Cosmetics FastFWD Dry Shampoo Review
I have an entire blog post about the AG Hair Cosmetics FastFWD Dry Shampoo that you can read if you'd prefer. But I will give you a quick overview. I love this dry shampoo, it smells great and works very well. The only thing stopping me from purchasing it again is the price tag. This is a high-end brand so it costs quite a bit more than I'd like to spend on a dry shampoo. If you have the money and like to spend money on hair products then you should try it out. Let me know what you think if you do.
Batiste Dry Shampoo Light & Blonde
It took me awhile to try out the Batiste dry shampoos and now I've tried just about all them. I'm going to have to repurchase them all to give you guys an accurate review cause I can't remember what I thought of the other ones. My favourite one is the one for light and blonde hair, not only because it is formulated for my hair colour but because I enjoy the smell the most.  It has kind of a sweet smell but is very faint.  This particular one is tinted yellow (blonde) for that hair colour, so I don't think you'd want to use it on another hair colour.  It doesn't smell powdery at all and works very well.  I will continue to buy this dry shampoo over and over again.  It is a little more money and runs for $5-$10 depending on where you purchase it, but I think it is worth the extra money. 
Dove Refresh + Care Invigorating Dry Shampoo
At first I liked this Dove dry shampoo but my feelings changed quickly.  I find that it has a strong scent and I always want to shower after using it.  This is definitely not suitable for darker hair colours as it leaves a white cast.  It is very powdery and my scalp feels dirty and like it has a ton of buildup on it whenever I use it.  It's taken me awhile to use this dry shampoo up and I basically just used it when I planed on staying inside for the day.  I don't recommend this one and if you are looking for an affordable dry shampoo then go with the Garnier one. 
Garnier Fructis Volume Extend Instant Bodifier Dry Shampoo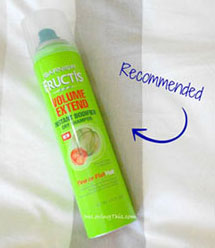 This Garnier dry shampoo is my favourite affordable dry shampoo and  I will be purchasing it again.  It smells like all the other Garnier Fructis products and doesn't have a strong powdery scent like most drugstore dry shampoos.  It doesn't leave a white cast on my hair or make it feel like it their is a ton of crap on my hair/scalp.  I don't really think it gives my hair any added volume, but I don't find that any dry shampoos do, even though people often use them for added body.  My hairs very long, like down to my butt, so it's pretty much impossible to create volume without some work.  I recommend this dry shampoo, it works and is very affordable, you can find it for around the $3 mark.
Marc Anthony True Professional 2nd Day Clear Dry Shampoo
This one can be found at the drugstore and is a little more expensive then your typical drugstore product.  I don't know why I picked up the Marc Anthony dry shampoo, maybe I was looking for something more high-end as it is more expensive than a typical drugstore product.  I won't purchase this one again, and prefer the Garnier or Batiste dry shampoo.  I don't really like the scent of this product, I think it works but there are better ones out there for the price.
TRESemmé Fresh Start Dry Shampoo
This is the first dry shampoo I ever tried and I thought it was good until I started trying other shampoos.  This one is similar to the Dove dry shampoo.  It has a very strong scent and just makes my scalp feel dirty and itchy.  I don't like the TRESemmé dry shampoo at all and actually threw away the last bottle I had of it.  I don't know how it got so popular, maybe because it was like the first drugstore dry shampoo? 
Stay tuned for more reviews.
What's your favourite dry shampoo? Are there any in particular you'd like me to review? 
Let me know in the comments below
SBT Seabuckthorn sent me a few products to try out and possibly review.  The two I'm going to review today are their Day Cream and Night Cream which I've been using regularly for probably about 6 weeks.
SBT Seabucktorn is a local company to me, they are based in Peachland, British Columbia.  I always like supporting local companies when I can.  Seabucktorn International produces their products from the berry, seed and leaf of the Seabuckthorn plant.  
I wasn't very familiar with Seabuckthorn until the company contacted me, I then decided to do some research.  Seabuckthorn has some amazing benefits such as
Being high in omega fatty acids. including 3, 6, 9 and the rare 7.
Helps fight disease such as diabetes and heart disease. 
Helps moisturize, restore and calm skin. 
The list goes on and on, research it a bit yourself and see.
Well now that you know a bit about Seabuckthorn, let's get into the products.
Ear jar contains 50 ml of product.  I do like the packaging, although they could use some better labels as they are hard to read.  Both of the products look the exact same inside the jars, the moisturizers are both yellow.  The Day Cream retails for $29.95 on their website and the Night Cream goes for $34.95.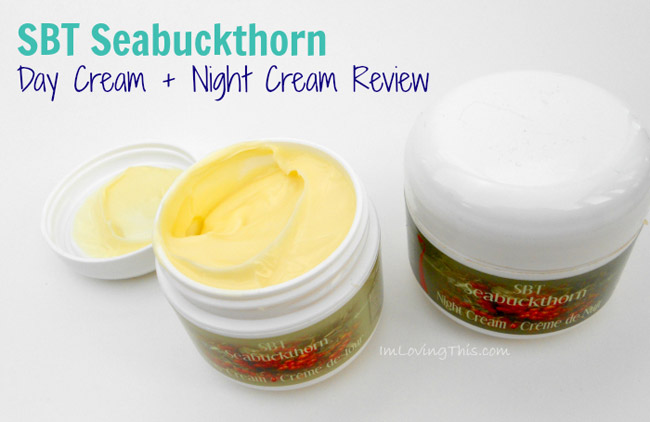 Day Cream
The SBT Seabuckthorn Day Cream contains their special Seed Oil and is enriched with mango butter, shea butter and mango butter to prepare your skin for the day.  It also contains Hyaluronic Acid which has excellent water retaining properties, it gives fullness to the face and eases wrinkles, fine lines and smoothes the surface with a slight plumping action.
For containing so many rich ingredients, the day cream is very light.  It sinks right into my skin and leaves it feeling smooth and ready for the day.  I notice every time that I apply the cream that my skin looks more refreshed and has a little bit of a glow to it.  The cream doesn't leave any sort of film or residue on my face, nor does it cause me to get oily throughout the day.
Night Cream
The SBT Seabuckthorn Night Cream contains Omega 3, 6, 7 and 9 Fatty Acids from the Seabuckthorn Seed and Fruit Oils as well as fine botanicals to help reduce fine lines. 
The night cream has a thicker consistency than the day cream.  You can tell right away that it is a richer cream and is meant for night time.  Even though it is rich, it sinks right into my skin and leaves it feeling well nourished.  I don't wake up with an oily face in the morning unlike some other thick creams I've tried in the past.
If you read my blog often then you will know that my skin is temperamental and several moisturizers have caused my face to breakout.  These products didn't break me out at all. So yay! They are very rich, but full of great, all-natural ingredients so that is probably why my skin soaks it all up nicely. 
I haven't noticed any amazing improvements in my skin since using the products, but I'm pretty happy with my skin to begin with.  I am also a firm believer that you need to use something for a few months to see results.  I still have more than half of my jars left so will continue to use them. These products are going to last awhile, it takes me forever to use up moisturizers for some reason. 
Both of the creams have the exact same scent in my opinion.  They smell like olive oil to me, which isn't the best smell.  As soon as I apply it to my skin I don't smell it anymore, but the initial smell kind of bothers me.  I do like the moisturizing qualities of the creams so I get over it every time I use it.  Plus when you are using all-natural products you can't always expect them to smell fabulous.  I personally prefer unscented products. 
Overall, I do enjoy both of the moisturizers and will be finishing up my containers.  The creams are definitely keeping my skin hydrated all day and night this winter.  I thought I should also let you know that, SBT Seabuckthorn products are all-natural so if you are someone that looks for all-natural products then I suggest popping over to their website to see what they have to offer.  
They also sent me their Lip Balm, Sniffle Stick and some tea samples.  I have been using the lip balm and like it. Thankfully I haven't had to use the sniffle stick yet.

Have you ever used products that contain Seabuckthorn?  
e.l.f. products tend to be hit and miss but the Acne Fighting Gel is a hit in my books.  I've actually owned this products for several years and never opened it.  My face had some breakouts so I decided to crack open the e.l.f. Zit Zapper (now called Acne Fighting Gel) and have been using it consistently since. 
The e.l.f. Acne Fighting Gel is made from a blend of Salicylic Acid, Tea Tree Oil, Witch Hazel and Camphor to help fight and prevent acne, reduce redness and swelling, minimize pore size and clear skin.
I typically use tea tree oil on my face but it is a little drying during the winter so that is why I decided to try the Acne Fighting Gel.  I actually think I like it better than just plain out tea tree oil.  
The e.l.f. Acne Fighting Gel retails for $2.00 on their website and in stores and you get 2 ounces of product, it's very inexpensive and something that can be purchased with just about any budget.