I've always wanted to try Kat Von D's products but have yet to. I'm a member of Influenster, and was lucky enough to be sent the Kat Von D #LockItRevolution VoxBox. Anyone can become a member of Influenster, so if you like receiving free products you can sign up. The only catch is that you have to do a lot of work for the free products so most of the time I don't think it's worth it because it takes a lot of time to do the tasks. 
In the Kat Von D Lock-It VoxBox I received 5 products totalling 144 USD. Super exciting! 🙂
Kat Von D does not test on animals and their products are free of animal-derived ingredients. They are also free of Parabens, Sulfates and Phthalates.
Let's get into what I received and what I thought about each product.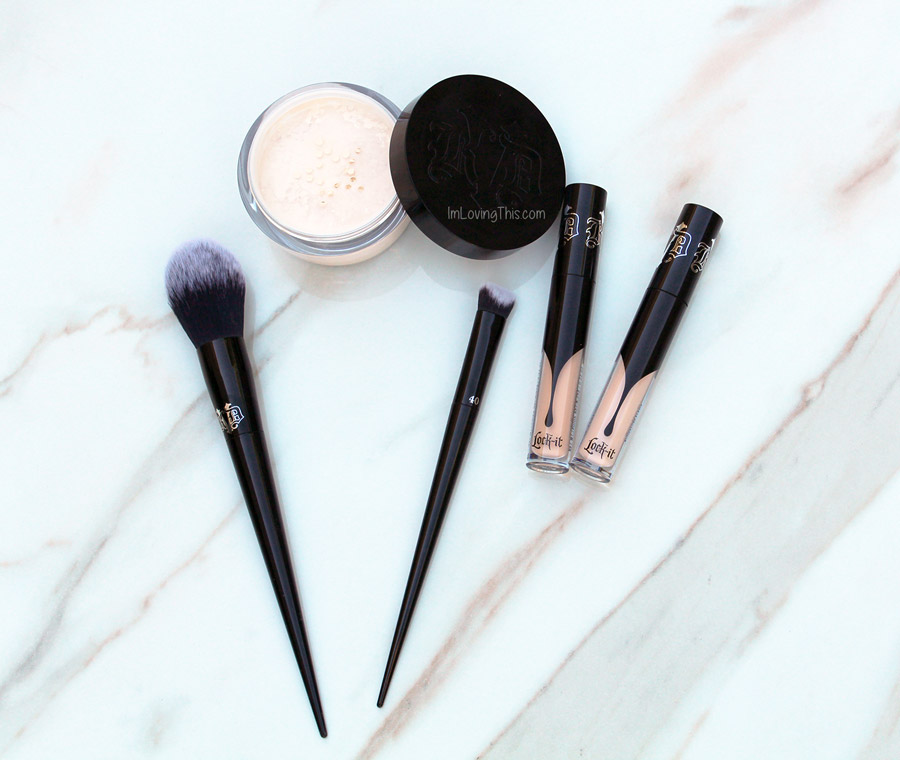 Kat Von D Lock-It Concealer Crème
I received 2 shades of the Lock-It Concealer Crème, #5 Neutral and #11 Neutral. The shades work pretty well with my skintone. The #11 is a little light for me but I made it work. There are a lot of shades in the line and I'm sure you can find one or two shades that will work for you.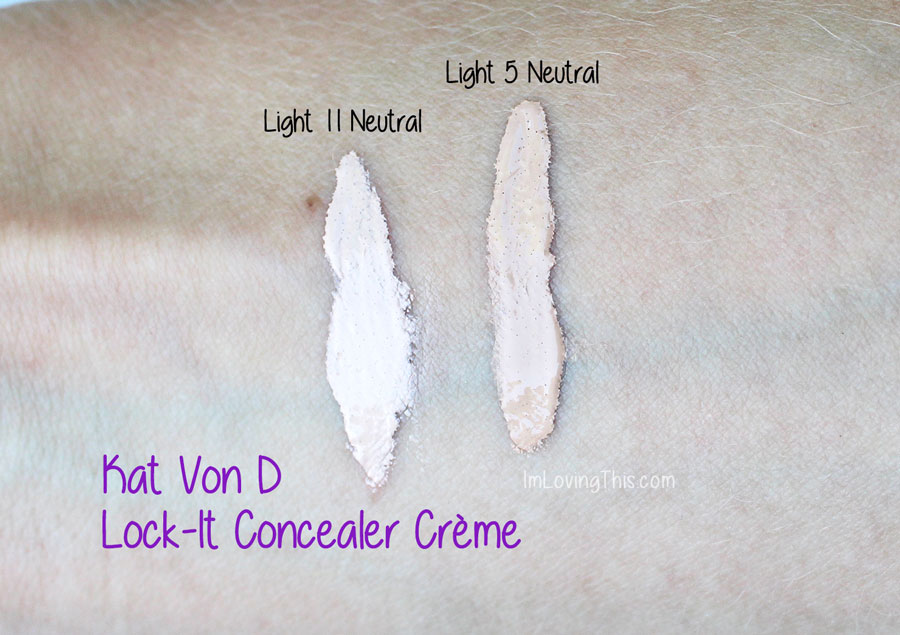 I like the packaging and it has a doe foot applicator for easy application. 
The product claims to be a rich and creamy concealer with 24-hour wear and instant full coverage.
This product works well for my scars, spots and redness. It's full-coverage and is also buildable. I didn't like how it performed under my eyes. I'm about to turn 30 and do have fine lines under my eyes. This concealer immediately sinks into them and makes me look older. 
It lasts all day on my face and I would recommend it for covering scars, redness or discolouration. If you are young it may work for under your eyes as well.
The Kat Von D Lock-It Concealer Crème retails for $26.00 and you get 6.25 grams of product.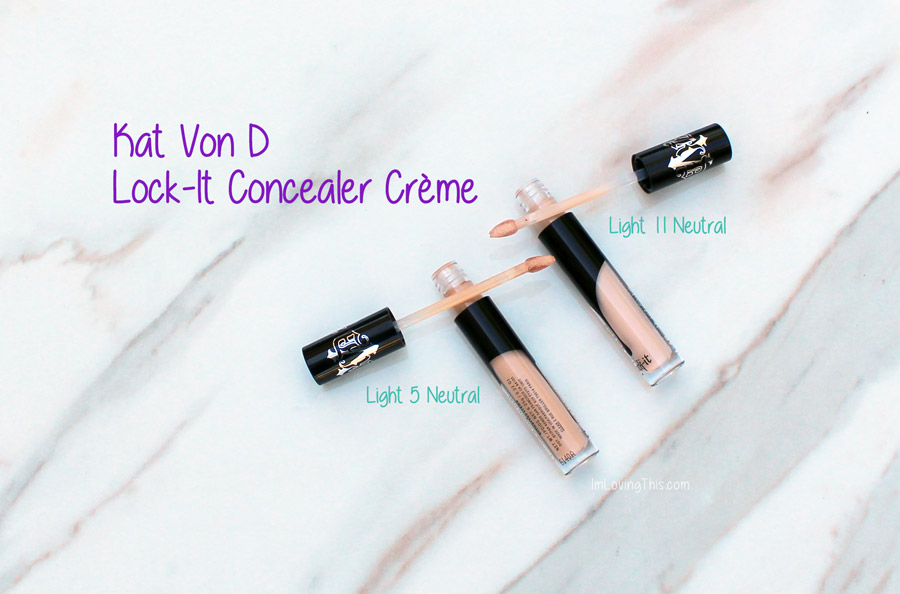 Kat Von D Lock-It Setting Powder
I've been looking for a translucent setting powder so was excited about this one. 
The product claims to be a weightless translucent loose powder, formulated with Micro-Blurring Technology™, to set and perfect for a flawless, locked-in finish.
You get a ton of product here, 19 grams for $30.00. It's very finely milled and blends out nicely.
I honestly don't notice a difference whether I use the setting powder or not. I actually applied it to half my face yesterday just to see if I was imagining no difference, and at the end of the day my face looked the same.
I recently tried the raved about Laura Mercier Translucent Loose Setting Powder and returned it to Sephora because I didn't like it. I found it sank into my fine lines and I didn't see any difference except the fact that it made me look older. Still don't know why people rave about that product. 
Anyways, what I'm getting at is the Kat Von D Lock-It Translucent Powder did not sink into my fine lines. So if you like translucent powders and are older, this one might be a good one for you.
I've come to the conclusion that translucent setting powders just aren't for me. Now I'm on the hunt for a powder with some colour to it that I can use to set my foundation or use stand alone when I don't feel like using my liquid foundation.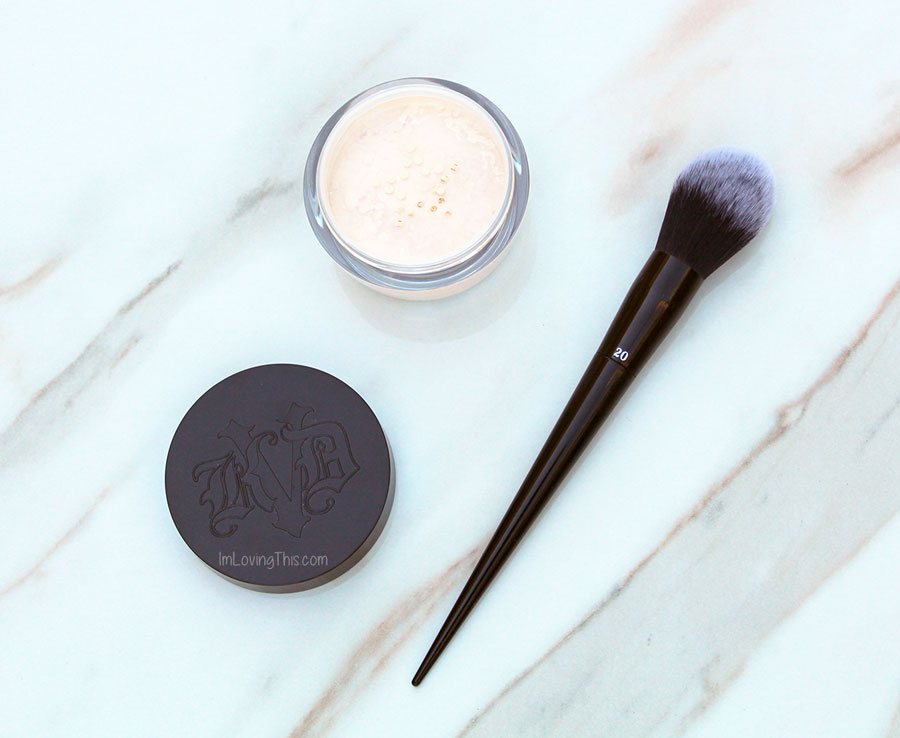 Kat Von D Lock-It Edge Concealer Brush
No one can ever have too many makeup brushes right? The Kat Von D Lock-It Edge Concealer Brush is a fabulous brush and makes me want to purchase more of her brushes.
This product claims to be a high-performance concealer brush with an exclusive sculpted shape to seamlessly blend under eye concealer and instantly cover blemishes.
The concealer brush has soft, synthetic bristles and blends out the Lock-It Concealer beautifully, and actually any other concealer I own. I own a few concealer brushes and never use them because they are horrible. This brush is now my go-to concealer brush.
The brush is dense and the shape allows me to get into all the areas around my eyes and nose. It could also be used to contour the nose or even apply eyeshadow. 
The Kat Von D Lock-It Edge Concealer Brush retails for $24.00 and I recommend getting it if you are looking for a good concealer brush. 
Kat Von D Lock-It Setting Powder Brush
Yay, another brush! I've actually been meaning to buy myself a new powder brush and now I don't have to! The Kat Von D Lock-It Setting Powder Brush is just as nice as the concealer brush. 
The brush claims to be an ultimate loose powder brush for setting and perfecting the entire face.
The brush is so soft and the bristles are flexible. It has a dome shape so it's perfect for getting into all areas of your face. I love this brush! 
I don't really know what else to say about it except that it does exactly what it's made to do.
The Kat Von D Lock-It Setting Powder Brush retails for $38.00
So overall as you can tell, I enjoyed the brushes more than the products. But that is just my personal preference. I think Kat Von D's products are very well made and if you have the right skin-type they will work for you. I will be using up the concealers for breakouts or redness and use the setting powder to set my makeup. Who knows, maybe the setting powder will grow on me. 
Have you tried Kat Von D's products? Which ones are your favourites?
I've been eyeing her Shade + Light Eye Contour Palette for what seems like forever…