I was sent the TRESemmé Beauty-Full Volume Line a while ago from TRESemmé Canada. I wasn't asked to review it or anything but kinda wanted to share my thoughts about it with you. I've seen so many good reviews about it online and I didn't have the same experience with it as others did. 
I try not to review products that I don't like as my blog is called "I'm Loving This", but there are so many products that I dislike and feel like people should hear about them as well. I do have an entire page with mini reviews of products that let me down if you are interested.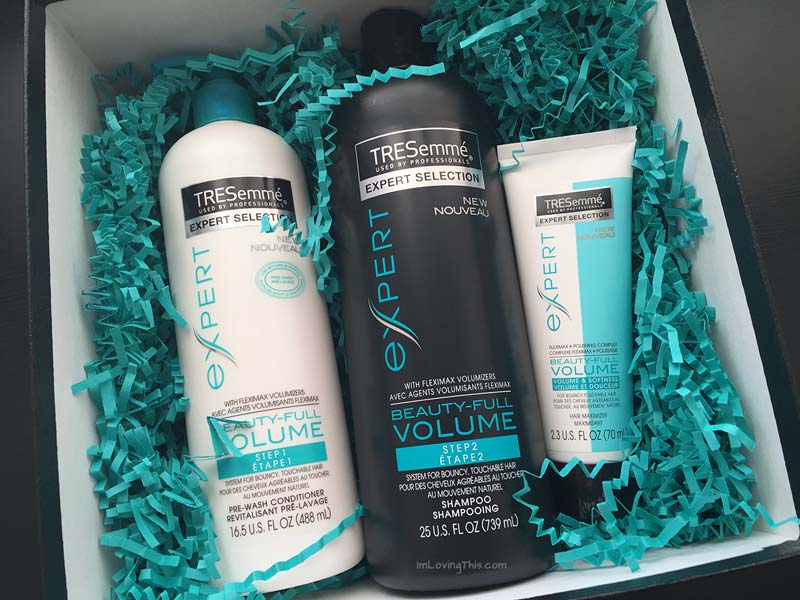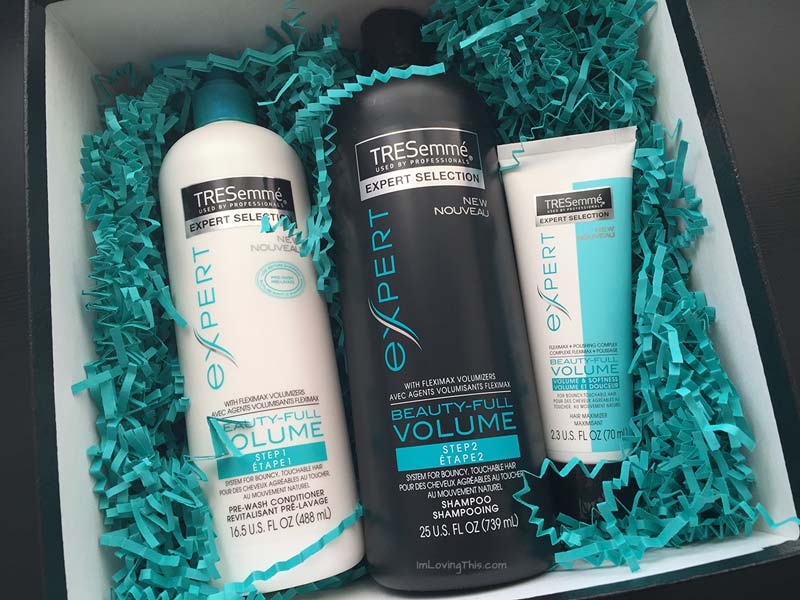 The TRESemmé Beauty-Full Volume Line claims to rewrite the rules of voluminous hair by reversing the traditional haircare routine. TRESemmé says that when you use conditioner after your shampoo it weighs down hair and leaves it flat. With this line you condition first to soften the hair and shampoo second to wash away the weight. It says that your hair will be left smooth, polished and full of bounce. 
I was intrigued by the idea as I've never used a reverse system like this and I'm always looking for ways to add volume to my hair. 
I have three products in the line… 
TRESemmé products are very affordable and I use them occasionally. One of my favourite shampoos and conditioners were the Thermal Recovery ones, which they discontinued. I believe they replaced it with the Keratin Smooth line, which isn't as good. 🙁  I hate when companies discontinue something I love. 
I found it very strange using the TRESemmé Beauty-Full Volume Pre-Wash Conditioner first. It just didn't feel right. My scalp didn't feel clean, like you know that refreshing feeling you get when you shampoo your hair. I didn't get that initially, and I didn't like it. It says to only use 2-3 pumps, but I needed like 6 or more with my long hair. The conditioner bottle is quite a bit smaller than the shampoo bottle. Why do they always do that? I always use much more conditioner than shampoo. Anyways, my hair did feel smooth after rinsing out the conditioner, but that didn't last long.
Next I used the TRESemmé Beauty-Full Volume Shampoo. It then felt like I was actually cleaning my hair and it seemed normal. BUT, my hair didn't feel conditioned after. My hair turned into a complete rat's nest. And this happened every time I used this line. The shampoo really stripped my hair, it was pretty horrible actually. 
Once my hair was towel dried I'd apply the TRESemmé Beauty-Full Volume Hair Maximizer throughout my hair. I forgot to use this product once and I didn't notice any difference. I don't really see the point of this product. 
The TRESemmé Beauty-Full Volume Hair line made my hair difficult to brush out both wet and dry, even when using my trusty Wet Brush. I tried using the three products together a few times to see what I thought about the line. But after my initial impressions were made I always had to put quite a few products in my hair to get it back to it's normal state whenever I used the line. I've stopped using it now, it's just not worth it to me. 
I didn't notice any volume added from using the TRESemmé Beauty-Full Volume Line. All I noticed was that my hair tangled up a lot more. Maybe that is how it gives volume, cause your hairs all tangled and frizzy.
Pros: The line smells good, but I found all the products to have a different scent. The shampoo, smells like green apples. Not sure if it's just me? The only other pro is that this line is affordable. 
I do not recommend this line, imagine what it would do to curly hair?! Yikes! Maybe I just had a bad experience with it? I don't know? I find it hard to believe that a huge company like TRESemmé would release such a horrible product. It must have worked for someone right? 
Have you tried the TRESemmé Beauty-Full Volume Hair line? Did it work for you?