I decided to make a compilation blog post of all the products that didn't work for me. Keep in mind, this is my opinion and everyone is different. These products may have worked for you, but they didn't for me. Let me know in the comments below about your experience with any of the products I talk about. I think I'm going to put them in alphabetical order so you can find my mini reviews easily.
I always post quick reviews with pictures of products that don't work for me and also products that I love on my Facebook Page so make sure to Like my Facebook Page to stay updated and see all pictures from these mini reviews. 
I will continually update this post as I try products that don't work for me. I didn't add photos for every product as that would make for a really huge post, but if you pop on over to my Facebook Page you will find pictures of most of the products.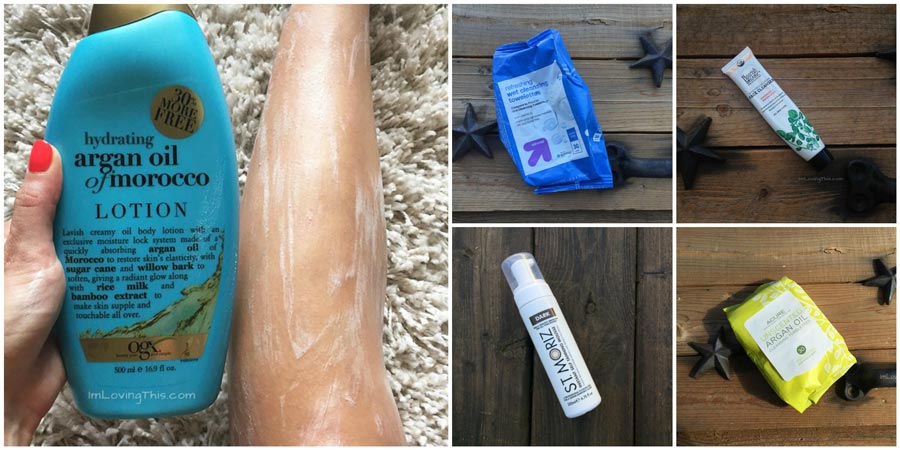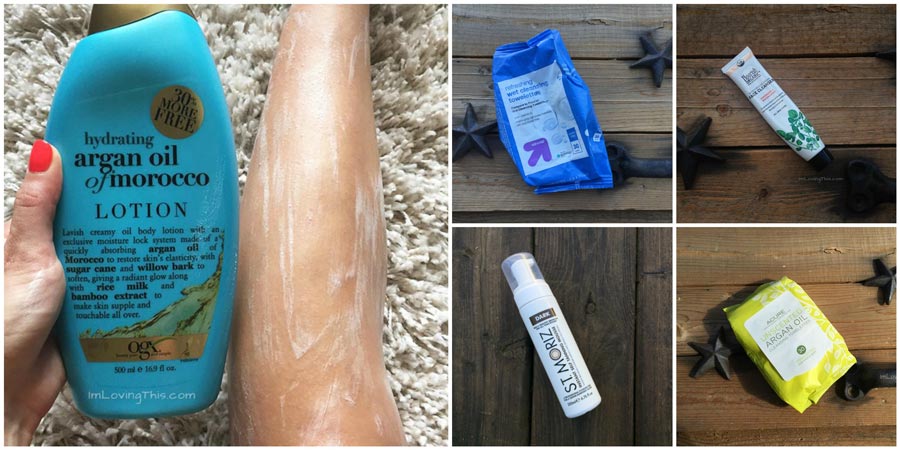 Acure Unscented Argan Oil Cleansing Towelettes
I received the Acure Unscented Argan Oil Cleansing Towelettes in an Ipsy bag and do not recommend them. First off, the wipes are thin and seem small. They aren't very moist at all, there is no way you could use just one to take off all your makeup. They are soft, that's all they have going for them, that and they really are unscented. Don't waste your money on these, there are much better ones available.
Colgate Optic White Toothpaste
I'm a Crest person, always have been and probably always will be. I ended up getting a decent size bottle of Colgate Optic White Toothpaste when I purchased the Colgate Optic White Toothbrush + Whitening Pen at some point. I decided to take it on a 2 and half week vacation with me because it was a good sized tube. Boy, did I ever regret that. I did not like this toothpaste at all. I didn't like the taste, it was awful. Because I didn't enjoy the taste, my mouth wasn't left feeling refreshed like my typical toothpaste. I also hated how much it foamed up, it was way too excessive. I threw the rest of the toothpaste away when I was done my trip.
CoverGirl LashBlast Luxe
I don't really ever buy CoverGirl products but decided to try this cause I've heard good things about their LashBlast mascara.  This mascara is tinted with Luxe shimmers which aren't even noticeable.  So it pretty much is the exact same as the original LashBlast, which I don't like.  It doesn't do anything for my lashes and it is disappointing that I can't see the shimmer on my eyelashes. I wouldn't recommend the CoverGirl LashBlast Luxe.
Degree MotionSense Dry Spray Anti-Perspirant
Not a fan of this Degree MotionSense Dry Spray Anti-Perspirant that I was sent via Infleunster. It doesn't work for me, plus anytime I spray it I feel like I'm inhaling a shitload of chemicals and killing myself. Read my review of the Degree MotionSense Dry Spray Anti-Perspirant here.
e.l.f. Contouring Blush and Bronzer Powder
Although the e.l.f.‬ Contouring Blush and Bronzing Powder is raved about, it was not for me. I found it to be way too shimmery/sparkly.  Bronzer isn't suppose to give a copper sheen to your face. The blush had a ton of shimmer in it as well, the most I've ever had in a blush I've owned. I don't recommend it, I know it's like a $3 product, but not worth it.  The packing is nice, that is all it has going for it in my opinion.  Be careful with this product because it might make you look like one of the Jersey Shore‬ cast members. See pictures on my Facebook post.
EOS Smooth Sphere Lip Balm in Summer Fruit
I don't like anything about this EOS lip balm besides the cute packaging.  The lip balm is drying, it pulls on my lips when I apply it.  The scent also smells and tastes artificial and like something you would find at the dollar store. I'm not even able to use this product up just to finish it, it's pretty much untouched and is going in the trash. 
Garnier Fructis Triple Nutrition 3-Minute Undo Dryness Reversal Treatment
This product smells like any other Garnier Fructis product, which is a scent I love.  But the 3-Minute Undo Dryness Reversal Treatment did nothing for my hair.  It honestly took me a few years to finish this.  I own a lot of hair products and this was one I never reached for.  I forced myself to finish it up on days that I just didn't care about my hair.  This product contains three fruit oils for triple nutrition, olive oil, avocado oil and shea oil that are suppose to nourish your hair.  I didn't feel like this product nourished my hair at all.  It was pretty bad, save your money. 
Garnier Skin Renew Anti-Puff Eye Roller
The Garnier Skin Renew Anti-Puff Eye Roller did absolutely nothing for my under eye area.  It feels nice putting it on because it has a metal roller ball, but I didn't notice any difference. I have quite dark under eye circles and I saw no improvement although the product claims to reduce puffiness and diminish under eye circles.  I've always been curious about their Anti-Dark Circle Eye Roller but because I disliked this one so much I've been skeptical of that one.  It is quite expensive for a drugstore product as well, I think it's like $12-$15.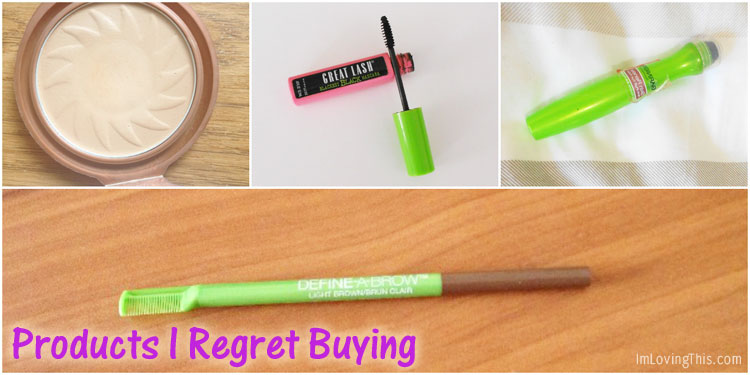 Maybelline Baby Lips 
I don't understand the hype with Maybelline Baby Lips, they are horrible. They taste like cheap dollar store lip balm and they don't hydrate my lips at all. In fact, they dry out my lips. Sorry if you are a fan, but I think these are some of the worst lip balms out there. 
Maybelline Define-A-Brow
I wish I bought the Define-A-Brow in stores so I could return it but I ordered in online. It sucks, it doesn't even work. The pencil is so dry I can't even get it to write, no matter how hard I press. It breaks off really easy too, I probably used half of the product trying to get it to work cause it just kept breaking off. It doesn't draw anyways so it doesn't really matter. Maybe I received a bad one? Not sure, but I do not recommend it. They have a nice concept, the pencil twists up so you don't have to sharpen it and it even has a little comb on the end. Too bad that it doesn't work. This product was a huge fail for me and a waste of money.
Maybelline Great Lash Mascara
This is my second time trying the Maybelline Great Lash Mascara.  I often hear good things about it but after buying it again, I still hate it.  It does nothing for my lashes, maybe it does for other people?  I haven't been disappointed in many mascaras, but I am with this one.  The brush is so basic and doesn't do anything for me, I'm not a big fan of the mascaras smell either.  Do you like this mascara? 
Maybelline Superstay 24 Hour Lip Color in Eternal Sunset
Maybelline claims that this lip color will last all day without flaking or transferring and a few other things.  The instructions say to apply the lip colour and then when it dries to apply the balm over top to seal it.  This colour is really pretty but I hate the formula.  It dries my lips right out and causes them to flake within minutes. I can't tell you about the staying power because I can't leave it on my lips as it looks awful.  It just doesn't work for me, maybe it does for you? Let me know if you like the Maybelline SuperStay 24 Hour Lip Color in the comments below.
NARS All Day Luminous Weightless Foundation
I was excited to try this product because I liked the instant finish of the Sheer Glow but it didn't work with my skin at all. Everyone always raves about NARS foundations but none of them have worked for me. The All Day Luminous Weightless Foundation looked nice in the store on my hand, but didn't fair well on my face. I tried it first with a primer and it went on all splotchy and never blended into my skin. So immediately I thought, well maybe it doesn't work well with the primer. So I removed everything from my face and tried it again. Exact same result. It latched onto my fine lines and dry areas (which go hand in hand). It didn't blend into my skin at all, it basically just sat there on top. It looked awful. I tried using a few brushes, wet brush, dry brush, beauty blender, fingers and nothing worked. I couldn't even really test this foundation out because it just applied so poorly to my face. I wouldn't even wear it around the house like that. I was really hoping it would work for me as I hear great things about it, oh well. The search continues for a perfect foundation. 
Norish Organics Moisturizing Organic Face Cleanser
I had high hopes for the
Norish Organics Moisturizing Organic Face Cleanser
that I received awhile ago in my Ipsy. I took it traveling with me a few times cause it's smaller and finally used it up. I didn't like it at all. It says it has a fragrance-free formula that cleanses without drying or irritating. I found that it left my skin feeling tight and almost like there was a film left behind. I h
ad to use a toner after this every time. I just hated the feeling it left on my face. I also wasn't a fan of how it smelt. Don't recommend it, there are better 'organic' cleansers available such as the Gabriel Cosmetics White Seaweed Calming Cleanser. 
NYC Smooth Skin Bronzing Face Powder in Sunny
I've had this NYC powder for awhile and am throwing it out cause I never use it. I bought it because people said it was good for contouring and bronzing. It's awful, it's really orange. You would look like an Oompa Loompa wearing this. And secondly, it has horrible colour payoff. It is inexpensive but there are far better bronzers out there for the price. See pictures on my Facebook post.
OGX Hydrating Argan Oil of Morocco Lotion
I picked up the OGX Hydrating Argan Oil of Morocco Lotion cause my legs had been feeling dry. It smells really good, like their shampoo. But I find it very hard to rub into my skin. It doesn't really soak in, as you can see in the photo. I think it moisturizes well and smells good but it's a real pain in the ass to work with. It's definitely not a lotion for busy people. I have been using it at night before bed cause I'm not too worried about it soaking in quickly. It doesn't feel greasy or leave any residue once it finally soaks all in… I really wish it applied better cause I do like it. Probably won't buy it again because of that reason.
St. Moriz Instant Self Tanning Mousse Review
I had high hopes for this self-tanner after reading reviews but wasn't impressed at all. I talk about why in my review here. 
Target up & up Cotton Rounds
The up & up cotton rounds are some of the worst cotton rounds I've used. They pull apart so easily, half the time they rip right in half when you are pulling one out of the bag. I also find them to be a little harsh on my eyes and ended up using them only with my toner. Save your money and go with another brand. I have yet to find a favourite cotton round. Please let me know if you have one. Also, while we are on the up & up brand. I also hate their facial cleansing wipes.
Target up & up 
Makeup Remover Cleansing Towelettes
These were a fail just like the cotton rounds. They are very rough to the skin and probably shouldn't be used around the eye area. They also aren't very moist, mine were quite dry and I ended up having to use two each time. When reading reviews from other people, many said they had an allergic reaction to them. I didn't, but they didn't feel nice on my skin at all. I much prefer Wal-mart's brand over these. They seriously suck. 
How did these products work for you?  Let me know in the comments below. 🙂