I've been trying to use products that are better for my skin. The majority of skincare products are full of chemicals that are being absorbed into our skin. It can't be good for us.
I came across the brand S.W. Basics and was intrigued by what they have to offer. Their products are simple and only contain a few ingredients. I had been looking for a more natural cleanser, eye makeup remover and moisturizer for the past while and decided that I should try some of their products. I found the S.W. Basics Starter Mini Kit ($27) on their website and decided it would be the perfect chance to try out their products.  I also picked up a full size of their Makeup Remover ($14).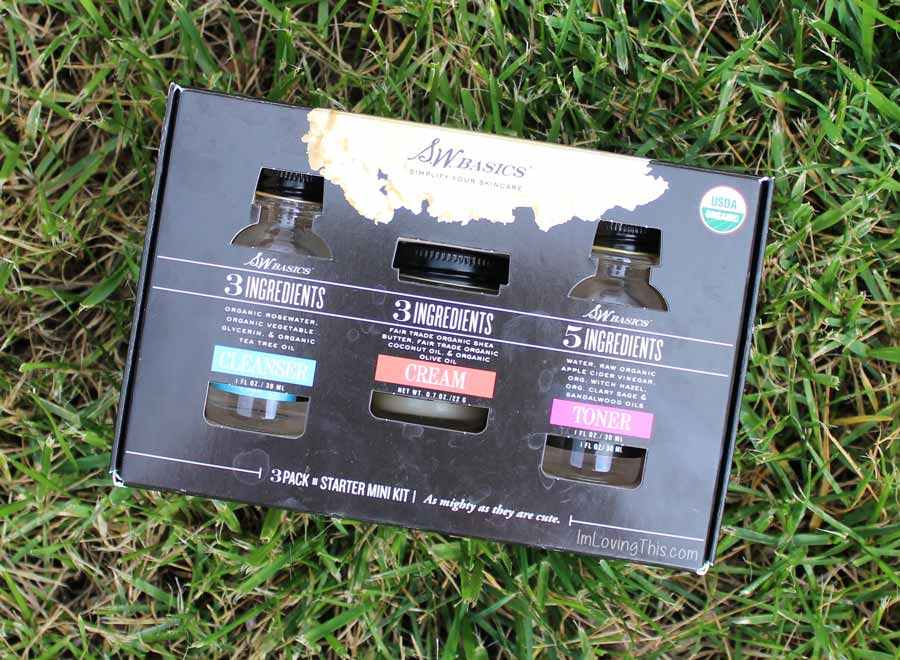 The S.W. Basics Starter Mini Kit comes with..
Mini Cleanser (1 fluid ounce)
Mini Toner (1 fluid ounce)
Mini Cream (0.7 ounces)
The three products in the Starter Mini Kit are all USDA Organic. I've been trying to buy organic whenever I can so I really liked that the products were certified organic. 
I really like the packing of the products, they are all in cute, glass containers. I used up the cleanser and toner fairly quickly and still have half of the mini cream left. Let me go into depth on each product so you can decide if you want to try the products too.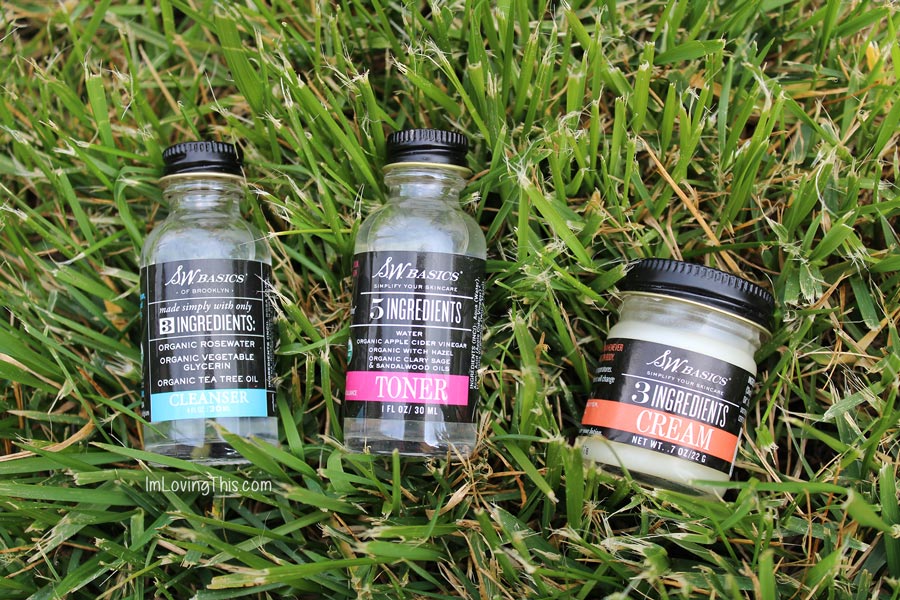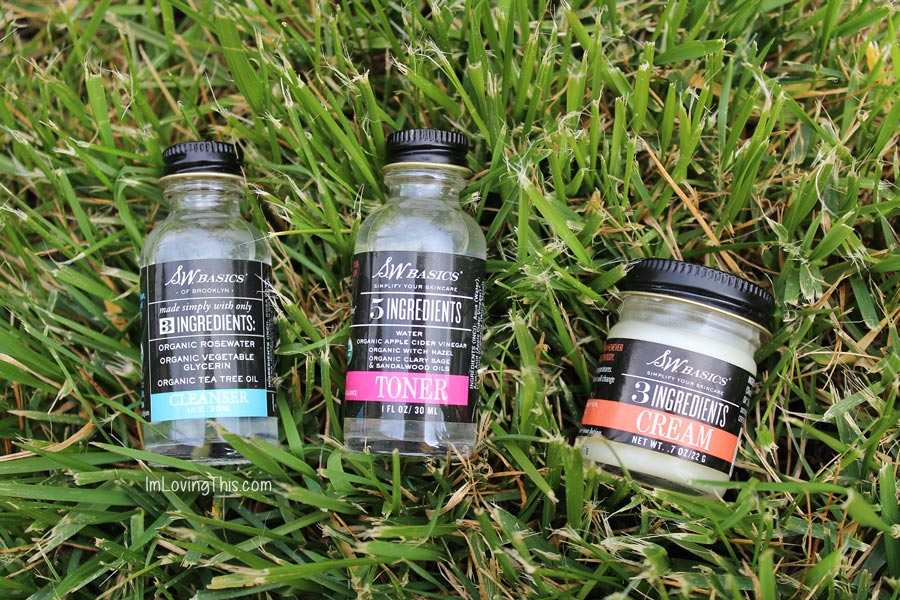 S.W. Basics Cleanser
The S.W. Basics Cleanser has just three ingredients in it…
Organic rosewater
Organic vegetable glycerine
Organic tea tree oil
The cleanser smells very herbal, so if you don't like the natural, herbal smell then these products won't be for you. This cleanser is a clear liquid and to use it you apply it to your face with a cotton pad and then rinse your face clean. The cleanser worked very well, sometimes I went over my face more than once depending on how much makeup I had on. I only used this cleanser in the morning because it wasn't something I could really take into the shower with me. To conserve the cleanser I would often use a makeup remover wipe before hand to take off my makeup. I really like this cleanser, but it is expensive and I feel like I could make something very similar, if not the same at home for a fraction of the price. The bottle ran out very quickly and I don't think I'd purchase it again because of the price point and the fact that I could make it at home. It is a great product though, so if you aren't a person that likes to do-it-yourself then buy it instead.
S.W. Basics Toner
The S.W. Basics Toner has a total of five ingredients, all organic…
Water
Organic, raw apple cider vinegar
Organic witch hazel
Clary sage essential oil
Sandalwood essential oil
I really like the S.W. Basics toner, it works well and gets the job done. Once again, I don't think I'd buy it again because I could make it at home for a fraction of the price. I really did enjoy it though and if you don't feel like making your own then buy it yourself as it does work great.
S.W. Basics Cream
The S.W. Basics cream is also certified USDA organic and contains only three ingredients
Fair trade shea butter
Organic coconut oil
Organic olive oil
I was a little scared to use this cream as it contains coconut oil and olive oil. These two products can cause breakouts and I have sensitive skin. The cream has a strange scent due to the oils, so it might not be for everyone, it kinda lingers around too. This cream definitely moisturizes my face, I even use it on my lips. I do find that it's a little greasy so beware of that. I do like the cream but have to use is sparingly or I start to see my skin flare up with breakouts. I wouldn't buy it again as I'm not too fond of the ingredients for my face. I wouldn't mind using these oils on my body but don't want to clog up the pores on my face. If you are interested, this website has a great list of non-comedogenic oils. 
SW Basics Makeup Remover
As mentioned before, I purchased the S.W. Basics Makeup Remover by itself and it didn't come in the kit. The makeup remover is made up of only 3 ingredients…
Organic Sweet Almond Oil
Organic Extra-Virgin Olive Oil
Organic jojoba Oil
This was my least favourite product that I tried. I didn't like it at all. It didn't remove my eye makeup and just left a greasy mess on my face. In the past, I've tried these oils on their own as eye makeup remover and didn't like them; so I'm not sure why I thought this makeup remover would work for me. This makeup remover has really great reviews but I absolutely hated it. I'm not sure why the reviews are so positive. You could also make this on your own if you wanted to, it's a very simple mixture. I still have the entire bottle and have been using it occasionally as a moisturizer on my face around my nose when I get extra dry.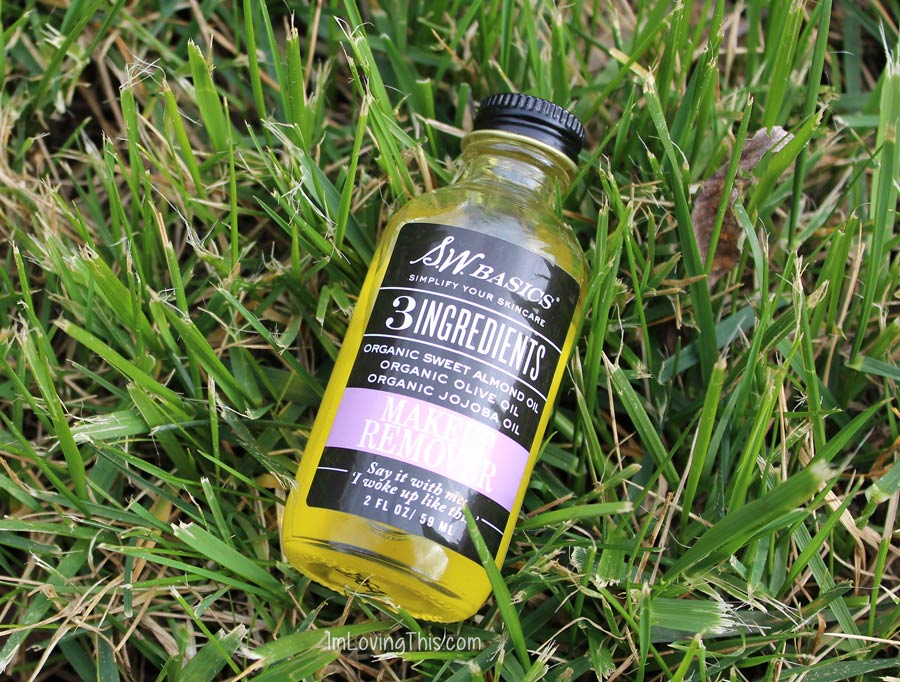 Overall, I think the products are decent with the exception of the makeup remover. I do think they are expensive and something anyone could make themselves if they wanted to. But like I said before, if you aren't into making your own products than you may want to give S.W. Basics a go.