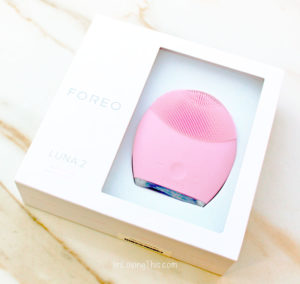 I've been using a Clarisonic Mia for about 4 years now. My boyfriend gave it to me for my birthday a few years back and I love it. 
SkinStore contacted me about 2 months ago and asked if I'd be interested in trying out the FOREO LUNA 2. I've heard of it before but had no plans on purchasing it as I already own the Clarisonic. They said they'd send one over to me to try and one to give away to my readers. I was pretty excited about it as I love anything to do with skincare plus there was the added bonus of giving away a LUNA 2 to one of you.. 
The LUNA 2 comes in a sleek, white box. It reminds me of Apple's packaging. When you open it up; inside you will find the Luna 2, a USB charging cord and also a travel bag. It doesn't come with the actual charger adapter that plugs into the wall so I just used the one that came with my iPhone.
When you first get it you have to charge it. It doesn't take long to charge and apparently the charge will last 7 whole months! I haven't owned my Luna 2 for that long so can't say if that is accurate. But I haven't had to charge it as of yet and have been using it for a month. 
Some interesting facts about the Foreo Luna 2
Made out of ultra-hygienic silicone that is quick-drying and non-porus to prevent bacteria buildup
It has t-sonic pulsations at 8,000 pulsations per minute for deep and effective cleansing in 12 speeds
Purifies skin by removing 99.5% of dirt, oil and makeup residue
It is 100% waterproof
One full charge last seven months
2 year limited warranty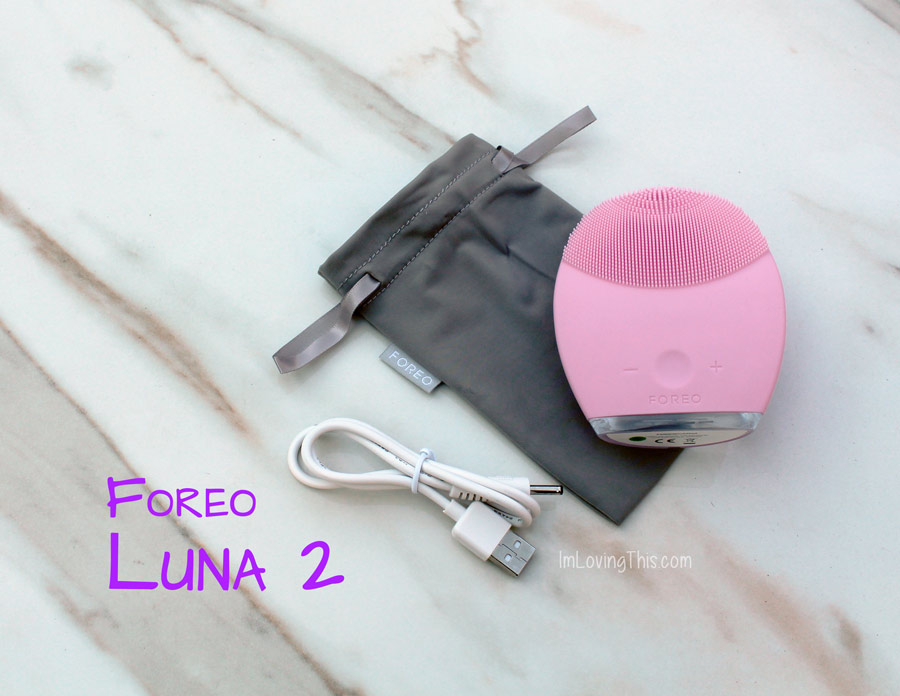 It took me a few goes to actually use this device properly as it has both a cleansing mode and an anti-ageing mode. First, apply your favourite cleanser and use press the start button. Then you can gently move it around your face to cleanse. It beeps every 15 seconds so you can move it to another spot on your face. Once the minute is up it buzzes a few times to tell you to switch to the anti-ageing mode. You can then press the middle button and it will stop. At that time I rinse of my face and then press the start button again to use the anti-ageing mode. The anti-ageing mode pulses slower and buzzes every 12 seconds to tell you to move to another area on your face. If I'm in a hurry, sometimes I'll skip the anti-ageing mode.
The anti-ageing mode soothes the appearance of fine lines and wrinkles and also helps leave the skin looking more firm. I'll try just about anything to diminish my fine lines. Can't really tell if it works yet, but I assume you have to use it for quite sometime to see the benefits. 
The LUNA 2 has several levels of intensity so you can use the + or – buttons to adjust that. I've kept mine on the default level and it works perfectly for me. 
I think that the FOREO LUNA 2 would be great for people with sensitive skin. I find it a lot more gentle on my skin than my Clarisonic. If you found that the Clarisonic irritated your skin then try the LUNA 2.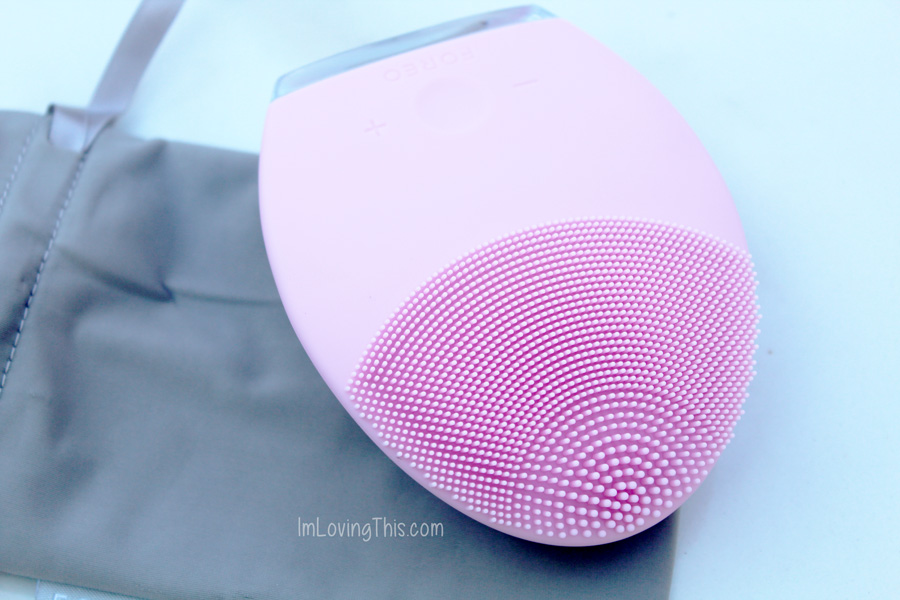 Each time after using the LUNA 2 my skin feels incredibly smooth and soft. I really enjoy using the cleansing device and keep it in my shower to use daily. It's very easy to clean as it is made out a silicone. It works great for traveling as I don't have to wait for a brush head to dry. I can just wipe the LUNA 2 down and it's dry. Plus I won't ever need to bring the charger, and if I do it's just a small cord anyways.
If you are in the market for a cleansing device, this one is a great option. It does cost more than the Clarisonic, but you don't have to buy brush heads for it every few months. So in the end, it costs less.
Have you ever tried any of the facial cleansing devices? I really like using them and can't imagine life without one now. 
If you've never tried one before, here's your chance as I have a giveaway for you…
Win a FOREO LUNA 2!!!
The Skin Store was kind enough to offer up another Foreo Luna 2 for me to give away to my readers. If you were to purchase a LUNA 2 in stores it would cost you $199 plus tax, but you can win one for free!
All you have to do is retweet my post below on Twitter and follow both myself, @ImLovingThis and @SkinStore on Twitter. 
WIN a #FOREO LUNA 2, courtesy of #SkinStore! RT & follow @SkinStore & @ImLovingThis. USA residents only. Ends 10/17 12am EDT pic.twitter.com/m5s8FKrwhh

— Danielle! (@ImLovingThis) October 6, 2016
Winner Announced!
Thanks to all who participated in our @FOREO comp! Congrats to winner @MAKEmeUPLamour. DM us your details to claim your prize🎉 @ImLovingThis https://t.co/1zD1IgPFV3

— SkinStore.com (@SkinStore) October 17, 2016