I have really long, blonde hair and people are always asking me how I grow it so long. I don't feel like I do anything special but thought I'd finally go ahead and share what I use. 
I have an obsession with anything related to hair, so find myself buying stuff all the time. I own an excess amount of products for my hair and told myself that I have to use most of them up before buying more. The only way I'm allowed to buy something new is if I run out of a product completely and don't have something to replace it with. 
If you want to see what my hair looks like you can look on my Instagram or Twitter.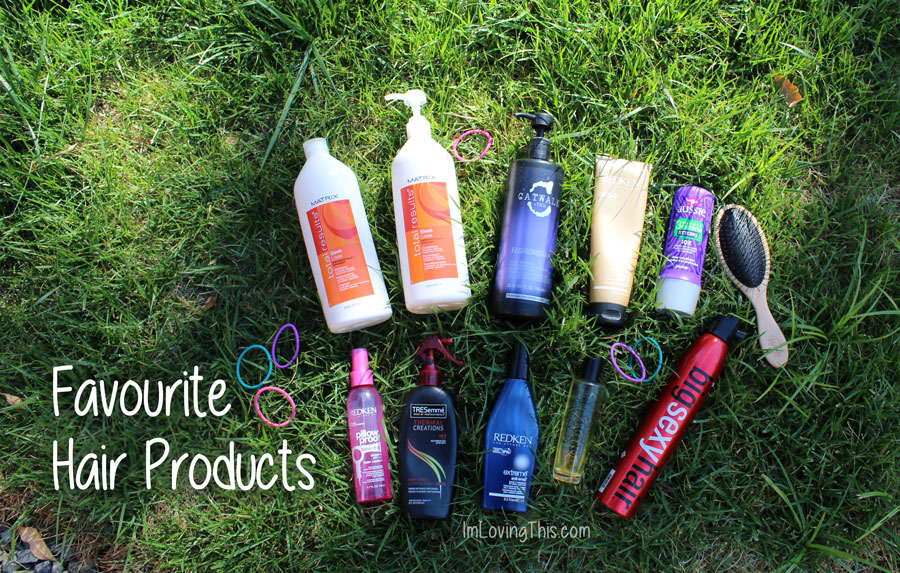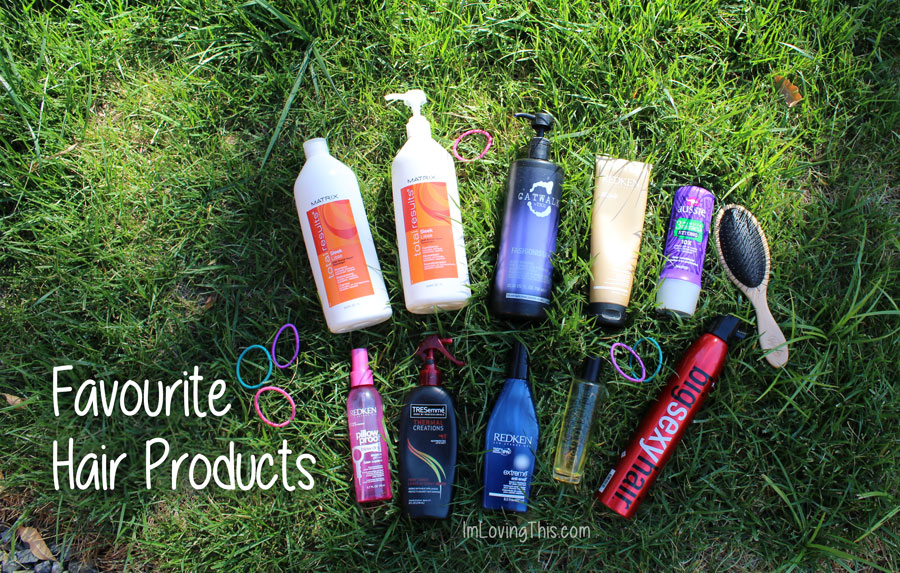 Here is a list of everything is use to keep my hair long and blonde and why…
While looking this up I noticed that they changed the look of their packaging. I really hope they didn't change their formula. I LOVE this shampoo and conditioner. It smells great, lathers well and really does make my hair feel smooth. It's probably one of the best shampoos and conditioners that I've ever used. I usually buy it at Ulta when they have their sale. That's when I bought these massive bottles that have taken me forever to use. They are pretty much empty now. 
I have blonde hair and use this shampoo occasionally to keep my blonde looking fresh. I love this shampoo almost as much as I love the Matrix one. I'm going to buy a TIGI shampoo and conditioner once I use up some of my other products in hopes that it is as nice as their violet shampoo. I use this probably once every two weeks or when I feel like my hair is looking dull. I purchased this shampoo at Ulta as well when they were having one of their hair care sales.
I love both of these, I'm still not sure which one I like more. I used up the REDKEN Extreme Strength Builder Plus already so it's not in the picture, but wanted to make sure I mention it as well. 
I try to use either of these once a week. I usually wash my hair with a good shampoo and then apply one of these, put a towel on my head and leave it on there for 30-40 minutes. Then I jump back in the shower and wash it out. It gives my hair a deep conditioning treatment and my hair loves it. I will admit, it's been a few weeks since I've done this. It's hard to find the time to do that long of a treatment. But I highly recommend you do and I notice a difference in my hair when I keep up with it. I buy these at Ulta as well when they are having their hair sale.. 
I've been using this product the longest, probably for half of my life or more. I love this deep conditioner and use it about once a week. I just apply it to my hair and let it sit for a few minutes while I shave and wash my body. Then rinse. I'm not set on any of the versions, one used to smell better than the others but now I don't notice ever since they changed the formula like 5 years ago. I don't think it's as great as it used to be but I still use it. I usually buy this at Wal-Mart for like $3. This product is a great option for people who don't want to spend a lot of money on their hair. This old blog post about the Aussie 3 Minute Miracle Deep Conditioner proves that I've been using it for a long time. 
I haven't been using this product for that long but like it. It's a heat protectant that helps prevent breakage. At first I wasn't sure if I liked it more than the TRESemme heat protectant but decided a few weeks ago that I do. I love the smell, it's great for second day hair. I spray it on my hair before styling it and it keeps my hair smelling fresh all day long. I purchased this product at.. yup, you guessed it.. Ulta, when they were having their sale.
I've been using this product for years. I still don't know if heat protectors do anything for your hair. I always wonder why hairdressers don't apply it to my hair when they do my hair? Anyways, I'm too scared not to use one. This one is great and very inexpensive for around $4. I always buy mine at Wal-Mart. 
I've been using this for a few years now. My boyfriend's parents actually bought it for me one Christmas along with a few of the other REDKEN products I already talked about. I've went through a few bottles since. I don't use it every day. Maybe once or twice a week on my wet hair. But I do think it helps prevent breakage. Either that, or my hair grows like a weed. I purchase this product at Ulta as well during their buy 2 get 1 free sales.
This stuff is fabulous! I think what I like most about it is the scent, it smells amazing! I wish every hair product had this scent. I use this product on my wet hair and spray it into my roots. It helps give volume to my long, flat hair. If I don't use it I notice a big different in how my hair looks. This product works in more than one way, it gives my hair volume, makes my hair smell nice and also works as a dry shampoo. I find that whenever I use the Big Sexy Hair Root Pump Plus on my hair my roots look nice the next day. It's like the product soaks up all the oils. So whenever I use it I don't need dry shampoo. 
I've been using this product for… hmm… it has to be 10 years now. I LOVE this stuff. I never hear anyone talk about it. I wrote a review on Orofluido years ago, you can read it here, I updated it a year ago again because my original review was awful haha. It's similar to Moroccanoil, but I like it better. I use it on damp and dry hair. It works great for smoothing out next day hair. 
I put my brush in the picture as well, you can read my full review on it here. 
So there you go, those are my go-to hair products. I honestly have about 30 other products that I use and rotate between them all. But these are my favourite products that I will repurchase over and over again for years to come. 
What are you favourite hair products?