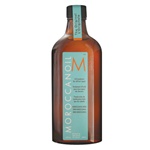 One day I was getting my hair done at the salon and the stylist put the Moroccanoil oil treatment in my hair before blow drying it and I instantly fell in love.  It makes your hair look smoother and feel softer, and it even reduces drying time.
When I got home from the hair salon I went online and purchased myself a bottle of Moroccanoil Oil Treatment.  I've used it every time I wash my hair since!  It's kind of expensive, runs around $40 a bottle but it seems to last along time because you only need about a nickel size worked through your hair before you blow dry it.
Moroccanoil is an ultra light formula which is absorbed by the hair instantly so it does not leave a residue, and does not weigh down your hair!  It even says that is can restore over processed hair damaged by environmental factors and chemical procedures, but I can't say it has restored my hair, but then again my hair isn't over processed.
Do you use Moroccanoil? What do you think of it? Comment below and let me know!