I've still been getting laser hair removal treatments and just had my sixth one so wanted to give you guys an update on my experience. I went for my very first laser hair removal treatment over 10 months ago and have been thrilled with the results!
I've been receiving my treatments from Ellie at NuAGE Laser in Vancouver, B.C. She recently moved into a new building which I got to see the last time I visited. Her new office is gorgeous, she did a great job designing it. She even installed TVs so you can watch Netflix while you get your treatments. 🙂
It's been two weeks since I've had my six treatment. All the hairs that were treated have fallen out and I'm noticing even less hair regrowth. I haven't shaved for five days! 🙂 YAY! If you don't already know, I spend a lot of time on the water, camping and doing all sorts of activities and I love that I don't have to worry about shaving daily.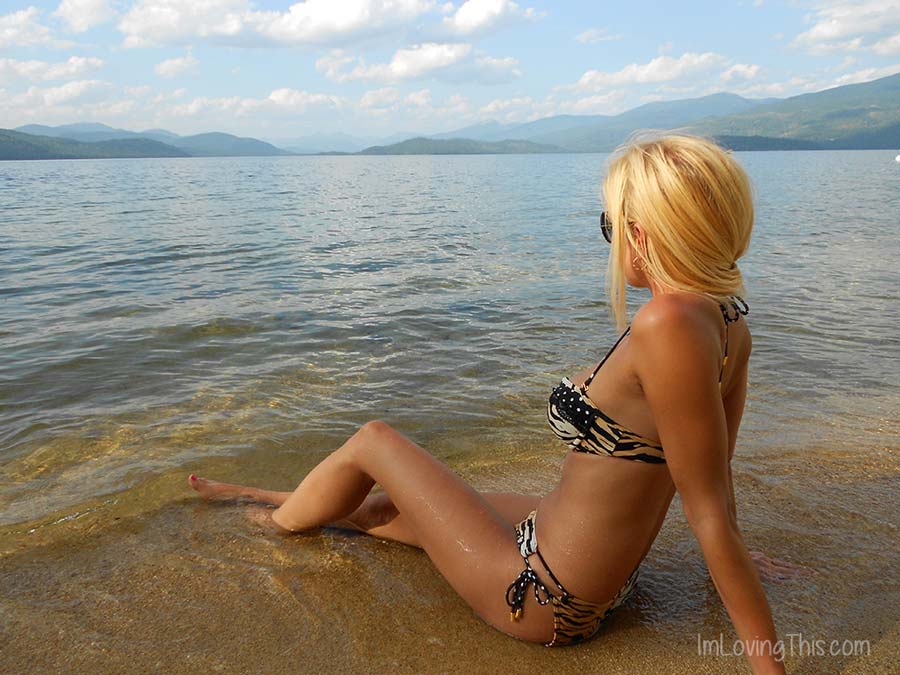 You won't see results instantly when you get laser hair removal. The laser triggers the hair follicles and disables them and the hairs that have already started growing still have to push out of your skin. You can actually pull the hairs out yourself, but resist the urge because it could hinder your results. Once all the hairs fall out you will start to notice less hair regrowth. Then you have to go back for another treatment around six-eight weeks later and treat the new regrowth. It's important to get the timing right to trigger the new hairs. 
I'd say that after six laser hair removal treatments that I'm seeing about 60% less hair regrowth, or more. It's hard to say, I think I will have a more accurate percentage in a month. it's been about a year since I started the treatments and love that I don't have to shave everyday. Sometimes I even forget to check. 
Ellie said she'd like me to come in for a couple more treatments so I can see even more results so I will be making an appointment to go back again. Typically you need six-eight treatments to see full results. Ellie also recommends coming back once a year for touch ups if required.
I plan to start saving to have my legs treated as well. I priced it out and it would be about the same price as getting my hair done regularly. And since I haven't had my hair done for over 5 months, then why not get more laser hair removal treatments?
I always tell my friends about my laser hair treatments because it's something I've always been curious about and am extremely happy with the results. Everyone always asks if it's really worth it. And YES, it is.
I think that laser hair removal has become more affordable as there are more places that offer it and it's becoming quite popular. But please make sure you pick a reputable place in your area such as NuAGE Laser. Ellie has treated thousands of people and she is very knowledgeable on the subject. 
I'm sorry, I don't have any pictures to show before and afters. I find it to be a little personal, underarms and bikini area. You'll just have to trust me. 🙂 
If you are interested in visiting NuAGE Laser, make sure to stop on by their promotions area on their website. Ellie is always having some sort of sale so you can get more for your money. 🙂
Have you ever had laser hair removal treatments? What was your experience like?