I had a few credits totaling $30 with ModCloth.com from referring friends and decided to use it towards a purchase because I wasn't sure when it would expire.  I looked on the website for something under $30 that I liked because I wasn't up for spending any extra money.  I found a pair of red flats that caught my eye for $29.99  Not typically something I'd wear but the more I looked at the shiny red shoes the more I liked them. 
I decided to purchase them and was pretty excited for them to come.  I had to add $3.98 of my own money for shipping.  I had them shipped to my boyfriends house in the states so when I went to his house next I would get them.  I arrived at his house and opened the box to find a pair of bright blue shoes! I was like omg, ahh (sad face)!!  I was disappointed because it was my first time placing an order with ModCloth and it always annoys me when orders are wrong as I was once a shipper.
I raced over to the computer and looked up how to contact ModCloth.  They have an online chat service so I was like "yay" and logged onto that.  A representative was there immediately to answer my questions.  I told her what I had received and gave her my order number and she said give me a second please and I will look into this.
While she was looking into it I got a notification on my phone of the $3.98 I paid towards the shoes being refunded.  I was like oh, that is weird.  Then the representative came back and said, I have created a new order for the correct shoes to be sent to you at no extra charge.  She told me I could go to their website and print out a return shipping label and if I would kindly send the blue shoes back.  I went to the website to make sure I knew how to get the return shipping label and then told her thanks so much for the help.
I was extremely impressed with ModCloth's customer service.  I have never had such great customer service.  They were there right away to help me solve the problem.  Not only did they ship out the correct order right away, they also gave me a return label to print to send back the incorrect shoes.  Now I don't have to front the shipping cost until they receive the order and wait for a refund.  Most places won't send the correct one until they receive the wrong one back.  And you usually also have to pay for the shipping and then they will reimburse you once they receive the return.  ModCloth also refunded the money I put into the shoes.  I am not sure why they did that but I didn't question it.   
I've only ordered from ModCloth one other time and that was for a bridesmaids dress when I was in a wedding.  I was super impressed with their customer service and will be buying from them again if I find something I like.  Their style isn't really me but they do have a few things I do like.  I definitely recommending checking out ModCloth if you haven't already.  They have a huge selection of clothes, shoes and accessories and affordable prices.
Below is a picture of the shoes that I got from ModCloth.com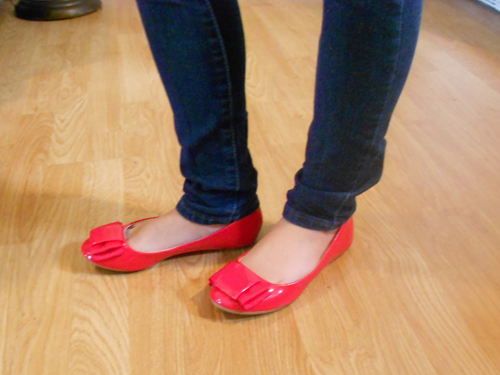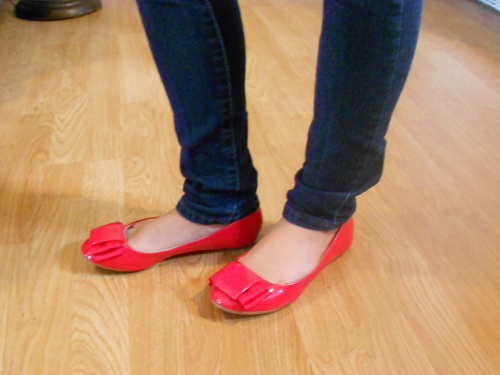 Do you ever shop at ModCloth?  What is your favorite website to buy clothes from online?