My boyfriend's parents have six dogs and I wanted to make them a special treat so I came up with an easy dog biscuit recipe. 
The dog treat recipe is pretty versatile, you can add just about anything you want into it.  It is way better than feeding your pets store bought cookies because you know exactly what you are putting in them.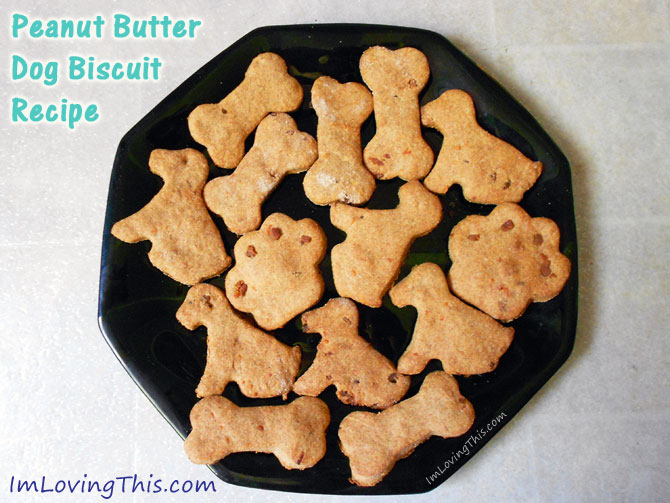 You can add in more bacon, bacon grease, more cheese, apple sauce and much, much more.  When adding different ingredients just add less or more flour to get the right consistency of dough.
Do not add things like onions, garlic, grapes, raisins, baking power or baking soda as those are all known to be dangerous for dogs to eat.
I rolled my dough out to create cute shaped cookies.  I found dog themed cookie cutters at Walmart in the cake decorating section for $2.88.  It was a three pack that came with a bone, a paw and a dog shape.
If you do not have cookie cutters on hand you can just drop the dough with a spoon onto your baking sheet.  If you decide not to use cookie cutters than make sure to flatten the cookie out a bit so it cooks evenly.  The cookies do not spread and will basically hold the same shape during cooking.
I recommend letting the cookies cool completely for a few hours on cooling racks.  You can store them in a ziploc bag or sealed container in the fridge.
This recipe makes 48 cookies.  If you find 48 cookies to be way too much than you can freeze half of the dough for a later time.
Ingredients
2
eggs
1 cup
milk
1/2 cup
water
1 cup
all natural smooth peanut butter
4 cups
whole wheat flour
1/2 cup 
bacon bits or chopped up bacon
1/2 cup
shredded cheddar cheese (or whatever kind you have on hand)
Directions
1)  Preheat oven to 350 degrees F (175 degrees C). Lightly grease a cookie sheet.
2)  Beat the eggs in a large bowl.  Stir in milk, water, bacon and cheese until well blended. Gradually stir in flour to make a stiff dough.
3)  Roll dough out into about 1/4 inch thickness.  Use your cookie cutters to cut out shapes.
4)  Bake in the preheated oven for 30 minutes.  Cool on a cooling rack.