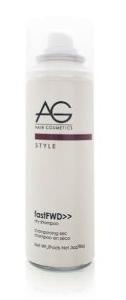 I love using dry shampoo because I have very oily hair.  I have been trying to wash my hair every other day and wouldn't be able to do that without the use of dry shampoo.  I know I should be washing every three days but that just isn't possible for me, I start to feel disgusting.  My friend had an extra bottle of AG Hair Cosmetics FastFWD Dry Shampoo so she gave it to me.  
I really like AG hair products, they are salon quality and I think they work very well.  My first impression of the dry shampoo was that it smell delicious, like oranges.  I usually use the Tresemme Dry Shampoo but  my one problem with it is that I hate the smell, it stinks up my bathroom to where I have to leave the room because I can't breathe.  With the AG Dry Shampoo I just want to keep spraying it to smell the beautiful scent.
The AG hair dry shampoo bottle is fairly small, only 3 ounces.  I haven't even used up my first bottle because I try and savor it as it is over my budget running at $22.00 per bottle.  I probably won't buy another bottle unless I decide to splurge one day, but I rather splurge on hair restoration or skin care products than a dry shampoo.
I do not recommend the AG Dry Shampoo to someone with dark hair.  When I sprayed it on my blonde hair it made me look like I had grey hair.  I was thinking that I would end up having to wash my hair after all.  But I let the dry shampoo sit on my hair for a minute and then worked it through my hair with my fingers and it became invisible.  So I'm not sure if it would disappear on dark hair or not.  I guess you would have to try for yourself if you have dark hair.
The dry shampoo kept my hair oil free all day and it didn't take much product to do that.  It didn't feel cakey in my hair like some dry shampoos.  I really liked it, mostly because of the smell.  It even comes in a small bottle which is handy to keep in your purse or to travel with.  I travel a lot so I pack it with me every time.
I recommend the AG Dry Shampoo to people with lighter hair if you are willing to spend a little extra money.  It smells fabulous and works great!  
Do you use dry shampoo?  What is your favorite brand?