Anyone that loves makeup seems to accumulate piles of beauty tools. We don't really need them all, I tend to use the same few brushes constantly and neglect my other ones. I was going through my makeup collection again today and decided to get rid of things that I don't use it inspired me to write this blog post about the basic tools we should all have for makeup application.
Before I get started I wanted to stress the importance of keeping your brushes and tools clean. You should wash your tools at least once a week. You can use a mild detergent such as baby soap, facial cleanser or my favourite product to use is the Daiso Detergent for Puff and Sponge.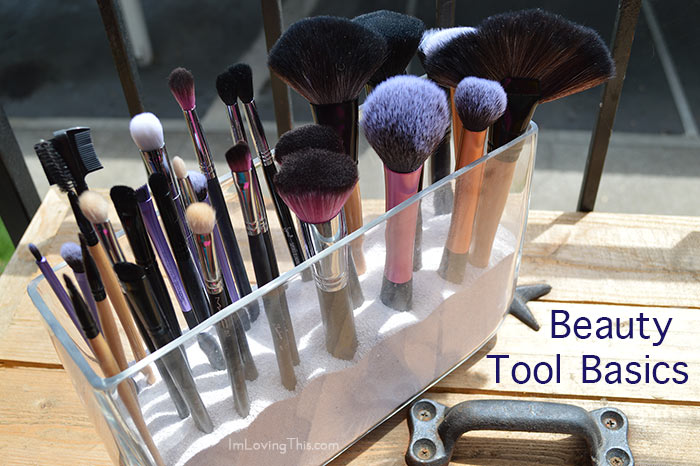 Here are the tools I think we should all have for makeup application.
Q-tips
Q-tips have many uses, you can tidy up your mascara, eyeliner and lipstick. You can use them to spot conceal. They are something we all should have on our vanity.
Cotton rounds
Cotton rounds are ideal for applying certain cleansers, toners and for removing eye makeup and nail polish.
Sponges
Can be used to apply foundation and self tanner.
Tweezers
Everyone should have a good pair of tweezers. I still have a pair I got when I was a teenager, they are the Tweezerman ones. They are seriously awesome! Tweezers are great for plucking pesky hairs and also for applying false eyelashes.
Emery boards and cuticle sticks
These are essential tools when giving yourself a manicure.
Pencil sharpener
If you use any sort of pencil liners, eyeshadow or eyebrow pencils then you need to have one of these in your collection. I have one that will sharpen several different sizes of pencils.
Eyelash curler
Use your eyelash curler before applying mascara to widen the appearance of your eyes. Do not curl your lashes after applying mascara, you could break your lashes or even pull them right out. I need a new eyelash curler, if you have any recommendations leave them in the comments below. 🙂
Foundation brush
I don't always apply my makeup with a brush, I use a BeautyBlender most of the time. Sometimes I use my hands and sometimes I use a brush. But I still always have a good foundation brush on hand.
Powder brush
Use your powder brush to apply finishing powder to face to create a flawless complexion and set your foundation. You can also use it to help blend out your blush and bronzer.
Blush brush
Look for a fluffy brush that is cut on an angle so it will fit comfortably over the cheekbone.
Contour brush
Look for a brush that will fit nicely in the hollows of your cheeks, use it to apply your contour colour to define your cheekbones.
Fan brush
Fan brushes are great for applying highlighter. They allow you to easily apply your highlighter with a light hand. You could also use a fan brush to apply bronzer and blush.
Eyeliner brush
Use a narrow eyeliner brush to line your eyes with gel liner, apply eyeshadow as a liner or smudge your liner.
Eyeshadow brushes
You should have a few in your kit. A flat shader brush is good for applying color all over the lid. A small slanted brush is great for applying a contour colour into the crease. A fluffy brush is great for blending everything out.
Bonus: BeautyBlender
If you have some extra money I highly recommend getting a BeautyBlender. I pretty much use it every time when applying my foundation. I think that it makes my foundation look the most natural and creates a flawless finish.
What types of brushes and tools do you use daily?