Received my July Birchbox and the contents are actually pretty exciting! I said in my Ipsy July Review that Birchbox wouldn't be able to compete this month. They did a pretty decent job. Once again I don't think I'm going to be able to cancel either of them…
Here's is what I received in this month's Birchbox and what I think of all the products.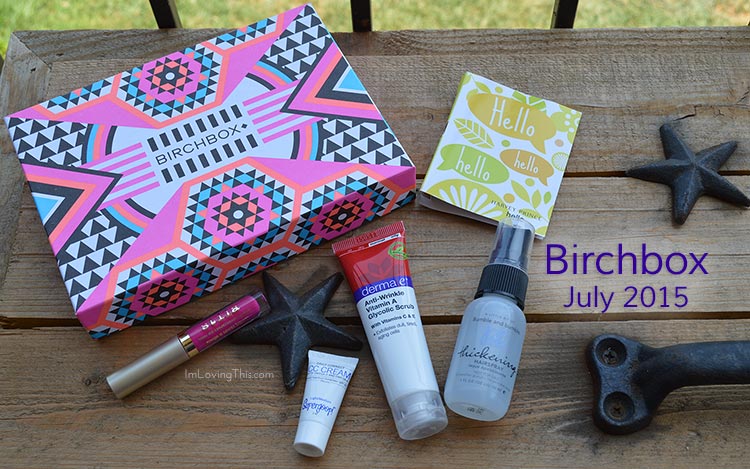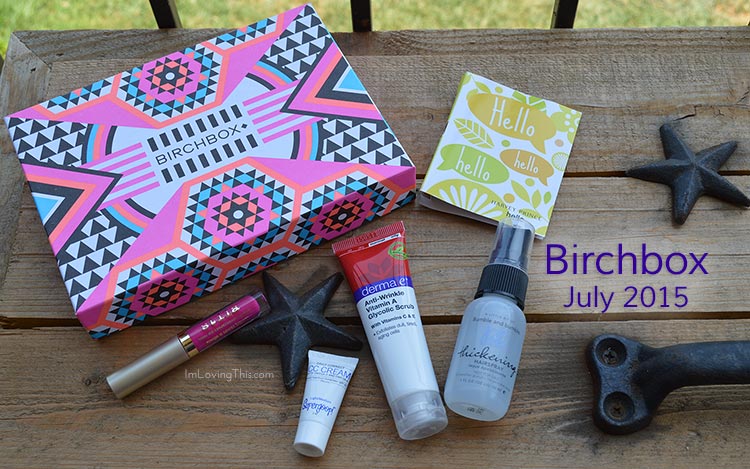 Bumble and bumble Thickening Hairspray – 1 fl ounce
I'm thrilled about the Bumble and bumble Thickening Hairspray as I like Bumble and bumble products. They are expensive so I don't own any at the moment but want to buy their surf spray after I finish up my current sea salt spray. I haven't tried this sample yet cause I haven't curled my hair or anything but hairdressers have used it on me in the past and I've always liked it. The full size retails for $9-$29 depending on the size you purchase. The sample size is decent and when I finish it I will save the bottle and use it for traveling.
derma e Anti-Wrinkle Vitamin A Glycolic Scrub – 1 ounce
This is a decent sized sample and I will get quite a few uses out of it. It's all-natural cleanser that says it sloughs off dull skin, fades dark spots and deep cleans pores. It kind of reminds me of a better version of the St. Ives Apricot Scrub. It has less exfoliants and is very creamy. I used it last night for the first time and it left my skin feeling very smooth. You don't need much so this product is going to last me awhile. So far I like this scrub and will continue to use it on a weekly basis. For those of you that care, the derma e Anti-Wrinkle Vitamin A Glyclic Scrub is  100% vegan, cruelty-free, paraben-free, sulfate-free, mineral oil-free, lanolin-free, gluten free, GMO-free. The full size retails for $13.75 on their website.
Harvey Price – Hello
The Birchbox information card says that this is a best selling fragrance that mingles cheerful citrus with floral notes. I don't really like getting fragrances in my subscription boxes, scents are very personal and I don't like many of them. Actually, quite a few perfumes give me headaches. I'm not a fan of the smell and the scent doesn't last on my body for very long. I've never heard of Hello by Harvey Price although Birchbox claims that it is a 'best selling fragrance'.
stila Stay All Day Liquid Lipstick
I received the colour bella #13 which is a bright fuchsia colour. The colour is very intense and I don't know if or when I'd wear it. The liquid lipstick smells like yummy frosting and glides on smoothly. It's very opaque and stains your lips. This is definitely long-wearing as stila claims. I'm interested in trying some of their other colours cause I really like this liquid lipstick. The colour I received is actually from their lipstick trio which retails for $20 and comes with the colours; Bella (bright pink), Beso (classic red), and Venezia (bright coral). I kind of wish I received the coral cause I already own a colour similar to the one I received. Oh well. Still happy with it.
Supergoop! Daily Correct CC Cream SPF 35 – 0.05 fl. ounces.
Birchbox seems to like the brand Supergoop. They have sent me several different samples from their brand in the past. Usually they send different sunscreens but I don't mind a CC cream. I will use this up during the summer. I wish the sample was a little bigger but you can't expect much for $10. I received the colour light/medium and it might be a little light for me since I'm tanned at the moment. Will let you know what I think of it after a few uses.
Overall I liked this month's Birchbox and like I said earlier, I'll be staying subscribed for another month. Now time to go wash my face with the derma e Anti-wrinkle Vitamin A Glycolic Scrub.
What did you receive in your Birchbox?
Tweet it to me on Twitter or mention me on Instagram. You can typically find me with the username @ImLovingThis on any social network.