Trying to think of Christmas gifts for everyone on your list can be stressful.  I know I spend hours online looking for the perfect gift for the people on my list.  This year I started my shopping early and was done before fall even started.  The only problem with being done so early is that I keep buying people stuff so I've went over my budget.  Oh well.  I put together a small list of seven items you could get for the women in your lives.
Each gift has a number that corresponds to their description below the picture.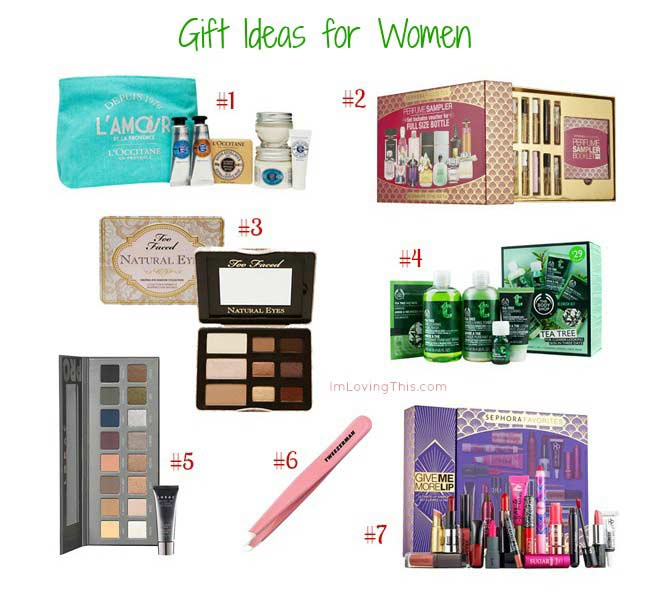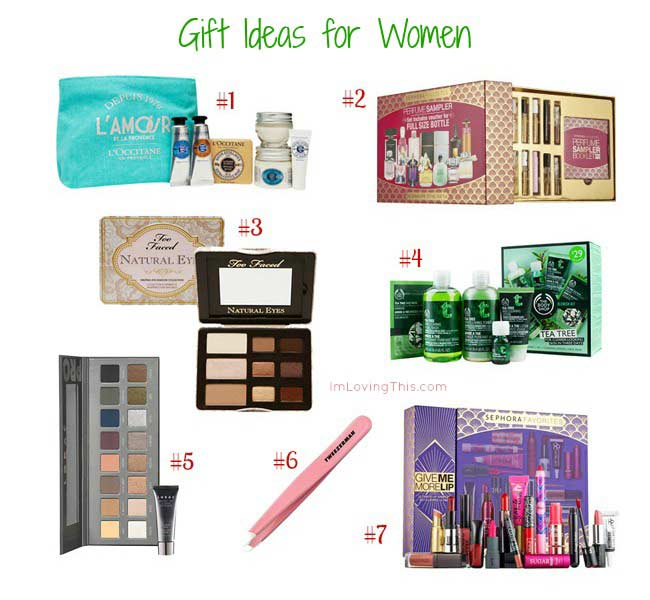 Moisturize and protect your skin from head-to-toe thanks to a high concentration of Shea butter, nature's miracle beauty balm.  This package includes:
Shea Ultra Rich Body Cream 1.7 Oz.
Shea Hand Cream 0.3 Oz.
Shea Foot Cream 0.3 Oz.
Shea Ultra Rich Face Cream 0.5 Oz.
Shea Butter Milk Soap 1.7oz.
Shea Butter Lip Balm 0.17 Oz.
L'Occitane makes fabulous lotions and any woman would love any of their gift sets. 
I love this gift idea, I've purchased the mens version for my boyfriend in the past.  In this perfume sampler you'll find 14 samples of some of Sephora's most sought-after women's perfumes.  You can try them all out and then take in the included scent certificate to any US Sephora store to redeem it for a full-size bottle of the fragrance at no extra cost.  
Sure you can go into Sephora and ask for a bunch of samples, but this set takes the hassle out of that and in the end you get a full-sized bottle of whichever one the recipient likes best.  This set is only valid in the US and not in Canada, if it was in Canada I'd probably get my brothers the mens version for Christmas.  Also, make sure you don't buy this for someone if they don't live near a Sephora because they won't be able to redeem their certificate easily as you can't do it online. 
Too Faced makes some great shadows, I own this palette and love it!  This palette contains 9 silky and easy to blend shadows to create a variety of eye looks.  It also includes an instruction card with three different eye looks. 
I absolutely love the tea tree line from The Body Shop and think that everyone should try it out.  This kit contains five skin care items:
Tea Tree Skin Clearing Face Wash (250 ml/8.4 fl oz)
Tea Tree Skin Clearing Toner (250 ml/8.4 fl oz)
Tea Tree Skin Clearing Face Lotion (50 ml/ 1.7 fl oz)
Tea Tree Oil (10 ml/0.33 fl oz)
Tea Tree Face Mask (6 ml/0.3 fl oz)
I don't own this palette, but I do own the first one and love it!  This palette contains 8 Shimmer and 8 Matte Eye Shadows for a total of 16 to create the perfect look.  The palette also comes with a mini Behind the Scenes Eye Primer to help the colours last. 
In my opinion, these are the best tweezers out there.  I've had my same pair since I started doing my eyebrows and they work just as good as they did on day one.  Every girl need a good pair of tweezers and it these tweezers would be a great stocking stuffer. 
Sephora always has a bunch of different gift sets similar to this one.  This gift set would be perfect for any girl that loves wearing lip products.  This set contains 17 different products, that is less than $4 an item.  If it isn't the one you want or you'd prefer a less/more expensive one then check their website or store for other ones.  
So that is my list to give you a few ideas of what you can buy any of the women in your lives.  I have made lists like this every Christmas so you can also look through my other gift idea blog posts for more ideas if you are still unsure.  I made this list strictly beauty products this year.  I hope this helped give you some ideas. 🙂