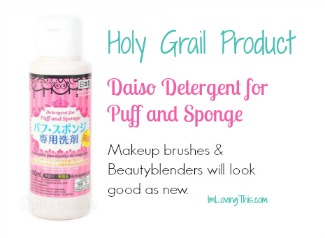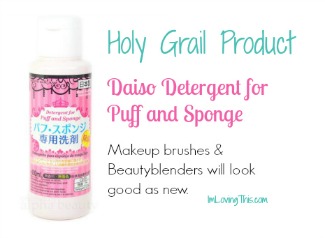 Before I found the Daiso Detergent for Puff and Sponge I would use baby shampoo to clean my makeup brushes.  When I started using liquid foundation I could never get all the foundation out of my brushes no matter how hard I tried.  It was very frustrating, especially when trying to get Revlon ColorStay out of my flattop brush.
I did some research online and came across the Daiso Detergent for Puff and Sponge.  I placed an order for a bottle on eBay, which was around like $3-$4 for 80 ml.  The Diaso cleaner is made in Japan, and that is why I order it on eBay, it arrived very quickly, only took about a week or two.
When I received the bottle I went right ahead and washed my foundation brush, and WOW was I ever amazed!  My foundation came right off my brush, you could see it pouring out into the sink.  My brush looked as good as new after.  I continued to wash and condition all my brushes, it was the fastest brush washing session ever.
I have since then purchased several bottles of the Daiso Detergent for Puff and Sponge and never looked back.  It leaves all my brushes and Beauty Blender looking good as new every time.  In fact, I think it has helped preserve my Beauty Blender, we all know they are pretty expensive, so I try and make mine last for as long as I can.
The Diaso cleaner is a clear in colour and says that it is fragrance-free.  I think it has a smell, which isn't very pleasant but I don't care because the cleaner works miracles!  The bottle also says that it is a disinfectant which is important when washing your brushes.
I highly recommend the Daiso Detergent for Puff and Sponge for cleaning your makeup brushes.  Trust me, you will never use another cleaner.  It is very inexpensive as well, you don't need much so it lasts for quite a while.
Have you ever tried the Daiso cleaner?  What do you think of it?  What do you use to wash your makeup brushes?