I'm one of those people that has to eat breakfast every morning. I'm not really on a time crunch like some people for making breakfast as I work from home. I've been looking for healthy breakfast ideas for awhile and have finally found one that I enjoy.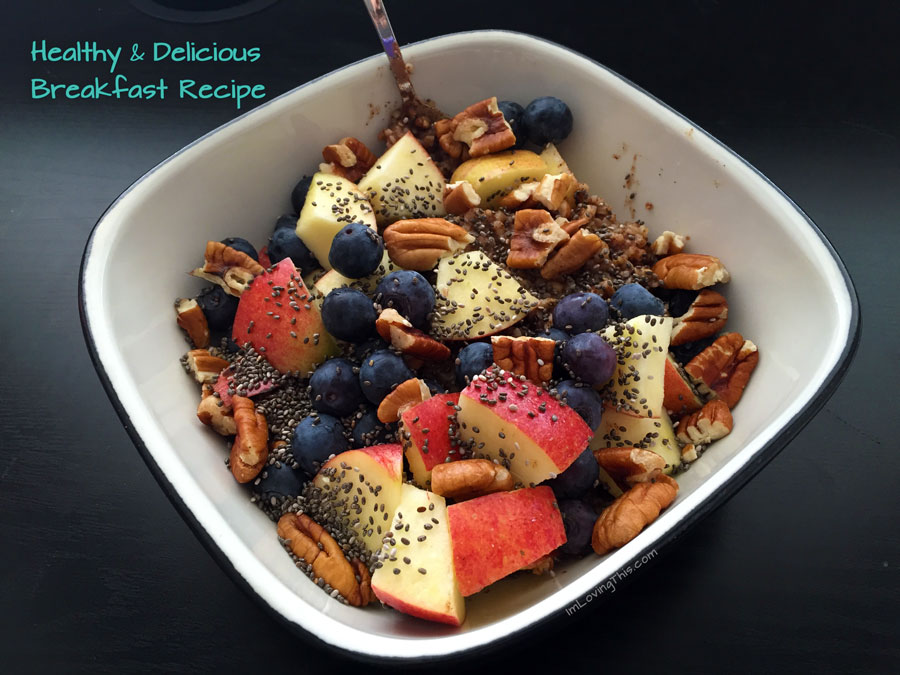 Some breakfasts that I ate in the past are…
Activia yogurt with berries and granola. (Activia seems to be the only brand I like and it's hard to find in the USA for some reason)
Boiled egg, yogurt, apple or banana
poached egg and toast with a piece of fruit
The breakfasts I listed above never really filled me up for long.  I'm also trying to cut eggs out of my diet as much as possible cause they don't make me feel the greatest. Plus I'm trying to eat more "natural" and cut down on the bread.
I've never enjoyed oatmeal, I find it disgusting. The texture, the taste, everything about it. When I first made this breakfast I bought a canister of organic rolled oats. I cooked them up and couldn't even finish the bowl. The texture was just too much for me. Into the garbage it went.
I did some googling and found out that steel cut oats are the way to go. So I went to the store and spent $9 on a small bag of organic steel cut oats… Wasn't happy about that, but it's expensive to live in Canada. 
I recreated my recipe with the steel cut oats and I was pleased with the end result. It wasn't all mushy and it tasted really good. It keeps me full for quite awhile, no snacks needed before lunch, although I'm not really a snacker.
I've been making this same breakfast all week and hope that I don't get sick of it anytime soon. Does anyone else get sick of breakfast meals and need a change every few weeks? At least with the oatmeal I can customize it and rotate in different fruits and nuts and hopefully change the taste quite a bit. 
Anyways, enough of my rambling, here's the recipe for my healthy, organic oatmeal bowl…
Delicious and Healthy Oatmeal Recipe 
This recipe makes enough to fill me up, but feel free to adjust it to your needs
1 cup of water
1/3 cup of organic steel cut oats (I used Bob's Red Mill Organic Steel Cut Oats)
dash of organic pure maple syrup
1-2 tablespoons of cinnamon
allspice (optional)
1 organic apple
handful of organic blueberries
small handful pecans
1 tablespoon chia seeds
Directions:
These directions are more of a guideline, you can customize this completely to your own liking. 
Cook your steel cut oats as per the directions on the package. The ones I have say 3 parts water 1 part oats so that is what I did. I cook mine on the stove for about 10-12 minutes, cook them to your desired texture. While they are cooking you can prepare your fruit. Once they are cooked I pour the oats into a fine mesh strainer because I don't like them to have any extra liquid. Once drained, I put them back into the original pot and pour in a small amount of organic pure maple syrup. Then I dump in a pile of cinnamon, I LOVE cinnamon so add as much or as little as you like. I probably add around 2 tablespoons to mine… Sometimes I also add some allspice if I remember.  Mix that all up and pour it into your bowl. 
Add the cut up apple along with the blueberries and pecans to the bowl. Top with a tablespoon or so or chia seeds. Mix and enjoy.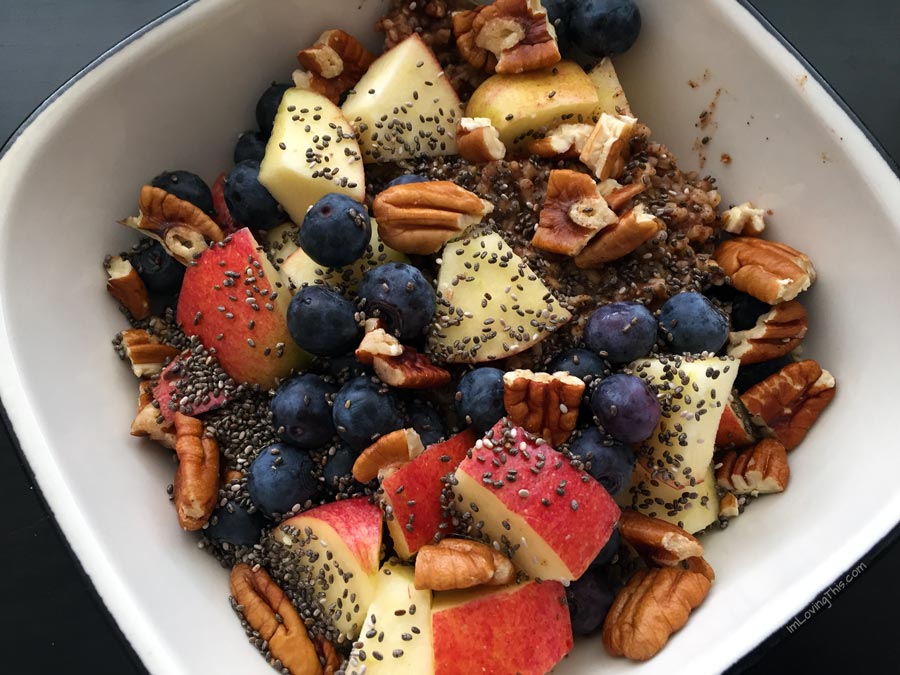 Let me know what you think in the comments below. If you try the recipe I'd love to see a picture so tweet it to me on Twitter, @ImLovingThis, share it on my Facebook Page or tag me on Instagram @ImLovingThis.
What's your go-to healthy breakfast?