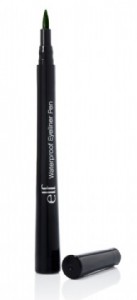 The e.l.f. Essential Waterproof Eyeliner Pen is a great eyeliner to use when first learning how to use liquid eyeliner.  I bought it online because it was only a $1, and really liked it.  In my opinion it's the best bang you can get for your buck.  How can you go wrong for $1?  The e.l.f. Eyeliner Pen is so easy to use and I get a perfect line every time.  I will warn you that you are only paying $1 for this product so don't expect $20 results.  It isn't totally waterproof and usually wears off by the end of the day.  The pen felt tip also dries out pretty quickly.  But come on, its only a $1.  It is great for people learning how to apply liquid eyeliner as it won't hurt your wallet every time you mess up your liner.
If you want a better waterproof liquid eyeliner than I suggest using Revlon's ColorStay Liquid Liner, it is my absolute favorite.
Have you tried the e.l.f. Essentials Waterproof Eyeliner Pen? What are you opinions? Are there any other cheap eyeliners that you like?