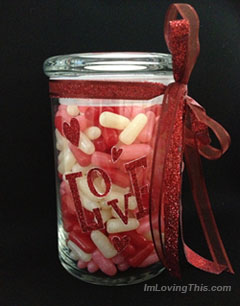 Everyone has a favorite candy and this Valentine's Day gift incorporates your special one's favorite sweets.  This gift is very easy to make and also inexpensive unless of course you fill it with expensive goodies.
You could even fill this jar with your significant other's favorite baked goods which would be even more thoughtful.  You can use this gift idea for any occasion  All you have to do is change the way you decorate the jar. 
I purchased all the supplies at Michaels except the candy of course which I picked up at Target in the Valentine's Day area.  I got 5 boxes of Hot Tamales for $5.  The jar I picked up for $4.99, but you can get a cheaper one such as a mason jar for $1-$2.  The ribbon I found in the sale bin for only a $1 as well.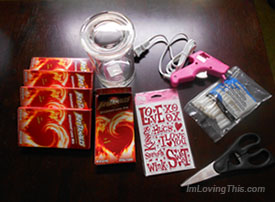 Here is what you will need:
A jar with a lid such as a mason jar
Stickers
Ribbon
Candy
Scissors
Glue gun (optional)
Here's how to make the Valentine's Day gift
First off make sure that your jar is clean and fully dry.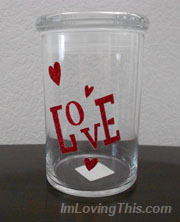 Decide how you want your jar to be decorated and place your stickers wherever you want.  You could also glue on other items you may have on hand.  I decided to only decorate one side of my jar so it didn't look too busy.
Next, the best part.  Fill the jar with your candies! Yummy! Put the lid on your jar so you don't spill your goodies.
Take your ribbon and dress it up a bit by tying a bow around the jar.  If you want you can also glue it in place so it doesn't move.  If you are using a mason jar you may want to glue some ribbon around the lid to make it look fancier.
And you are finished! Wasn't that easy? It looks so pretty too with the Valentine's Day themed Hot Tamales.
If you make this gift I'd love to see a picture of it on my Facebook Page or you can Tweet it to me.
Check out my other handmade Valentine's Day gift ideas.