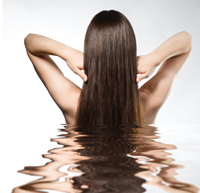 Eggs contain lecithin and protein which help strengthen your hair.   Olive oil will nourish your hair and help protect it from environmental factors.  Honey is know for it restorative properties and will help make your hair feel smoother.  
After applying this hair mask your hair will smoother, and shinier.  You may even notice that your hair is less prone to breakage.  Personally, my hair felt smoother, thicker and healthier after using this mask just once.
This hair mask recipe is for long hair, if you have shorter hair than just make half the recipe.
Ingredients
2
eggs
2 tbsp
honey
3 tbsp
olive oil
Directions:
Crack the eggs into the bowl and beat them.  Add the honey and olive oil and mix it well.  Apply the mask to damp or dry hair.  Wrap hair into a towel or plastic cap.  Leave on for 20 minutes or longer if you would prefer.  Rinse, shampoo and condition as usual.