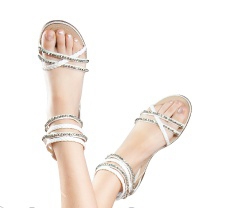 I always buy a new pair or two of sandals every summer and always have to break them in first.  I will go a few days having sore feet while wearing them.  I learned an easy trick to help break in your new summer sandals.
All you need is sandals, a bucket large enough for your feet to fit in and some water.
Pour some water into the bucket and step into the bucket with your sandals on.  Take your feet out and dry off the sandals with a towel.  Then wear them around damp while they air dry.  This will help the sandal soften up and conform to the shape of your feet. 
** Please make sure to test a patch on your sandal before dunking them into water.  You wouldn't want to ruin your new pair of sandals. 
Tip: If you don't have a bucket large enough you could also fill a spray bottle with water and spray the sandals instead.