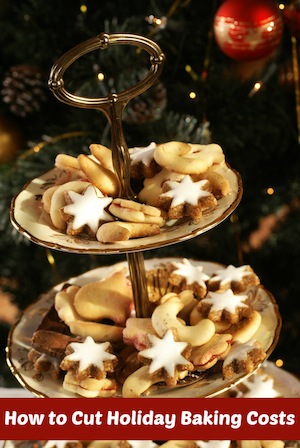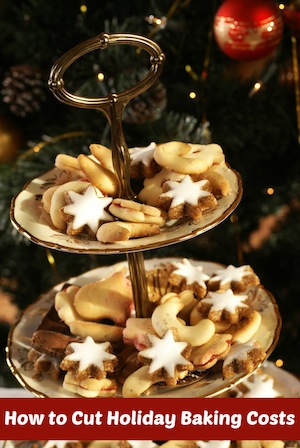 The holidays are a time where most people have a hard time staying within their budget.  You are buying gifts, attending parties, hosting dinners and baking all those delicious holiday treats.
Often times we end up having to cut down on our baking in order to manage our holiday budget.  Here are a few great tips for making budget friendly holiday desserts.
Always bake from scratch.  Avoid using the pre-made pie crusts and cookie doughs and you will end up saving yourself a ton of money.  It might take the convenience out of cooking but if you are trying to cut costs baking from scratch will help tremendously.  Plus, everything tastes better fresh and from scratch.
Avoid using specialty ingredients when baking.  Don't reach for the Swiss chocolate and avoid any of the expensive nuts such as pecans.  It is simple to substitute with less expensive kinds of chocolates and/or nuts.  You could even avoid receipes that call for expensive ingredients and just stick to recipes that use the staples.
Try and purchase ingredients in bulk.  It will save you money in the long run and things like sugar and flour last a long time.  If you see butter on sale, stock up on it and store it in the freezer as that tends to be a more expensive item when baking. 
Purchase the ingredients when they are in season.  For example, buy pumpkin when it is in season and puree it yourself and save it for future use.
Plan, plan, plan.  Make a list ahead of time of all the desserts and treats that you want to bake for the holidays and all the ingredients you will need.  Watch for sales and purchase the ingredients when you see the prices drop.
If your holiday baking requires any special pans or cookie cutters check your local dollar store and see if they have any of the items you need there.  You can also always find bake ware on sale at places like Wal-mart around the holidays so make sure you look for those sales.
If you really want to get thrifty, try and use up all the items in your freezer and pantry before going grocery shopping again.  This will save you money on your weekly grocery shopping trips and also help clean out your freezer and pantry for the new year.  This way you will have some extra money to spend on all your baking ingredients.
Another great way to save money is to have a baking party and invite all your friends over.  Ask them to all bring ingredients to make their favorite holiday cookies and you can all bake in bulk and share the end results.  This is a great way to have several different baked goods without having to go buy all the ingredients.
When baking your desserts make sure to use your oven heat efficiently.  Start by cooking the item that has the lowest cooking temperature and work your pay up to the highest temperature.  That way your oven doesn't have to work hard buy adjusting the temperature up and down the entire time you are baking.  If you have room in your oven you can also bake one than one thing at once if they have the same cooking temperature.  This will help save you money on your electric and/or gas bill.
If you are trying to save money around the holidays it can be done with a little bit of planning.  You can really stretch your dollar when doing all your holiday baking and still make some delicious goodies.  It might take a little more time but your wallet will thank you.
Make sure to read my other holiday blog posts here.