I probably won't have an Ipsy bag for awhile after this one.  I have to cancel because I won't have a set address for awhile.  When I cancel though I'll have to go back onto the waiting list again, it took me almost a year to get off the waiting list previously.
This month's theme is 'Beauty Candy', and I received a wide variety of products in my bag.  I actually like the makeup bag that everything came in.  It's a teal, quilted, plastic type bag.  I like the colour of the bag so I think that is why it appeals to me.  I still don't know what I'll do with all these bags that I receive each time.
Let's get into what I received in my Ipsy this month: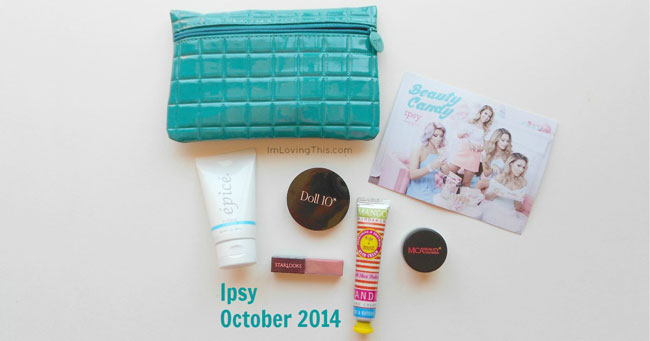 Doll 10 Beauty H2Glo Highlighter – 4.5 grams
This product wasn't sealed or anything and I noticed right away that it had a finger print in it, which is disgusting.  I contacted Ipsy and they said they would send me a new one.  I didn't hear back after that so I'm not sure if they are sending a replacement or not, will find out and update you.  Doll 10 is a Canadian company which is great, always love discovering local companies.  The cream highlighter smells like a sweet lip gloss which is kind of odd.  It goes on smoothly and gives a nice champagne sheen when I apply it on my hand.  I haven't tested it on my face yet since someone stuck their finger into the one I received.  I like the packaging, its very sleek and light, great for traveling.  I think this product retails for $30, the one I found on their website looks slightly different than the one I received so I'm unsure.
Épicé International Purifying Exfoliant – 1 ounce
I love receiving skin care items so I was excited about this product.  It reminds me of one I received in my Birchbox a few months back, Vasanti BrightenUp! Enzymatic Face Rejuvenator.  The Épicé International Purifying Exfoliant has a faint, refreshing smell.  The exfoliating beads are very fine and gentle.  This is a decent sized sample and should last me awhile.  The full size runs for $32 and is 3.3 fluid ounces.
Figs & Rouge – Hand Cream – 20 ml
More hand creams… I seem to receive a hand cream in my subscription boxes every month, maybe I'm the only one who doesn't get excited about them.  It takes me along time to use up a hand lotion.  I received the lotion in the scent, mango mandarin, I love the smell of mandarins, this lotion smells quite sweet but it's not overpowering.  It's a very light lotion and rubs in within seconds and doesn't leave a greasy residue.  I guess this is a full-sized product and it retails for $6.56 on their website.  I don't know if I'd buy it again because none of the scents they have online appeal to me.
MicaBeauty – Mineral Eye Shadow – 2.5 grams
I received the eyeshadow in the colour reluctance, which is a silver, gun metal colour.  I poured a very small amount onto my hand and blended it out and HOLY, it's very pigmented.  It's not a colour I'd normally wear but I may have to find a way to wear it cause it's a beautiful colour.  I'm interested in trying some other colours of the MicaBeauty Mineral Eye Shadow, they have quite a section on their website.  I used to wear a lot of loose mineral eye shadows but have only been wearing pressed powders for the past year or so.  Loose powders just get so messy, especially with all the traveling I do.  I received a full size of this product which retails for $14.95, so that is awesome!
Starlooks – Lip Gloss
The scent of this lip gloss reminds me of something but I can't pinpoint it, maybe icing? I'm not sure.  The colour I received is Guilty Pleasure, which I would consider a pink-nude.  It's quite similar to my lip colour so I like it.  I'm not sure if it is moisturizing like it claims to be.  Most lip products irritate my lips so I figure this one will too, it's already feeling like it's drying them out after a few minutes.  It's a mini sample so this will fit great in my purse, since I carry around a super small bag.  Starlooks is cruelty-free if that is something you look for in products.  The full size of the lip gloss retails for $12, which is a little more than I like to pay for a gloss.
After going through this bag I'm actually happy with what I received.  When I first opened it I was disappointed, but now that I've tried the products out I'm satisfied.  Besides the fact that I received a product that someone stuck their finger in, hopefully Ipsy sends me a replacement.
What did you get in your Ipsy?
Let me know in the comments below or on social media.  You can find me just about anywhere with the username "ImLovingThis".