This will be my last review of Ipsy until later next year. I'm going to be traveling a bunch so I have decided to cancel my subscription. I already cancelled my Birchbox because I knew I wouldn't get it before heading home to Vancouver.
September's Ipsy Glam bag came in a really cute gold bag. I will be saving this one for sure. I have a pile of these small bags and use them to help sort things when traveling. For example I just flew home on the weekend and put all my cords into one of the Ipsy makeup bags in my carry on. I use another one of their bags as a pencil case. They have actually come in handy.
I'm happy with my bag this month and brought most of it with me to Vancouver. Here's what I received…
Ipsy Glam Bag September 2015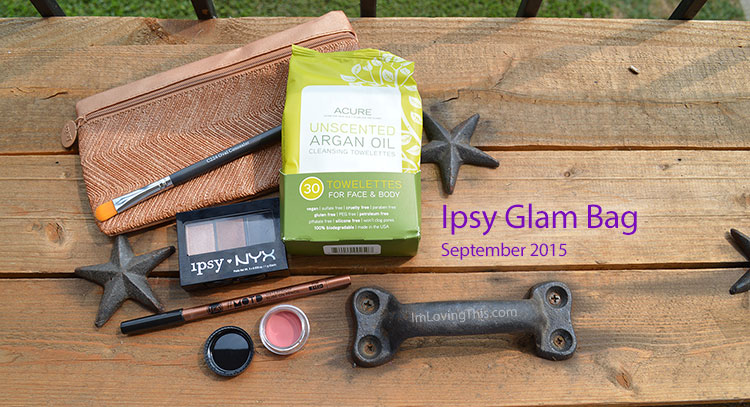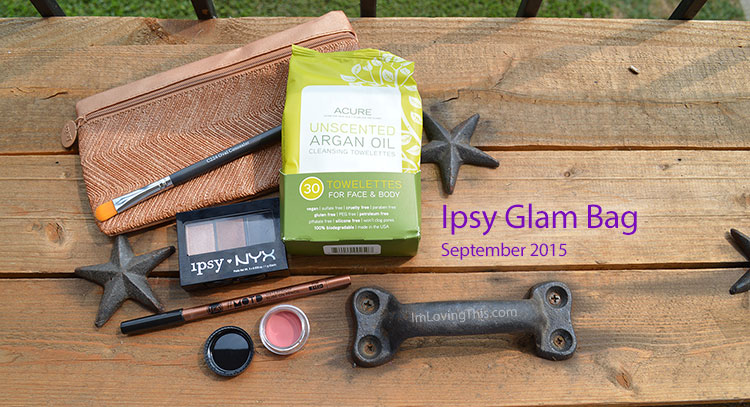 ACURE Argan Oil Cleansing Towelettes
I received a full size sample of the Acure Argan Oil Cleansing Towelettes, which is exciting. Who doesn't like facial cleansing wipes? I use them anytime I'm wearing foundation to remove it before using my cleanser. It might seem like an extra step to some but I find it easier to remove all my foundation that way. These retail for $6.99 and you get 30 in a pack, which is a little over average for pricing. But these towelettes claim to be biodegradable which is good for the environment. 🙂 I haven't opened them yet cause I just opened a pack so will let you know what I think of them when I try them.
NYX Cosmetics Eye Shadow Trio
I received a full-sized eye shadow trio in the colour IPSYNYX101 which is a special trio designed just for Ipsy members. I'm not going to talk much about the colours as you can't buy it. I generally like NYX products but am not very impressed with this trio. I've actually never purchased any of their trios or palettes. I wonder if they are all the same quality since this one was made for Ipsy members only. I own quite a few of their single eye shadows and love them all. The colours in this trio don't have very good colour payoff. Especially the black, it goes on more grey. I like the middle bronze colour but don't see myself ever reaching for this. I wish that I didn't stick my fingers in it so I could donate it. NYX trio palettes run for $3-$6 depending on where you buy them and if they are having a sale.
Evelyn Iona Cosmetics Cream Blush
I received the colour Ash, which is a dusty-rose type colour. It feels very creamy and blends out beautifully. It's a very pretty colour and I will be using this up. This blush is natural, organic, free of parabens and cruelty-free. It is also made in the USA. Evelyn Iona Cosmetics donates $1 from every product sold to woman's organizations. 🙂 The full size of the Evelyn Iona Cosmetics Cream Blush retails for $18.75. I've very curious about their concealers, if they are as creamy as their blush then they would be fabulous!
J. Cat Beauty #MOTD Waterproof Slide on Pencil for Eyes.
I received a full-sized eyeliner in the colour bronze. I'm not sure exactly when I'll wear this eyeliner but the colour is gorgeous! It's the perfect bronze colour. The tip of my eyeliner fell right out when swatching it onto my hand 🙁 so I haven't tried it on my eyes yet. I will have to sharpen it down an inch to fix it… J. Cat cosmetics are cruelty-free if you are an animal lover and this eyeliner retails for $3.99.
Crown Brush Oval Concealer Brush (C224)
I received a Crown Brush in my Ipsy bag exactly one year ago (how strange) but don't reach for it often cause it's dual ended and doesn't fit into my homemade makeup brush holder. This is a concealer brush which I'm excited about as I actually don't own a concealer brush. I usually use my fingers or my beauty blender to apply concealer. I don't wear concealer often though as I haven't been able to find one that I like that doesn't crease or cake up under my eyes. Typically I just layer on extra foundation where needed. I haven't tried this brush out yet as I haven't worn makeup in a few days. It seems soft enough and dense with a tapered end. It will be easy to use it for the under eyes or to define your lips or eyebrows. I think it will work well and I will keep you updated. This brush retails for $7.45 on their website, but it's currently on sale for less than $3.
What did you get in your Ispy bag this month? What was your favourite product?