I decided to sign back up to Ipsy this past month and received my bag yesterday. I signed up to Birchbox as well and told myself I can only be subscribed to one and have to decide which one.
I'm quite impressed with what I've received from Ipsy this month and Birchbox has quite the competition.
I've only used a few of the things in the bag so far but will update this post again once I try them all.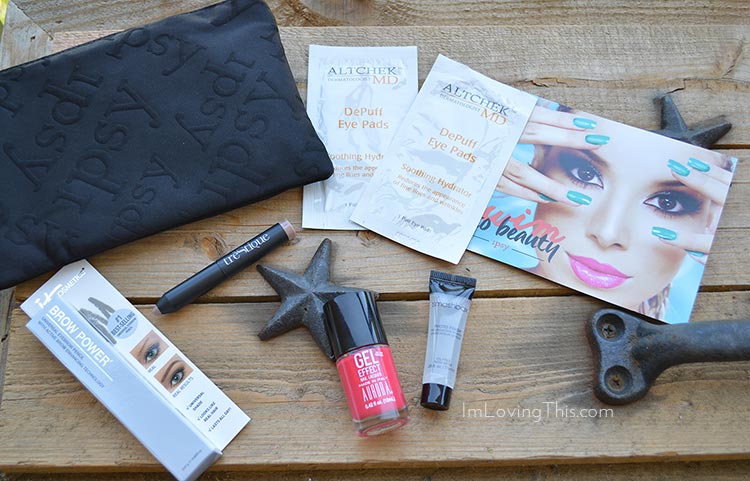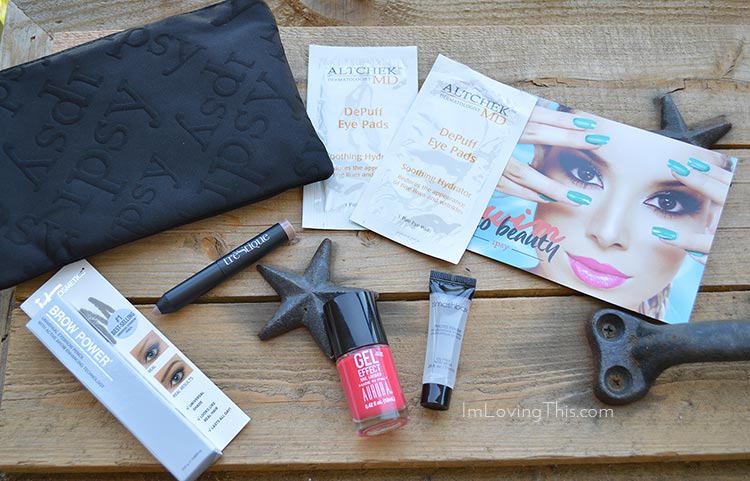 Ipsy #JuneGlamBag
The makeup bag this month is really cute. It's black with a fluorescent pink zipper. Ispy is written all across the bag as well. The bag is very soft and I might find some use for this one.  I received 5 different products in this month's bag here's what I got…
It Cosmetics Brow Power Universal Eyebrow Pencil – .07 g
I was really excited to receive this brow pencil because I've been wanting to try some higher end brow products. The universal brow pencil comes in one shade, Universal Taupe. The colour is perfect for me, I have blonde hair but my brows are darker than a standard blonde haired person. I think this is a full sized product but am not quite sure, it retails for $24. I've tried this pencil once so far and love it. It has the pencil on one side and the brow brush/comb on the other side. I wore it on a hot California day and it lasted all day. I would probably repurchase this product in the future.
Smashbox Photo Finish Foundation Primer – .25 fl. oz.
I was also excited about receiving this product as I've been wanting to try it for awhile. I haven't tried this out yet as I forgot to when I did my makeup yesterday. The full size retails for $36, which is a pretty steep price. But I would purchase it if it really worked for me. I will let you know my thoughts on this when I try it.
tre'StiQue Mini Shadow Crayon – .7 g
I received the colour Marimoto Pink Pearl, which is very pretty. I initially wasn't too excited for this as I think I already have enough eye shadows but it is a really nice colour. It could be used on the lid, inner corner or even as a highlight shade on the brow bone or cheekbones. The crayon goes glides so easily and flawlessly onto my hand without any pressure. It seems like a really nice shadow crayon and I will definitely try it out. The full-sized crayon retails for $26 and there are 6 shades available although it hasn't launched yet.
Aurora Gel Effect Nail Laquer – 12 ml
I received this in the colour #112 4 Alarm Fire. I love the colour, it is a perfect pink for summer. I've never tried the gel nail polish that has been all over the place so was kind of excited to try this. The only issue is I only have the colour polish and I don't have the base and top coat. You need the top coat for these polishes to work effectively. I tried it out anyways and the polish didn't even last a day. I assume it would be better with the top coat. The color is beautiful though, right up my alley. These polishes retail for $12 and I believe I received a full size one.
Altchek Dermatologist MD DePuff Eye Pads
I received two foil packets of these eye pads. I like anything to do with skin care so even though they are foil packets, I don't mind. I will get two treatments out of these, 1 per pack. These are suppose to reduce the appearance of fine lines and puffiness while hydrating the sensitive and fragile skin under the eyes. I haven't tried them yet but will let you know what I think. I don't know how much they retail for as I'm not seeing these exact ones on their website.
What was your Favourite thing in your Ipsy bag this month?