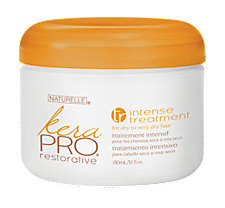 I purchased the KeraPro Intensive Restorative Treatment for dry to very dry hair online from Sally Beauty Supply.  I was looking for something to restore some moisture back into my overly processed blonde hair. 
The KeraPro Treatment says is a treatment for extra dry or stressed hair and that it will leave my hair soft, shiny and healthy.  The directions say to apply to clean hair and massage through the lengths and ends.  Leave on for five minutes and rinse well. 
I used up the entire container to give this product a fair review.  The product comes in a container which runs for around $10 for 5 ounces. 
First off I can not stand the smell of the KeraPro Treatment.  It has a very strong smell, I think it smells like a bar of regular soap.  I just can't get past the smell it is way to powerful for me.  
The consistency of the product is good, you can scoop it out of the container easily and it spreads evenly into your hair to cover every strand.
I followed the directions to leave the KeraPro Intensive Restorative Treatment on for five minutes and sometimes I left it on for ten minutes.  I did not notice a difference in my hair at all.  It did not dry my hair out or anything but it didn't do anything to make it look or feel any better.  I would rather just use my regular conditioner than this as it is cheaper and smells much better. 
I have read many great reviews about the KeraPro Intensive Restorative Treatment but I did not experience the greatness that others did.  I will not be repurchasing this product again.
What are you favorite hair treatments to restore your hair?