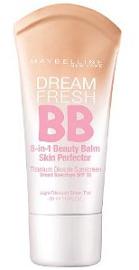 I heard wonderful things about the Maybelline Dream Fresh BB Cream online.  I am very happy with my bareMinerals Matt SPF 15 Foundation but decided to try out the BB Cream which claims to be an 8-in-1 skin perfector.
I have combination skin, sometimes I get oily on my forehead by the end of the day.  It isn't every day that my forehead starts shining, but once in a while it does.  I don't typically experience oil anywhere else on my face.
My first impression of the Maybelline Dream Fresh BB Cream was that it applied very easy with my fingers.  It went on smooth, hid my imperfections, evened my skin tone and made my skin more smooth.  It even has an SPF 30, so that is always a plus.  I decided to apply a little powder over top of the BB Cream to set it and avoid an oily face.
I wore the Maybelline Dream Fresh BB Cream to the office one morning.  I was just sitting at the computer during an all day online conference so I wasn't active at all.  After work I went home only to notice while looking at my iPhone that my face glistening.  I was in shock of how I could see the shine through my phone.  I quickly ran to the bathroom to find that my entire face was covered in oil.  I quickly wiped my face down with my favorite face wipes  and was very glad that I didn't go anywhere that day as it would have been very embarrassing.
I noticed after taking off the BB cream that it was not only making my face severely oily, it was starting to break me out. If I had of worn it any longer I probably would have had a few pimples on my face.  I decided I wouldn't give the product a second chance.
I was disappointed that the Maybelline Dream Fresh BB Cream did not work well with my skin.  I do not recommend it to someone that has any type of oily skin.  Like I said, my skin isn't even really oily, just occasionally on my forehead.  This BB cream made my entire face glisten.  I have never before this day seen oil on my cheeks.  It was quite a shock when I looked in the mirror. I wish it worked for my skin as I really liked the look of my skin right after I applied it.
I have some samples of a few other drug store BB Creams that I need to try, but I am a little freaked out after trying this one. 
Do you like to use BB Creams? What do you think of the Maybelline Dream Fresh BB Cream?