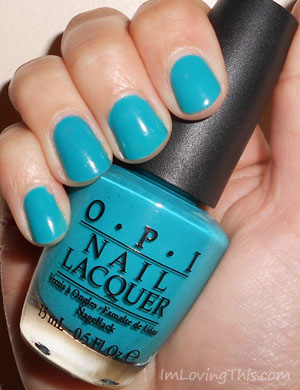 OPI  is my favorite brand of nail polishes.  Although I do find them on the pricier side, I think they are well worth it.  I've been wanting to get my hands on OPI Fly and finally got a bottle of it and I am in love. 
OPI Fly is from the Nicki Minaj Collection from 2012.  It goes on smooth and evenly like most OPI  polishes and it stays put for quite some time.  My nail polish chips so quickly and this one seemed to look nice for longer than usual. 
The colour is a beautiful turquoise, teal cream, leaning more towards the green side of the spectrum.  It looks great on my skin tone, especially when I am tanned. 
In my picture I have the Seche Vite Base Coat and two coats of OPI Fly and a layer of the Seche Vite Top Coat. 
I've read reviews about this polish staining peoples nails, I always use a base coat when wearing polish so I'm not sure about staining.
Definitely one of my all-time favourite nail polishes and one you should pick up if you can find it online.