I've been using Palmer's Cocoa Butter for at least 15 years, my Aunt first introduced it to me and I've been using it daily ever since.
The Palmer's product I've been using for years is their Cocoa Butter Formula Lotion. They've come out with several other products over the years and I've tried a few of them. I was recently contacted and asked if I wanted to try some of their products for dry winter skin. I jumped at the chance since I've been a fan for half of my life.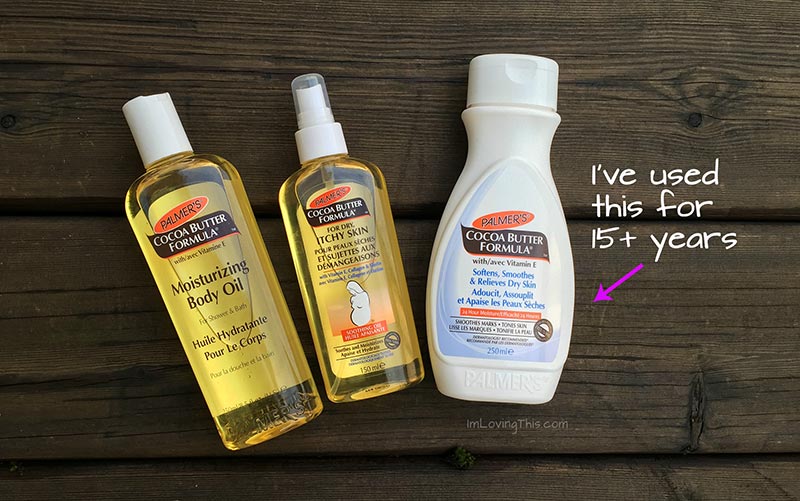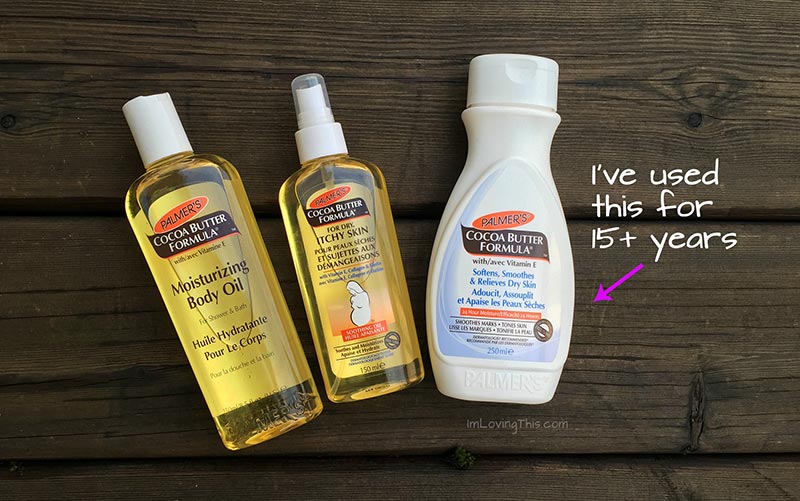 The products I'm going to be talking about today are…
Palmer's Cocoa Butter Formula (the original one that I'm a huge fan of)
Palmer's Cocoa Butter Formula Moisturizing Body Oil
Palmer's Cocoa Butter Formula for Dry Itchy Skin Soothing Oil
I've never tried their oils so was excited to see how they performed. I've actually never used body oils, but am a big fan of hair oils.
All three of the products have their signature cocoa scent. I enjoy the scent but my boyfriend can't stand it and hates when I put the lotion on before bed.
Let me tell you my thoughts on each product…
Palmer's Cocoa Butter Formula
This is a lotion and like I said I've been a huge fan of this product for over 15 years. Here's some information about it…
Pure Cocoa Butter and Vitamin E
Provides 24-hour moisture
Suitable for eczema-prone skin
Soothes skin after sun exposure
Fast absorbing
Softens and relieves skin
Smoothes marks and scars
Paraben-free and Phthalate free
What I think…
The Palmer's Cocoa Butter is a favourite of mine, it's very inexpensive and can be found at your local drugstore. It moisturizes my skin and doesn't leave a greasy residue behind. My skin has always been soft and I attribute it to my regular use of Palmer's Cocoa Butter. I can't give any insight into if it fades scars even though I've used this product for 15 years. I don't have many scars and personally, I don't believe that a lotion can really fade them.
I also really like using this lotion after spending a day out in the sun. It helps put the moisture back into my skin and prevents it from looking dried out.
I never noticed before that this lotion is free of parabens until I examined the bottle for this review. Even more reasons for me to continue using it.
How much can you really say about a lotion? I just know I love it and if you haven't tried it then you should. Make sure to smell it first at the store to see if the scent is for you.
Palmer's Cocoa Butter Formula Moisturizing Body Oil
This oil is fairly similar to the lotion. I think it is the same product, just in an oil formula. You can use this on dry skin, or after your shower/bath on damp skin. You can even pour 1-2 capfuls into your bath. I haven't tried pouring it into my bath as I rarely take baths.
I've been using this oil right after the shower and have really been enjoying it. I thought it would be messy but it's really easy to work into my skin and soaks in very quickly. My legs have been feeling dry because of the weather and as soon as I put this on they feel moisturized and are no longer itchy. It lasts all day and I don't need to reapply it till I shower again the next day.
If you are looking for a body oil then you should try the Palmer's one. I really like it and plan on purchasing it in the future along with the lotion. It's a large size bottle at 250 ml so it will last a while, and it's only $4.99 for a bottle.
Last but not least is the…
Palmer's Cocoa Butter Formula for Itchy Dry Skin Soothing Oil
This product comes in a 150 ml spray bottle for only $5.99. I find the spray bottle kind of hard for me to use but maybe I'll get better at it as I use it more. To me, the oil feels the exact same as the last product I talked about. It relieves my itchy, dry legs instantly.
This oil is formulated for women who are pregnant and have dry, itchy skin. I'm not pregnant, but anyone can use it really. You can apply this oil on dry or damp skin as well but it doesn't say that you can pour it into your bath like the previous oil.
This oil has Vitamin E, Collagen and Elastin so if I was to pick one of the oils to use I'd probably go with the Palmer's Cocoa Butter Formula for Itchy Dry Skin Soothing Oil as I like that it helps support skin elasticity and firmness.
I should also mention that Palmer's does not test on animals for all you animal lovers. 🙂
As I've said several times, I've always been a fan of Palmer's Cocoa Butter and it's definitely underrated. If you see it at your local drugstore pick up a bottle of their lotion or oil depending on your preference and let me know what you think.