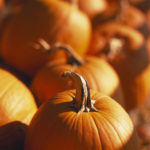 Don't throw away the insides of your pumpkin after carving it on Halloween.  Instead make a soothing face mask.  Pumpkin has lots of Vitamin A, Vitamin C and enzymes to help nourish and brighten your complexion.  Use this recipe to give your face a healthy glow.
Ingredients: 
 15 oz. can
pumpkin or the insides of a freshly carved pumpkin
 1/2 tsp.
honey
 1/4 tsp.
milk
Directions:
1.  Put the insides of the pumpkin into a blender or use a 15 oz. can of pumpkin.  Mix the puree with the honey and milk.
2.  Spread the mixture onto your clean face and wait for 10 to 15 minutes.
3.  Use a damp cloth to moisten the mask and wipe it off.
4. Seal your pores with a splash of cold water.
Want another spa like pumpkin mask? You can try out this other pumpkin face mask here.
Want to make pumpkin seeds? Here's my pumpkin seed recipe