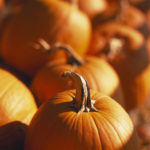 It's almost Halloween so why not get into the spirit by treating yourself to a pumpkin face mask .  Pumpkin is full of Vitamin A, Vitamin C and enzymes to help nourish and brighten your complexion.  Use this recipe to give your face a healthy glow.
Ingredients: 
 1/2 cup
canned pumpkin
 1
egg white
Directions:
1.  Mix the egg white and canned pumpkin in a bowl.
2.  Spread the mixture onto your clean face and wait for 15 minutes.
3.  Use a damp cloth to moisten the mask and wipe it off.
4. Seal your pores with a splash of cold water
Have fresh pumpkin, or want another spa like mask? You can try out this other pumpkin face mask here.
Want to make pumpkin seeds? Here's my pumpkin seed recipe