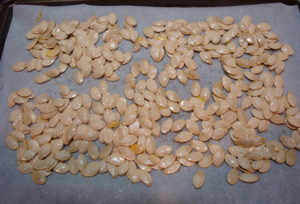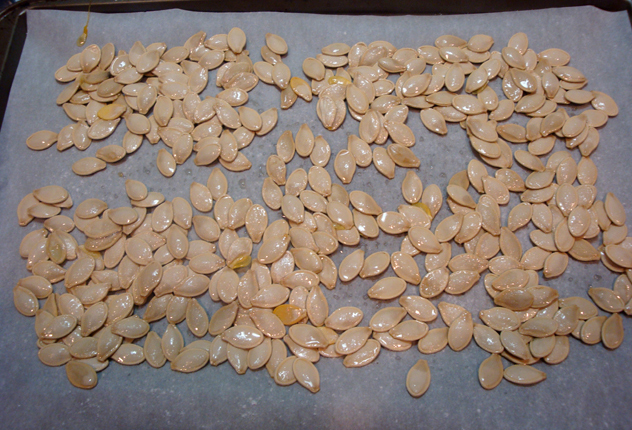 I absolutely love making pumpkin seeds.  They taste so delicious and are simple to make.  Better yet, they have some great health benefits, like diminishing acne.
Start off by removing all the seeds from your pumpkin, that is my favorite part.  I love getting my hands all gooey in the pumpkin.  It must remind me of being a little kid or something. 
Next you will want to rinse the pumpkin seeds under cold water and remove any of the pulp and strings.
Next spray a baking sheet with non-stick cooking spray.  You may also use cooking oil if you want.  I just use olive oil cooking spray. 
Place the seeds in a single layer on the oiled baking sheet.  I place them on top of parchment paper so I don't need to oil the baking sheet or clean up a mess. 🙂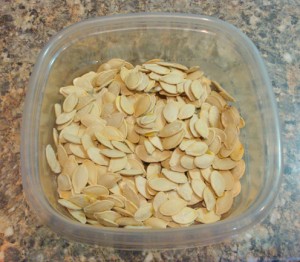 Sprinkle with salt, as much or as little as you desire.  Bake in the oven at 325 degrees Fahrenheit for 20-25 minutes.  After 10 minutes of baking stir up the seeds and move them around, you may add more salt if you desire.  Make sure to watch the pumpkin seeds as they can over cook really fast.
Let the seeds cool and they can be stored in an airtight container. 
You can add many different toppings to your pumpkin seeds.  Here is a list of some alternative toppings to salt.  Do you have any favorite toppings? Please share them in the comments.
Any of the different popcorn seasonings available
Soy sauce
Worcestershire sauce
Pepper
Brown sugar and cinnamon
Taco seasoning
Take the cheese package from a box of Kraft Dinner Macaroni and Cheese
Garlic salt
Onion salt
Cocoa powder
 Tip: If your pumpkin seeds are dry then toss them in some olive oil so that your seasoning will stick to seeds.