I created this quinoa steak salad one day with a few things I had in my fridge.  You could substitute steak for chicken or any other kind of mea.  Or just leave the meat out completely if you are a vegetarian.  This is a fairly healthy salad and would be even more healthy if you used something else other than steak.  But I do love my steak!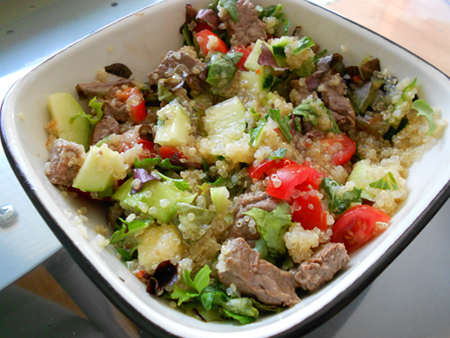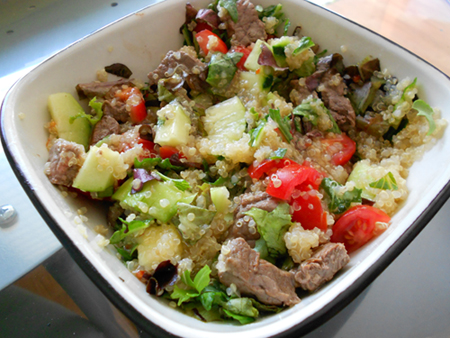 Here is what you need to make my quinoa steak salad recipe
1 cup of cooked, cooled quinoa
2-3 sirloin steaks (depending on how much meat you want) cooked, cut into pieces and cooled.
container/bag of spring salad mix (or any other kind of salad) chopped into small pieces
1 cucumber, cut into cubes
1 pint of cherry tomatoes, diced
Kraft Sundried Tomato and Oregano Dressing
Salt and pepper to taste
All you do is mix all the above into a bowl.  Add as much or as little of the sundried tomato dressing as you would like depending on your own taste. 
You could put any kind of dressing that you would like into the salad or just do a basic olive oil, lemon dressing. 
Let me know if you made this, what you think about it and if you made any changes to it in the comments below.