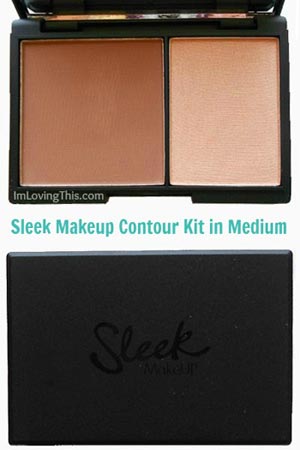 I was looking for a new contour product and didn't want to spend big bucks.  Hoola by Benefit seems to be a popular one but to be honest I don't really like the colour, I think it is too orange whenever I swatch it in store.  I did some research and asked around and decided to order the Sleek Face Contour Kit in Medium 885 over the summer.  My go-to contour product is actually a blush by NYX in the colour Taupe.  I tend to get quite dark in the summer and the taupe blush doesn't quite work for me when I'm tanned.
I was in the states when I placed my order and the shipping was fairly quick.  The Sleek Contour Kit retails for $9.99 online but I can pretty much guarantee you that I used a coupon code or something to make it even less inexpensive.  I never shop online without a coupon code.
The Sleek Face Contour Kit contains 14 grams of product and has both a contour shade and a highlight.  I bought it for the contour colour as I already have a favourite highlight which is Maybelline's Master Hi-Light in Nude.  
The packing is very sleek and feels quite sturdy and would be good for traveling.  The compact comes with a mirror as well which happens to be a pretty nice one.  It also comes with a little instruction sheet on how to use the product. 
I was a little concerned about this kit because I wanted a matte contour colour with no shimmer and seeing as this a duo I was worried that the highlight would mix with the contour.  To this day I only have a few specks of shimmer in my contour colour which seems pretty good, although I'm quite careful when using it.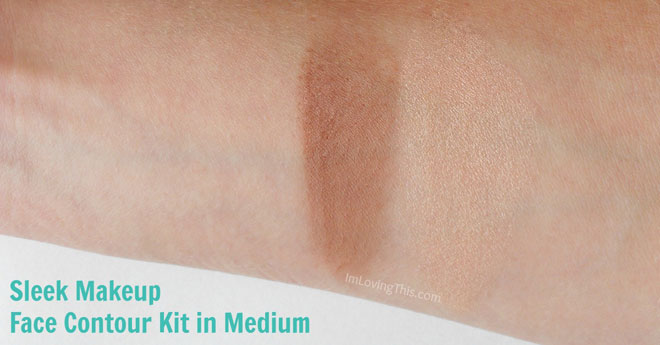 The products are fairly silky and blend out very well.  I suggest using a light hand when using the products as they are quite pigmented.  The contour colour looks at little patchy in my heavy swatch, but it blends right out.  The contour colour has such rave reviews about being the perfect contour colour but I don't agree.  I find that it has a redish tinge to it and it doesn't look all that natural.  I wonder if the light version would be better for me?  But I did order it to use for when I'm tanned so that is why I ordered the medium.  I haven't really used this colour often to contour my cheek bones because it doesn't look natural to me.  I could use it for a bronzer, but I'm not much of a bronzer person. 
The highlight colour however if very beautiful, it is a shimmery, peach colour.  I actually use it more than the contour shade even though I ordered this specifically for contouring.  It's a fairly shimmery highlight so it might not be for everyone, but I enjoy it. 
I'm happy with the quality of the Sleek Contour Kit but the contour colour just isn't for me.  I am still interested in trying some of their other products cause the quality is there.  I might order the light contour kit in the near future to see what I think of it along with a few other products.  I will let you know if I end up trying some of Sleek Makeup's other products.
Have you tried any of Sleek's products?  What is your favourite product to use to contour?  New to contouring and highlighting? Learn how to contour and highlight your face here.