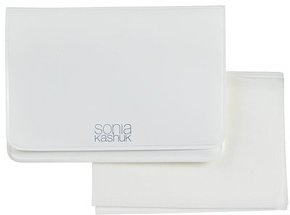 I was down in the States at Target and came across the Sonia Kashuk Matte Oil Blotting Papers when I was picking up the Sonia Kashuk Eye Makeup Remover.  They were $6.99 for 100 sheets, which is a better deal than the Clean & Clear Instant Oil-Absorbing Sheets so I grabbed them.  I almost grabbed two packs in case I didn't make it back down to the states soon because we do not have this brand in Canada.  I'm glad I didn't.
I was at the border waiting in line bored so I decided I'd open the Sonia Kashuk Oil Blotting Papers and try them out.  My first impression was wow, what is this?  Tissue paper?  I could of cut my own tissue paper up and put the sheets into a little pouch.  You can actually  use tissue paper, it works just as well and is much cheaper. I then started to blot my face, it lifted oil off BUT also lifted my makeup off.  I was not impressed at all.  The only thing I do like about the Sonia Kashuk Oil Blotting Papers is that the packaging is nice and discreet, and no one can really tell what you are carrying around.
I will not buy these again and I recommend the Clean and Clear Sheets. You can read my review about the Clean & Clear Oil-Absorbing Sheets here. I guess I will just save the pack and use them for when I have no makeup on, like maybe at the beach.
Below is a picture of after I used one of the Sonia Kashuk Oil Blotting Papers.  I did not have makeup on today so you can not see how it takes off the makeup as well as soak up oil.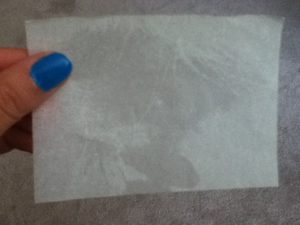 What is your favorite brand of oil absorbing papers?
You can purchase Clean & Clear Instant Oil-Absorbing Sheets on Amazon or at your local drugstore.