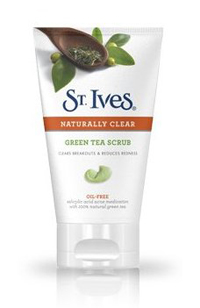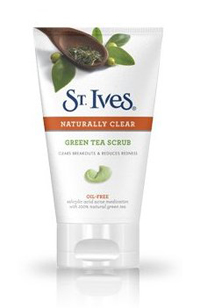 I love St. Ives products, especially their Apricot Scrub.  I was at my local Walmart and saw a new face scrub called  St. Ives Naturally Clear Green Tea Scrub so I decided to pick it up.  I tried it that night and instantly fell in love with it.  I have been using it every night since.  
The St. Ives Naturally Clear Green Tea Scrub is oil free and says it is suppose to clear breakouts and soothe skin.  It contains 1% salicylic acid for acne. 
The St. Ives Green Tea Scrub smells amazing and fresh.  The granules in the St. Ives scrub are so fine it feels more like a microdermabrasion instead of a scrub.  The granules are much more fine than the apricot scrub by St. Ives, it almost feels like you are using sand from the Caribbean on your face.  The green tea scrub has a very smooth consistency and is a much more gentle product than their apricot scrub.  I have been using the scrub for two weeks now every night and haven't had one breakout since.  It leaves my face feeling so refreshed and smooth. 
Next time I am at the drug store I am going to pick up their green tea facial wash to try as well because I absolutely love the scrub.  Have you tried the St. Ives Naturally Clear Green Tea Scrub?  What do you think of it? How does it compare to their ever so popular Apricot Scrub