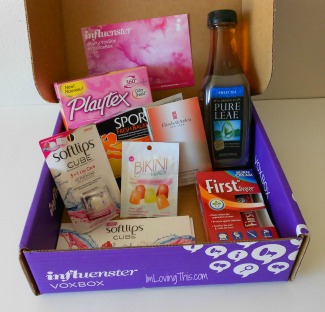 If you don't already know, Influenster is a company that invites social media junkies (like myself) to try new products and share opinions.  Basically you sign up and connect all your social media profiles then complete tasks and earn badges.  As you earn badges you will get invited to participate it campaigns.  I've been lucky enough to receive some awesome products from Influenster since joining and love being part of their community!  It's free to join and if you are active on social media then you should sign up too.  Don't go thinking you will get a bunch of free products for doing nothing, it takes work to earn freebies.  That is where this blog post comes in.
My latest awesome freebie from Influenster is the Vitality Vox Box.  I received a good sized purple box in the mail a few weeks ago and was super excited to see what was inside.  They don't tell you what you are getting, so you can either wait or peak on social media to see what others received.  I like to wait so it's a surprise.  I've only ever received brand boxes from Influenster and this time I was gifted a box of a bunch of items from different brands.
Here's what I received in the #VitalityVoxBox
Elizabeth Arden FLAWLESS FUTURE Powered by Ceramide Caplet Serum – .17 fl oz
I was most excited about this product when I opened the box.  I love anything skin care as you might know if you frequent my blog.  This serum says it helps reinforce skin's essential moisture barrier, even skin tone, retexturize and reduce the appearance of early signs of wrinkles.
I haven't been able to use this long enough yet to see the benefits, but I received a decent size sample and should be able to tell if I like it or not by the end.  A full size retails for $60 and is 1 fl oz.
Softlips Cube – 6.5 g
I received a full size of the Softlips Cube in the flavour pomegranate blueberry, which retails for $3.49.  This is a 5 in 1 lip protectant with SPF 15 that claims to hydrate, replenish, smooth, protect and add shine.  It is available in three flavours, the other being fresh mint and vanilla bean.  The balm comes in an acrylic cube, (hence the name) and is super cute.  The Softlips Cube smells and tastes pretty dang good and leaves a cooling sensation when applied to my lips.  Initially it left my lips feeling smooth and shiny and I starting using it regularly to see how I liked it.  I have sensitive lips, just about everything irritates them and I honestly have yet to find a lip balm or lipstick that doesn't make them peel.  I had my lip situation under control and then Cube messed it all back up.  I had to stop using it as it made my lips dry and peel, it was a mess.  Anyways, I think this lip balm would probably work great for the average person, but it didn't for me.  It's pretty inexpensive so it is worth a go if you want to try something new.
First Degree Advanced Burn Cream – 21 g
I received a full size of this burn cream which retails anywhere from $5.97 to $8.99.  I don't really have any use for this product at this moment but it's definitely something good to have on hand.  I bet I'll burn myself cooking dinner tonight now that I said that.  The First Degree Advanced Burn Cream says it's patented healing formula helps repair skin damage from all types of minor burns.  It says it protects against infection and helps sooth and cool the burn.  You can use it on all types of burns whether its from cooking, grilling, curling iron or even razor burn.  It comes in a tube like most topical creams and kind of smells similar to Polysporin/Neosporin.  When I apply it to my unburned skin I can feel the cooling sensation, it has a thin formula so it soaks right into my skin.  Next time I burn myself I'll let you know how it works cause I'm definitely not going to burn myself just for testing purposes. 🙂  I wonder if this would help soothe my heels when my shoes destroy them?  I will have to test it out.
Playtex Sport Fresh Balance Tampons – 16 pack
Let me start off by saying, who doesn't love free tampons?  They are expensive and I hate having to spend money on them.  Although I wasn't thrilled about having to mention this on my social media channels, I was actually really excited to receive them.  The Playtex Sport Fresh Balance tampons are designed to neutralize odors for ultimate freshness with 360° sport level protection.  They have a plastic applicator which make for easy use and are lightly scented.  I don't have much to say about these, a tampon is a tampon and I've never really noticed a difference in the ones I use.  I don't think I've ever used this brand though, I always pick up Tampax or Kotex.
Pure Leaf Iced Tea
I might be the only one in the world that thinks that iced tea is disgusting.  I drink hot tea all the time, specifically, Tetley's Orange Pekoe Tea, but never iced tea.  I'll give this bottle to my boyfriend to drink as I've seen him drink this brand before.  Anyways, Pure Leaf Iced Tea is made from real brewed tea, they don't add any preservatives or colour and it's sweetened with real sugar.  So that sounds pretty good for someone that enjoys iced tea.  It has 70 Calories in a bottle and 18 grams of sugar for anyone that is interested.  I think I'll just stick to my regular, hot tea which has none of that.  But if you like iced tea, give this one a whirl, I've heard its pretty good. 🙂
Bikini Ready Energy Gummies – 2 Gummies
The Bikini Ready Energy Gummies claim to be a great-tasting B-12 vitamin supplement that act as an energy booster.  They say that along with a healthy diet and exercise program they will help boost your metabolism and increase your energy so you can maximize your workouts.
I only received a little foil packet with 2 gummies in it to try, some people received an entire bottle.  I must say, I was sad when I saw that some people received an entire bottle.  But let me tell you, I was happy I only received two after trying them.  These gummies taste so bad, eww.  They taste just how you would imagine an energy supplement to taste.  I almost spit them back out but finished them for review purposes so I could see if they work.
These two gummies have 20 mg of caffeine which says is equivalent to about 1/4 cup of brewed coffee.  They also have 20 mcg of Vitamin B-12 and 3 grams of sugar.  After reading this info I'm thinking to myself, why not just drink a cup of coffee and take a vitamin B-12 instead?  Anyways, I decided to take these shortly before jumping onto my most-dreaded elliptical trainer to see if they worked.  They did give me some energy, or at least I think they did.  I doubt it was the caffeine that boosted me as it doesn't really effect me.  If anything it must have been the B-12 as anytime I take my B-12 supplements I get a burst of energy.  I worked out longer than normal, I like to think it was because of the supplements, but who knows as I only tried them that one time.
So overall, if you don't mind that energy supplement taste and are looking for some sort of energy supplement than go ahead and try these.  A bottle is $14.99 for 50 energy gummies.
So overall this was a pretty exciting box with a variety of products.  If you finished reading my reviews/rants then thanks for reading this far! 🙂  If you haven't already, then you should sign up to Influenster.  Message me on Facebook or Twitter for a private invite.